A New York Actor Finds a New Way to Promote Himself — Fliers on Lampposts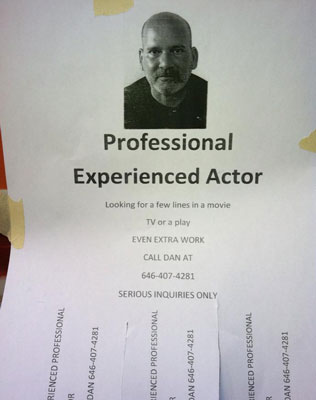 Actors are always trying to think outside the box to stand out and promote themselves in a crowded talent pool. One New York City-based actor has taken an approach that hasn't necessarily booked him a role, but it has gained him a bit of notoriety.
Dan Perino posted 2,000 fliers around the city on lampposts with his headshot and résumé in hopes of landing a gig. His goal is to spread 10,000 fliers around Manhattan.
The unorthodox ads promote him as a "professional, experienced actor" who is "looking for a few lines in a movie, TV, or play. Even extra work."
His dream role? He told the New York Post, "Maybe something like Criminal Minds — where I play a serial killer, that's kind of my dream."
The 50-year-old Perino is getting a few side benefits to his unique approach. He shared, "Women look up to me and they just can't place where they've seen me."
His 15-minutes of fame isn't what he is seeking though. He's looking to recharge an acting career that has stalled a bit in recent years.
Perino admitted that his last audition was several years ago for the Showtime series, Shameless.
"I should have a lot of opportunities now that I'm older," he said. "At auditions, 10 people in my age group show up, compared to 1,000 who show up in the 20-30 age range."
He has placed his phone number on the flyer, so he is naturally getting the expected crank calls from drunk or odd people. However, he has received legitimate calls from teachers and other actors. It's something he's not giving up on.
Perino explained, "I love acting because it brings you to another place."
Hopefully, the New York actor will get his big break soon.
Picture courtesy of Brandon Walker.  Check out his theatre company, The Seeing Place Theatre
http://www.dailyactor.com/wp-content/uploads/2016/06/jeff-bridges-hell-or-high-water.jpg
Jeff Bridges on Creating a Character, 'Hell or High Water' and Playing The Dude
"I use elements of myself—I see my parallels with a character—and find similar things in my own personality." - Jeff Bridges on Creating a Character
http://www.dailyactor.com/actors-on-acting/jeff-bridges-creating-a-character/
http://www.dailyactor.com/wp-content/uploads/2016/07/benjamin-bratt-actor.jpg
Benjamin Bratt: "For as limiting as the opportunities are for actors and actresses of color I've been very blessed"
"...it's dangerous to keep going down the same artistic path." - Benjamin Bratt
http://www.dailyactor.com/actors-on-acting/benjamin-bratt-ive-been-very-blessed/
http://www.dailyactor.com/wp-content/uploads/2016/07/watch-keegan-michael-key-explain.jpg
Watch: Keegan-Michael Key Explains Why "Improv actors are at war together"
Check out Key's points on why it's so important for improv actors to have each others' backs in the clip above.
http://www.dailyactor.com/actors-on-acting/keegan-michael-key-improv-actors-at-war-together/
http://www.dailyactor.com/wp-content/uploads/2016/07/norman-reedus-actor.jpg
Norman Reedus on Acting: "If it's something you really want, you have to roll with the rejection"
Norman Reedus is a fan-favorite star on The Walking Dead and was in the cult favorite film The Boondock Saints. However, in the dozen years between those two gigs Reedus had experienced ups and downs in his career and in many cases he was cast in very small roles in big movies or lead roles […]
http://www.dailyactor.com/actors-on-acting/norman-reedus-acting-rejection/
http://www.dailyactor.com/wp-content/uploads/2016/07/frank-grillo.jpg
Frank Grillo on Being Typecast: "I welcome it"
"I hear actors pooh-pooh the idea... people might see them as a certain thing. I welcome it" - Frank Grillo on Typecasting
http://www.dailyactor.com/actors-on-acting/frank-grillo-on-typecasting/