Michelle Williams on 'Cabaret' Opening Night: "It made me feel like a very lucky little girl"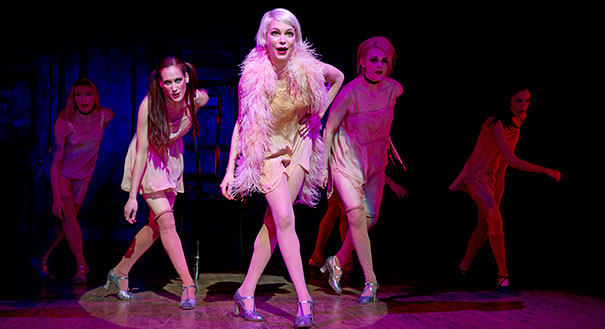 What a difference a month makes in the mind of a Broadway performer.
Though in earlier interviews Michelle Williams sounded rather bleak and nervous about her Broadway debut in the revival of Cabaret, the Associated Press obviously met with a very different Williams after the opening night performance.
At the after party, Williams now said of her experience, "Honestly, it made me feel like a little girl. It made me feel like a very lucky little girl."
She even felt comfortable following in the lead of of acting greats who previously played Sally Bowles, including Liza Minnelli and Natasha Richardson. On their influence, Williams said, "I feel overwhelmed — overwhelmed that I am allowed to walk in their footsteps. And truthfully, I admire every single one of them. And I look up to every single one of them and take every single one of them with me on this journey. It's like we're all in it together now. We're all mixed up in it together."
And while Williams earlier expressed some concern about her vocals being up-to-snuff — last month she told the New York Times that she didn't think she had a "natural gift" for singing — she has obviously learned to embrace the skill she has developed through practice. She says, "The truth is that it's very pleasurable because the song takes you on a journey and you just kind of have to attach yourself to the end of it and let it fly, so I've loved it."
Of course, the fact that the show has been routinely selling out during previews and shows no sign of slowing down might have had something to do with Williams' improved mood. Packed audiences of adoring fans will do that to you!
http://www.dailyactor.com/wp-content/uploads/2015/10/Bridge-of-Spies-Tom-Hanks-Mark-Rylance.jpg
Tom Hanks on Working with Steven Spielberg and Mark Rylance in 'Bridge of Spies'
"Steven does this incredible thing when he casts you: He empowers you with the scene." - Tom Hanks on Steven Spielberg
http://www.dailyactor.com/actors-on-acting/tom-hanks-working-steven-spielberg-mark-rylance-bridge-of-spies/
http://www.dailyactor.com/wp-content/uploads/2015/09/Tom-Hardy-Legend.jpg
Tom Hardy on Playing Twins in 'Legend,' Being Seen as a Tough Guy, and Working with Philip Seymour Hoffman
Hardy speaks about why he challenged himself to play twins, what he thinks of his tough guy image, and working with the late Philip Seymour Hoffman, who directed him on stage.
http://www.dailyactor.com/actors-on-acting/tom-hardy-playing-twins-legend/
http://www.dailyactor.com/wp-content/uploads/2015/09/Emily-Blunt-Sicario.jpg
Emily Blunt on Action Movie Roles: "I think it's important to show different layers. Nobody is just tough, nobody is just vulnerable"
Emily Blunt touches upon why she has gotten into roles with an action bent and why she thinks there aren't more action movies with female leads
http://www.dailyactor.com/actors-on-acting/emily-blunt-sicario-acting-layers/
http://www.dailyactor.com/wp-content/uploads/2015/09/Jorja-Fox-CSI.jpg
Jorja Fox on Life After 'CSI': "I've always enjoyed not knowing exactly where the road leads"
"I think you kind of have to embrace the unknown if you're an actor." - Jorja Fox
http://www.dailyactor.com/actors-on-acting/jorja-fox-life-after-csi/
http://www.dailyactor.com/wp-content/uploads/2015/09/John-Turturro-Mia-Madre.jpg
John Turturro on the Life of an Actor: "It's a rough business. I wouldn't want my kids to do it"
"I am usually very well prepared. If you're a surgeon, you've got to know what you're going to take out today." - John Turturro
http://www.dailyactor.com/actors-on-acting/john-turturro-life-of-an-actor/