Michael C. Hall on the "Arc" of His Career: "There was no plan; I just went where things took me"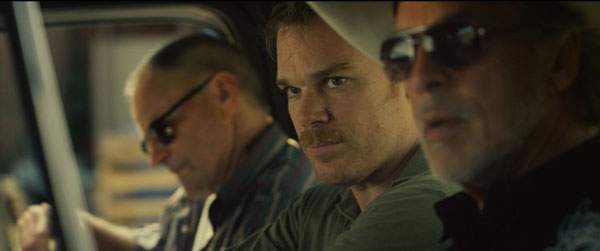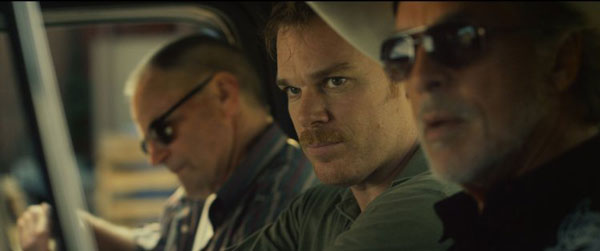 Because Michael C. Hall isn't planning on doing another television series so soon after Dexter ended, he seems to be doing just about everything he can do in acting other than appear on the small screen. His fans can currently see him on Broadway starring in The Realistic Joneses through July 6 or in movie theaters in the drama/thriller Cold in July. He spoke to The Hollywood Reporter about where his career will head next and why he'd love to do another low-budget movie.
Hall speaks highly of his experience in The Realistic Joneses. He said, "My first play was when I was seven, so it's the longest I've gone in my entire life without being onstage, which was a crazy thing to consider. It's been a real blast." As for how theater will factor into his future, Hall added, "I would like to continue working onstage periodically, but I want to keep a foot in all waters. It's funny to do these interviews and talk about the arc of my career — there was no plan; I just went where things took me. I would like to continue to work onstage periodically and do film. I also wouldn't rule out the possibility of doing another television show at some point, maybe something that was less open-ended, but maybe something open-ended if it wasn't another version of something I've already done. … Just not quite yet."
One experience that Hall will definitely like to try again is shooting a low-budget indie movie like Cold in July, which is currently playing in select theaters. On the experience, Hall said, "I love it. It's like joining the carnival. There are no overlords. Sure there are money people and producers, but there isn't this Big Brother-ish behemoth. You are left to play and make what you make and construct it on the fly. Yeah, it's really fun. Well, it can be. It also could be a nightmare if it's falling apart. "
http://www.dailyactor.com/wp-content/uploads/2016/02/david-harewood-supergirl.jpg
David Harewood on 'Supergirl' and How He Was "Struggling to Get a Handle" on His Character
Harewood reveals how he relates to the character and how he eventually got comfortable playing him.
http://www.dailyactor.com/actors-on-acting/david-harewood-supergirlstruggling-to-get-a-handle-on-his-character/
http://www.dailyactor.com/wp-content/uploads/2016/01/Jeff-Daniels.jpg
Jeff Daniels Remembers a Terrible Audition for a Diane Keaton Movie
One actor that knows the ups and downs of the audition process is Jeff Daniels.
http://www.dailyactor.com/actors-on-acting/jeff-daniels-terrible-audition-diane-keaton-movie/
http://www.dailyactor.com/wp-content/uploads/2016/02/Jennifer-Jason-Leigh-The-Hateful-Eight.jpg
Jennifer Jason Leigh on Her First-Ever Oscar Nomination: "It's kind of phenomenal"
"He knew that I could, in his words, 'act the … out of it' and I'm not afraid to take a risk in terms of acting" Jennifer Jason Leigh on Quentin Tarantino
http://www.dailyactor.com/actors-on-acting/jennifer-jason-leigh-oscar-nomination/
http://www.dailyactor.com/wp-content/uploads/2016/02/Forest-Whitaker-Hughie-Broadway.jpg
Forest Whitaker on Making His Broadway Debut in 'Hughie': "His rhythms are starting to invade inside of me"
"I want to get better as an actor, to keep trying to work harder, trying to discover something different" - Forest Whitaker
http://www.dailyactor.com/actors-on-acting/forest-whitaker-broadway-debut-hughie/
http://www.dailyactor.com/wp-content/uploads/2016/02/alicia-Vikander-Ex-machina.jpg
Alicia Vikander on the Her First Trip to L.A. and the Acting Tip 'Ex-Machina' Director Alex Garland Gave Her
"You [get immersed in] a film and of course you think that that is it. And then you go away and you read a new script and you have a new crush" - Alicia Vikander
http://www.dailyactor.com/actors-on-acting/alicia-vikanderacting-tip-ex-machina-director-alex-garland-gave-her/