Kristin Chenoweth and Peter Gallagher to Star in Roundabout's 'On Twentieth Century'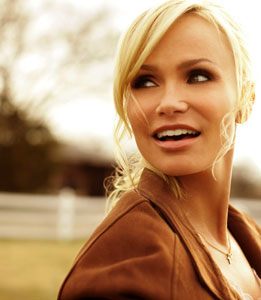 Kristin Chenoweth, I mean Tony & Emmy Award winner Kristin Chenoweth, will star in Roundabout Theatre Company's On The Twentieth Century. 
The musical, directed by Scott Ellis, will also star Peter Gallagher.
Here's the story: It's nonstop laughs aboard the Twentieth Century, a luxury coach travelling from Chicago to New York City. Luck, love and mischief collide when the bankrupt theater producer Oscar Jaffe (Gallagher) embarks on a madcap mission to cajole glamorous Hollywood starlet Lily Garland (Chenoweth) into playing the lead in his new, non-existent epic drama. But is the train ride long enough to reignite the spark between these former lovers, create a play from scratch, and find the money to get it all the way to Broadway?
The show will play a 20-week limited engagement through July 5, 2015, beginning previews on February 12, 2015 and opening officially on March 12, 2015 at the American Airlines Theatre on Broadway (227 West 42nd Street).
The full cast will be announced shortly.
http://www.dailyactor.com/wp-content/uploads/2015/09/Tom-Hardy-Legend.jpg
Tom Hardy on Playing Twins in 'Legend,' Being Seen as a Tough Guy, and Working with Philip Seymour Hoffman
Hardy speaks about why he challenged himself to play twins, what he thinks of his tough guy image, and working with the late Philip Seymour Hoffman, who directed him on stage.
http://www.dailyactor.com/actors-on-acting/tom-hardy-playing-twins-legend/
http://www.dailyactor.com/wp-content/uploads/2015/09/Emily-Blunt-Sicario.jpg
Emily Blunt on Action Movie Roles: "I think it's important to show different layers. Nobody is just tough, nobody is just vulnerable"
Emily Blunt touches upon why she has gotten into roles with an action bent and why she thinks there aren't more action movies with female leads
http://www.dailyactor.com/actors-on-acting/emily-blunt-sicario-acting-layers/
http://www.dailyactor.com/wp-content/uploads/2015/09/Jorja-Fox-CSI.jpg
Jorja Fox on Life After 'CSI': "I've always enjoyed not knowing exactly where the road leads"
"I think you kind of have to embrace the unknown if you're an actor." - Jorja Fox
http://www.dailyactor.com/actors-on-acting/jorja-fox-life-after-csi/
http://www.dailyactor.com/wp-content/uploads/2015/09/John-Turturro-Mia-Madre.jpg
John Turturro on the Life of an Actor: "It's a rough business. I wouldn't want my kids to do it"
"I am usually very well prepared. If you're a surgeon, you've got to know what you're going to take out today." - John Turturro
http://www.dailyactor.com/actors-on-acting/john-turturro-life-of-an-actor/
http://www.dailyactor.com/wp-content/uploads/2015/09/Matt-Damon-The-Martian.jpg
Matt Damon's Controversial Comments on Actors Keeping Their Real Lives a Mystery
"I think you're a better actor the less people know about you period. And sexuality is a huge part of that." - Matt Damon
http://www.dailyactor.com/actors-on-acting/matt-damon-actors-keeping-their-real-lives-a-mystery/