Karen Olivo Explains Why She Left the Bright Lights of Broadway Behind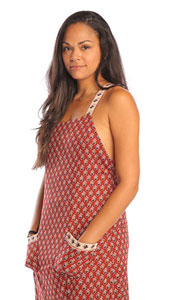 Karen Olivo had the career many aspiring New York actors dream of: Broadway shows listed on her résumé, a Tony Award and even a series regular job on the show Harry's Law. Yet she packed up and moved to Wisconsin in late 2012 after she decided she needed a change in her life.
She shared what her mindset was like at the time with The New York Times.
Olivo explained, "I was a full-time actor with very little personal life, and now it's a fraction of my life. I was also operating like an actor in life, which is scary — constantly wanting people to like me and thinking that I had to promote myself and the truth is, in life, you don't need to do that."
In fact, the 37-year-old star felt she needed to have "regular conversations with people about things that have nothing to do with pilot season or what is going to be nominated for a Tony."
The former West Side Story actress now spends her time teaching musical theatre performance at the University of Wisconsin, Madison while working on a CD and collaborating with the company Theater Lila. She made a recent return to the New York stage for a short run in Tick, Tick … Boom! for Encores! Off Center. It was actor Lin-Manuel Miranda who convinced her to do the production.
One key thing Olivo has learned during her time away is that performing is less of a chore to her now.
She summed up, "It was easy, and that is hard to say, and I think it had to do with the fact that I loved doing it. I wasn't trying to do it because I was thinking about reviews or expectations or anything like that. That wouldn't have been able to happen years ago."
http://www.dailyactor.com/wp-content/uploads/2016/04/jake-gyllenhaal-demolition.jpg
Jake Gyllenhaal on 'Demolition', Working with Chris Cooper and Directors Who Want Nothing to Do With Him
"I think storytelling is the most important part of movie-making over performance." - Jake Gyllenhaal
http://www.dailyactor.com/actors-on-acting/jake-gyllenhaal-demolition-chris-cooper/
http://www.dailyactor.com/wp-content/uploads/2016/04/don-cheadle-miles-davis.jpg
Don Cheadle: "Be scared. Be on the edge of your creativity"
"Be willing to fall flat on your face and be in an unknown place. If you're doing that, you're probably growing" - Don Cheadle
http://www.dailyactor.com/actors-on-acting/don-cheadle-scared-creativity/
http://www.dailyactor.com/wp-content/uploads/2016/04/jessie-eisenberg-louder-than-bombs.jpg
What is Jesse Eisenberg's "Most Fulfilling Acting Experience"?
"My absolute favorite thing to do is to write a play and then, after I finish, do the first reading of it with my friends around the table"- Jesse Eisenberg
http://www.dailyactor.com/actors-on-acting/jesse-eisenberg-most-fulfilling-acting-experience/
http://www.dailyactor.com/wp-content/uploads/2016/03/Lupita-Nyong'o-eclipsed.jpg
Lupita Nyong'o on Her Broadway Debut: "When we get up on that stage, you do not know what will happen"
"I think theater offers a chance to flex muscles that then only help to sustain cinematic work." - Lupita Nyong'o
http://www.dailyactor.com/actors-on-acting/lupita-nyongo-eclipsed-broadway/
http://www.dailyactor.com/wp-content/uploads/2016/03/jake-gyllenhaal-demolition.jpg
Jake Gyllenhaal on Missed Superhero Opportunities and Portraying "Antisocial" Characters
"I've always wanted to have the opportunity to play a number of different roles, and I knew it wasn't necessarily the role, but how you played them" - Jake Gyllenhaal
http://www.dailyactor.com/actors-on-acting/jake-gyllenhaal-antisocial-characters/