John Benjamin Hickey on 'Manhattan' and One of the "great things about being an actor"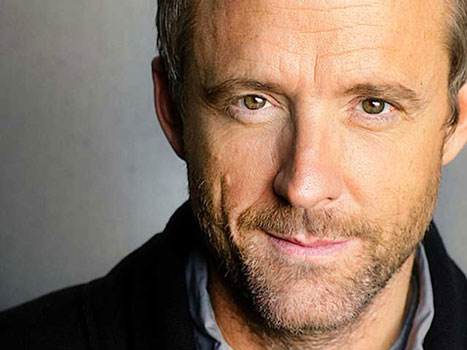 Actor John Benjamin Hickey may be a star of stage and screen as well as television, but he is probably best known in recent years for playing Sean Tolkey on Showtime's The Big C. Though the series ended in May 2013, Hickley hasn't been off television screens for very long. He's since appeared in episodes of Hannibal, Law & Order: Special Victims Unit, and Modern Family, and he's already landed a new lead role as Frank Winter in Manhattan, a series about the construction of the first atomic bombs. Hickey spoke to The Hollywood Reporter about why he decided to take the role so soon after his last TV series and what he enjoys about researching for a role.
Hickey says that he intended to go back to television, and Manhattan was the right project. He explains, "I was going to go back to television. I wanted to do something completely different. I'm attracted to characters who think and behave outside the box and who have a lot in common, but tonally they couldn't be more different in terms of these two shows. One was a comedy about the end of life and one is drama about ending life. In some senses that's it. But both Sean and Frank find themselves in great existential crisis in their life, and actors are so attracted to people in trouble. It gives them more to play."
He also points out that whenever he undertakes a new role it requires a lot of learning. He says, "One of the great things about being an actor and having a part like this is you get to go back to school. I found the history on the subject and the story itself so unbelievably fascinating." He continues, "I was voracious about learning about it, not just because I needed to look like I knew what the fuck I was doing. In order for us to create fictional characters and tell an emotionally true story that is not the historical true facts at that time and place, we needed to know exactly what the world was in order to take this leap of imaginative faith. So I did a lot of homework."
http://www.dailyactor.com/wp-content/uploads/2016/02/Owen-Wilson.jpg
Owen Wilson on How He Started Acting, Trying "To Be Real" On-Screen and Choosing His Roles
"It's not enough just to be real; you have to try to make it interesting or entertaining" - Owen Wilson on Acting
http://www.dailyactor.com/actors-on-acting/owen-wilson-started-acting-real-on-screen/
http://www.dailyactor.com/wp-content/uploads/2016/02/John-Krasinski.jpg
John Krasinski on His Directing Debut, 'The Hollars', and How He'll Always Be an "Actor at Heart"
"To me, it's not about comedy or drama or genre, it's about, where's the good story?" - John Krasinski
http://www.dailyactor.com/actors-on-acting/john-krasinski-directing-debut-the-hollars-actor-at-heart/
http://www.dailyactor.com/wp-content/uploads/2016/02/david-harewood-supergirl.jpg
David Harewood on 'Supergirl' and How He Was "Struggling to Get a Handle" on His Character
Harewood reveals how he relates to the character and how he eventually got comfortable playing him.
http://www.dailyactor.com/actors-on-acting/david-harewood-supergirlstruggling-to-get-a-handle-on-his-character/
http://www.dailyactor.com/wp-content/uploads/2016/01/Jeff-Daniels.jpg
Jeff Daniels Remembers a Terrible Audition for a Diane Keaton Movie
One actor that knows the ups and downs of the audition process is Jeff Daniels.
http://www.dailyactor.com/actors-on-acting/jeff-daniels-terrible-audition-diane-keaton-movie/
http://www.dailyactor.com/wp-content/uploads/2016/02/Jennifer-Jason-Leigh-The-Hateful-Eight.jpg
Jennifer Jason Leigh on Her First-Ever Oscar Nomination: "It's kind of phenomenal"
"He knew that I could, in his words, 'act the … out of it' and I'm not afraid to take a risk in terms of acting" Jennifer Jason Leigh on Quentin Tarantino
http://www.dailyactor.com/actors-on-acting/jennifer-jason-leigh-oscar-nomination/