Jim Parrack Talks About his Return to 'True Blood' and How Hoyt Fortenberry has Evolved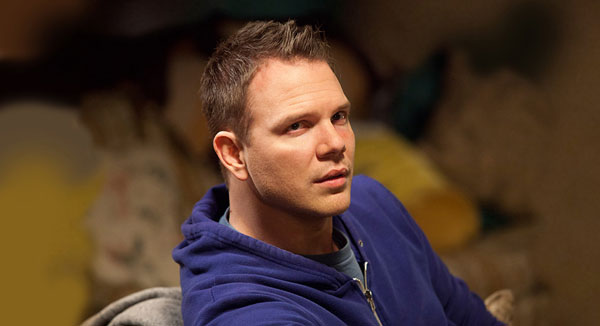 True Blood is coming to a close, but the writers have done a good job in wrapping up storylines and bringing back some familiar faces. For Jim Parrack, coming back to the series as Hoyt Fortenberry was as easy as riding a bike.
He talked to Vulture about his return to the HBO show in Season 7 and how his character has changed since he left Bon Temps for Alaska.
Parrack said, "I was thinking about what made him change. The reason for going was as much to become who I wanted to be as to get away from whatever had happened. So I had to think about what might be different, and what struck me is that it would have been the first time he was free from the influence of anybody else, to see who he was and what he was about. And it either makes you quit or it makes a man out of you. I thought about it like, it was probably a relief, and probably something I'd be excited about, to be able to create an identity for myself. Start over. And I imagined his life in Alaska to mostly be about work. And they told me I met a girl up there, had a girlfriend, so I filled that in for myself, and made some things up that worked for that, that didn't do any sort of violence to the plot points which unfold."
In the interim, the 33-year-old actor was in the recent revival of the Broadway show Of Mice and Men with James Franco, Chris O'Dowd and Leighton Meester. The play recently closed on July 27.
Parrack talked about his evolution as an actor since he's been on the series, but don't expect him to get too serious about his craft.
"You know, I don't like when actors go around and talk a ton about how they approach their roles, because it's a little like pulling the curtain back on Oz, for me. I don't like when before a movie comes out, somebody says, 'I chained myself to a radiator in a cancer ward for 14 months and I told my mother she should go fuck herself, and that's how I really found the part.' I would rather not know that. I like the mystery of seeing someone like Mickey Rourke do his thing. I don't know how he does it, but I'm glad he does it. He puts his finger on something that gets him going, and I enjoy that. But he doesn't ever go and talk about it!" he said. "I like that a lot. It's just too personal. If you're dealing with personal kind of acting, you're not going to want to open up and expose it to everybody, because that's where the power lies, you know? It would be a little like showing your hand in poker, and then hoping you can still win. I actually got to hop off, sweetheart, because I'm at the airport! Have a good week!"
The series finale of True Blood airs on Sunday, Aug. 24.
http://www.dailyactor.com/wp-content/uploads/2016/06/jeff-bridges-hell-or-high-water.jpg
Jeff Bridges on Creating a Character, 'Hell or High Water' and Playing The Dude
"I use elements of myself—I see my parallels with a character—and find similar things in my own personality." - Jeff Bridges on Creating a Character
http://www.dailyactor.com/actors-on-acting/jeff-bridges-creating-a-character/
http://www.dailyactor.com/wp-content/uploads/2016/07/benjamin-bratt-actor.jpg
Benjamin Bratt: "For as limiting as the opportunities are for actors and actresses of color I've been very blessed"
"...it's dangerous to keep going down the same artistic path." - Benjamin Bratt
http://www.dailyactor.com/actors-on-acting/benjamin-bratt-ive-been-very-blessed/
http://www.dailyactor.com/wp-content/uploads/2016/07/watch-keegan-michael-key-explain.jpg
Watch: Keegan-Michael Key Explains Why "Improv actors are at war together"
Check out Key's points on why it's so important for improv actors to have each others' backs in the clip above.
http://www.dailyactor.com/actors-on-acting/keegan-michael-key-improv-actors-at-war-together/
http://www.dailyactor.com/wp-content/uploads/2016/07/norman-reedus-actor.jpg
Norman Reedus on Acting: "If it's something you really want, you have to roll with the rejection"
Norman Reedus is a fan-favorite star on The Walking Dead and was in the cult favorite film The Boondock Saints. However, in the dozen years between those two gigs Reedus had experienced ups and downs in his career and in many cases he was cast in very small roles in big movies or lead roles […]
http://www.dailyactor.com/actors-on-acting/norman-reedus-acting-rejection/
http://www.dailyactor.com/wp-content/uploads/2016/07/frank-grillo.jpg
Frank Grillo on Being Typecast: "I welcome it"
"I hear actors pooh-pooh the idea... people might see them as a certain thing. I welcome it" - Frank Grillo on Typecasting
http://www.dailyactor.com/actors-on-acting/frank-grillo-on-typecasting/