Jessica Chastain: "The reason I'm an actor is because of my love affair with cinema"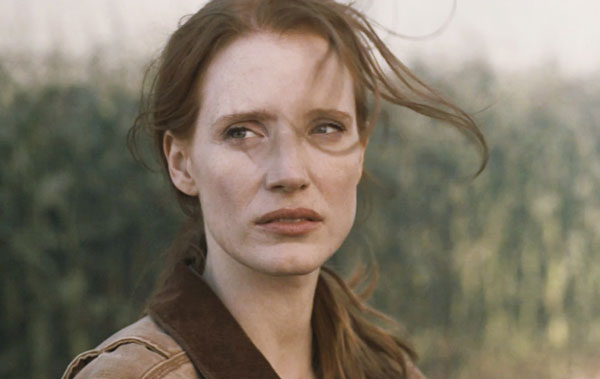 In the faraway time of 2011, it often seemed like it was all Jessica Chastain, all the time at theaters. She appeared in six films in 2011, including The Help, and had a very busy 2012 too. While 2013 and 2014 have been mostly quiet for Chastain — she is currently preparing for the wide release of The Disappearance of Eleanor Rigby — in an interview with Vulture she admitted that when she isn't working you'd most likely find her watching a movie.
Chastain says, "The reason I'm an actor is because of my love affair with cinema — I was the kid who would spend all afternoon in the movie theater after school. The idea that I get to be in movies now is great, but I still want to get to see them. I was excited a few years ago when I had Tree of Life and Take Shelter at Cannes: 'Oh, I get to go to Cannes and see everything!' And I didn't get to see one thing! Now I have to really demand it from the studio — I say, 'Okay, I'm going to do all this press, but you're going to give me two hours off on these days so I can go see Mommy and Foxcatcher at Cannes.'"
Even though Chastain is known for her dramatic roles, she enjoys taking the opportunity to see comedies. She explains, "I really go to the movies any chance I can. I like really, really silly movies, too! I saw The Other Woman recently and I loved it: Leslie Mann is a comic genius in that film, she's amazing. And when I was at the theater, people looked at me really strangely, like, 'What are you doing here?' because my films are so different. But I'll totally see a movie like that! I love 'em all."
http://www.dailyactor.com/wp-content/uploads/2015/10/Bridge-of-Spies-Tom-Hanks-Mark-Rylance.jpg
Tom Hanks on Working with Steven Spielberg and Mark Rylance in 'Bridge of Spies'
"Steven does this incredible thing when he casts you: He empowers you with the scene." - Tom Hanks on Steven Spielberg
http://www.dailyactor.com/actors-on-acting/tom-hanks-working-steven-spielberg-mark-rylance-bridge-of-spies/
http://www.dailyactor.com/wp-content/uploads/2015/09/Tom-Hardy-Legend.jpg
Tom Hardy on Playing Twins in 'Legend,' Being Seen as a Tough Guy, and Working with Philip Seymour Hoffman
Hardy speaks about why he challenged himself to play twins, what he thinks of his tough guy image, and working with the late Philip Seymour Hoffman, who directed him on stage.
http://www.dailyactor.com/actors-on-acting/tom-hardy-playing-twins-legend/
http://www.dailyactor.com/wp-content/uploads/2015/09/Emily-Blunt-Sicario.jpg
Emily Blunt on Action Movie Roles: "I think it's important to show different layers. Nobody is just tough, nobody is just vulnerable"
Emily Blunt touches upon why she has gotten into roles with an action bent and why she thinks there aren't more action movies with female leads
http://www.dailyactor.com/actors-on-acting/emily-blunt-sicario-acting-layers/
http://www.dailyactor.com/wp-content/uploads/2015/09/Jorja-Fox-CSI.jpg
Jorja Fox on Life After 'CSI': "I've always enjoyed not knowing exactly where the road leads"
"I think you kind of have to embrace the unknown if you're an actor." - Jorja Fox
http://www.dailyactor.com/actors-on-acting/jorja-fox-life-after-csi/
http://www.dailyactor.com/wp-content/uploads/2015/09/John-Turturro-Mia-Madre.jpg
John Turturro on the Life of an Actor: "It's a rough business. I wouldn't want my kids to do it"
"I am usually very well prepared. If you're a surgeon, you've got to know what you're going to take out today." - John Turturro
http://www.dailyactor.com/actors-on-acting/john-turturro-life-of-an-actor/