Jamie Bell: "I thank my lucky stars daily that I'm even still working"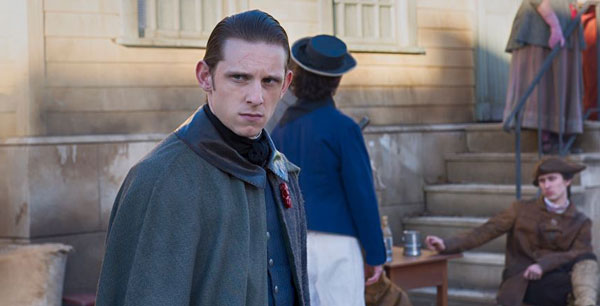 AMC's newest period drama, Turn, is based on the real-life Culper Spy Ring that was vital to America's victory in the Revolutionary War. Considering that, for star Jamie Bell, who plays spy Abraham Woodhull, and the rest of the cast it probably feels like they're working at Colonial Williamsburg (in fact, Turn is shot in Virginia). In an interview with New York magazine, Bell spoke about developing the accent for the role, why he has pursued such varied roles in his career, and why he thinks he wouldn't have become an actor if he was just entering the business today.
Bell admits one of the first challenges of playing Woodhull was figuring out how he sounded. Bell says, "How he sounded was important. And it is practically impossible to be accurate with accents." It forced Bell to develop his own voice for Woodhull. He explains, "So in coming up with just the sound of him — I've always just enjoyed the Irish lilt. I've always enjoyed that sound and the music in that voice. For some reason, to me, it screams, I don't know, passion, revolution, underdog, hero. And for some reason, it just felt appropriate to place him there. Also me and Kevin McNally, the guy who plays my father, we wanted to separate ourselves from one another."
From there, Bell based Woodhull's accent on a variety of sources as well as what he thinks Woodhull's mindset would have been. He reveals, "I listened to a lot of traditional Irish folk music, I read a lot of books, I watched as much on the subject as I could. But then I just also thought about how he must have been terrified. He must have just been paranoid, being a double agent, keeping track of the lies."
Bell began shooting Turn right after he appeared in Lars von Trier's Nymphomaniac and will soon star — somewhat surprisingly — as The Thing in the Fantastic Four reboot. However, Bell admits that he doesn't have a particular strategy of choosing such wildly different roles. He says, "Is some sense of who you are as an actor important or is it always more interesting to do varied characters and different projects in different genres and not be nailed down to one thing? I dunno. I think there's something to be said for both of those kinds of strategies. I don't really operate from any kind of strategy at all."
Of course, Bell was barely a teenager when he starred in the title role in Billy Elliot, which was his first film. So while he has been acting for well over a decade despite still being in his twenties, Bell confesses that if he hadn't started so young he probably wouldn't have been an actor at all. He says, "I can't imagine just coming into the business now. I'd be terrified and it would probably scare me off. I wonder if coming in so young and not having those preconceived ideas of being an actor or working in Hollywood or being a celebrity — which obviously are all part of the business, part of the industry — if not having those things as a child just allows you to pursue things without any … maybe without any forethought! [Laughs.] I've always done things without a second thought; like, if it's something that I want to do, I do it. There isn't a feeling of, 'how's this gonna look, what happens if it doesn't work?' And somehow it hasn't steered me wrong yet. I mean, I thank my lucky stars daily that I'm even still working. Because I didn't see that coming."
Watch: Keegan-Michael Key Explains Why "Improv actors are at war together"
Check out Key's points on why it's so important for improv actors to have each others' backs in the clip above.
http://www.dailyactor.com/actors-on-acting/keegan-michael-key-improv-actors-at-war-together/
http://www.dailyactor.com/wp-content/uploads/2016/07/norman-reedus-actor.jpg
Norman Reedus on Acting: "If it's something you really want, you have to roll with the rejection"
Norman Reedus is a fan-favorite star on The Walking Dead and was in the cult favorite film The Boondock Saints. However, in the dozen years between those two gigs Reedus had experienced ups and downs in his career and in many cases he was cast in very small roles in big movies or lead roles […]
http://www.dailyactor.com/actors-on-acting/norman-reedus-acting-rejection/
http://www.dailyactor.com/wp-content/uploads/2016/07/frank-grillo.jpg
Frank Grillo on Being Typecast: "I welcome it"
"I hear actors pooh-pooh the idea... people might see them as a certain thing. I welcome it" - Frank Grillo on Typecasting
http://www.dailyactor.com/actors-on-acting/frank-grillo-on-typecasting/
http://www.dailyactor.com/wp-content/uploads/2016/07/Michael-Shannon-Acting-for-free.jpg
Michael Shannon on Actors Working for Free: "I think as a group actors need to stop enabling this behavior"
"If somebody's got a good script and you want to put good actors in it then everybody should be taken care of." - Michael Shannon
http://www.dailyactor.com/actors-on-acting/michael-shannon-actors-working-for-free/
http://www.dailyactor.com/wp-content/uploads/2016/07/Javier-Munoz-Hamilton.jpg
Javier Muñoz on Taking the Lead in 'Hamilton': "This is just fun, and glorious"
Muñoz talks about his feelings on playing Alexander Hamilton full-time and his relationship with Lin-Manuel Miranda.
http://www.dailyactor.com/actors-on-acting/javier-munoz-new-hamilton/