Hugh Jackman Returns to 'Inside the Actors Studio' (Watch 2 Clips)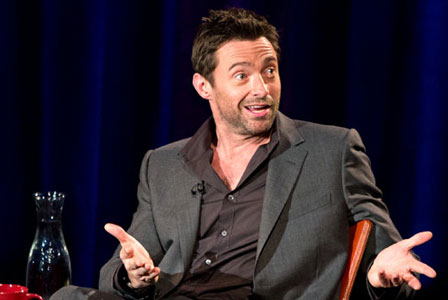 Oscar nominee Hugh Jackman returns to the Inside the Actors Studio for a second time on Wednesday, February 13th.
Host James Lipton picks up where they left off nine years ago, talking about the last decade of Jackman's career. In the episode, Jackman sings his "heart song" from "Happy Feet," performs a tap dance number, and shares some of his acting secrets.
Here are some quotes and 2 brief clips from the episode:
– Why he loves to act: "…those rare moments when something happens where you just feel you're part of something much greater than yourself…."
 – On misunderstanding of the term "Wolverine": "Wolverine's not an animal, that's just like, the character name."
-How he wanted to the audiences to react to Wolverine: "I want to feel how I felt when Robert Deniro took his shirt off in "Cape Fear," I want to go, 'holy sh*t, don't screw with this guy.'"
-On why he asked Tom Hooper to leave his four-hour "Les Misérables" audition: "Please, you know I'm passionate about this, but I have to put my kids to bed."
– Words of wisdom from Hugh's wife during a moment of weakness while filming "Les Misérables.": "'…this will demand more of you than anything you've ever done before and yes, you can do it."
Here he discusses going back to his roots as a mutant
In this clip, he shares how he becomes emotional for a scene
http://www.dailyactor.com/wp-content/uploads/2016/04/julia-louis-dreyfus-veep.jpg
Julia Louis-Dreyfus: "Opportunity for women in television has increased. It's because the landscape has widened"
"I did not come out of SNL as any kind of name. I didn't do anything particularly great when I was there. I didn't. It's fine. But I learned a tremendous amount."
http://www.dailyactor.com/tv/julia-louis-dreyfus/
http://www.dailyactor.com/wp-content/uploads/2016/04/Tituss-Burgess-Unbreakable-Kimmy-Schmidt.jpg
Tituss Burgess on How He Landed His 'Unbreakable Kimmy Schmidt' Role
Burgess reveals how his role on 30 Rock led to 'Kimmy Schmidt' and whether or not he'd consider returning to Broadway.
http://www.dailyactor.com/tv/tituss-burgess-unbreakable-kimmy-schmidt-role/
http://www.dailyactor.com/wp-content/uploads/2016/04/Christine-Baranski-The-Good-Wife.jpg
Christine Baranski on the End of 'The Good Wife' and Going Back to Theatre
The final episode of The Good Wife airs on May 8, and it's been several weeks since series star Christine Baranski shot the final episode with her co-stars. She spoke to The Hollywood Reporter about the end of the series she has spent the last seven years working on and what she plans to do […]
http://www.dailyactor.com/tv/christine-baranski-the-good-wife-theatre/
http://www.dailyactor.com/wp-content/uploads/2016/04/jake-gyllenhaal-demolition.jpg
Jake Gyllenhaal on 'Demolition', Working with Chris Cooper and Directors Who Want Nothing to Do With Him
"I think storytelling is the most important part of movie-making over performance." - Jake Gyllenhaal
http://www.dailyactor.com/film/jake-gyllenhaal-demolition-chris-cooper/
http://www.dailyactor.com/wp-content/uploads/2016/04/don-cheadle-miles-davis.jpg
Don Cheadle: "Be scared. Be on the edge of your creativity"
"Be willing to fall flat on your face and be in an unknown place. If you're doing that, you're probably growing" - Don Cheadle
http://www.dailyactor.com/film/don-cheadle-scared-creativity/