Hugh Jackman Returns to 'Inside the Actors Studio' (Watch 2 Clips)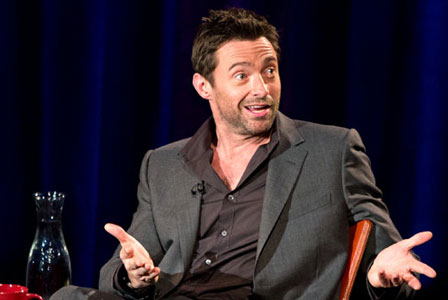 Oscar nominee Hugh Jackman returns to the Inside the Actors Studio for a second time on Wednesday, February 13th.
Host James Lipton picks up where they left off nine years ago, talking about the last decade of Jackman's career. In the episode, Jackman sings his "heart song" from "Happy Feet," performs a tap dance number, and shares some of his acting secrets.
Here are some quotes and 2 brief clips from the episode:
– Why he loves to act: "…those rare moments when something happens where you just feel you're part of something much greater than yourself…."
 – On misunderstanding of the term "Wolverine": "Wolverine's not an animal, that's just like, the character name."
-How he wanted to the audiences to react to Wolverine: "I want to feel how I felt when Robert Deniro took his shirt off in "Cape Fear," I want to go, 'holy sh*t, don't screw with this guy.'"
-On why he asked Tom Hooper to leave his four-hour "Les Misérables" audition: "Please, you know I'm passionate about this, but I have to put my kids to bed."
– Words of wisdom from Hugh's wife during a moment of weakness while filming "Les Misérables.": "'…this will demand more of you than anything you've ever done before and yes, you can do it."
Here he discusses going back to his roots as a mutant
In this clip, he shares how he becomes emotional for a scene
http://www.dailyactor.com/wp-content/uploads/2015/10/Bridge-of-Spies-Tom-Hanks-Mark-Rylance.jpg
Tom Hanks on Working with Steven Spielberg and Mark Rylance in 'Bridge of Spies'
"Steven does this incredible thing when he casts you: He empowers you with the scene." - Tom Hanks on Steven Spielberg
http://www.dailyactor.com/actors-on-acting/tom-hanks-working-steven-spielberg-mark-rylance-bridge-of-spies/
http://www.dailyactor.com/wp-content/uploads/2015/09/Tom-Hardy-Legend.jpg
Tom Hardy on Playing Twins in 'Legend,' Being Seen as a Tough Guy, and Working with Philip Seymour Hoffman
Hardy speaks about why he challenged himself to play twins, what he thinks of his tough guy image, and working with the late Philip Seymour Hoffman, who directed him on stage.
http://www.dailyactor.com/actors-on-acting/tom-hardy-playing-twins-legend/
http://www.dailyactor.com/wp-content/uploads/2015/09/Emily-Blunt-Sicario.jpg
Emily Blunt on Action Movie Roles: "I think it's important to show different layers. Nobody is just tough, nobody is just vulnerable"
Emily Blunt touches upon why she has gotten into roles with an action bent and why she thinks there aren't more action movies with female leads
http://www.dailyactor.com/actors-on-acting/emily-blunt-sicario-acting-layers/
http://www.dailyactor.com/wp-content/uploads/2015/09/Jorja-Fox-CSI.jpg
Jorja Fox on Life After 'CSI': "I've always enjoyed not knowing exactly where the road leads"
"I think you kind of have to embrace the unknown if you're an actor." - Jorja Fox
http://www.dailyactor.com/actors-on-acting/jorja-fox-life-after-csi/
http://www.dailyactor.com/wp-content/uploads/2015/09/John-Turturro-Mia-Madre.jpg
John Turturro on the Life of an Actor: "It's a rough business. I wouldn't want my kids to do it"
"I am usually very well prepared. If you're a surgeon, you've got to know what you're going to take out today." - John Turturro
http://www.dailyactor.com/actors-on-acting/john-turturro-life-of-an-actor/