What Made Freddie Prinze Jr. Almost Quit Acting? Working with 'Unprofessional Dude' Kiefer Sutherland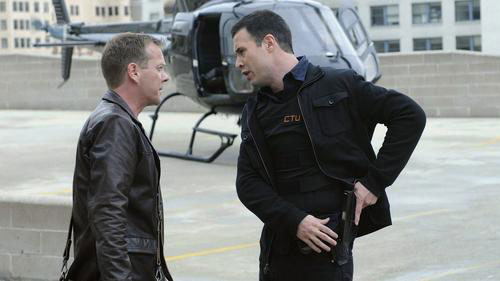 She's All That and Scooby-Doo star Freddie Prinze, Jr. does not appear on screen as much as he used to, and while he was at San Diego Comic-Con promoting Star Wars Rebels he has revealed why in a no-holds-barred way that reflects his current work experience with WWE.
Prinze didn't hold back when he reveals why he almost quit acting after filming 24: he had a horrible experience working with series star Kiefer Sutherland. He says, "I did 24, it was terrible. I hated every moment of it. Kiefer was the most unprofessional dude in the world. That's not me talking trash, I'd say it to his face, I think everyone that's worked with him has said that. I just wanted to quit the business after that. So, I just sort of stopped."
Where did Prinze end up? Actually, he ended up back as a producer and director for WWE pro wrestling (Prinze had previously worked as writer for WWE from 2008-2009). On that experience he says, "I went and worked for Vince McMahon at the WWE for Christ's sake and it was a crazier job than working with Kiefer. But, at least he was cool and tall. I didn't have to take my shoes off to do scenes with him, which they made me do. Just put the guy on an apple box or don't hire me next time. You know I'm 6 feet and he's 5'4″ (In Sutherland's defense, sources put his height at 5'9″).
Sutherland's response wasn't harsh in the least. In a statement to E!, a representative for Sutherland said, "Kiefer worked with Freddie Prinze, Jr. more than 5 years ago, and this is the first he has heard of Freddie's grievances. Kiefer enjoyed working with Freddie and wishes him the best."
via ABC News
http://www.dailyactor.com/wp-content/uploads/2016/02/david-harewood-supergirl.jpg
David Harewood on 'Supergirl' and How He Was "Struggling to Get a Handle" on His Character
Harewood reveals how he relates to the character and how he eventually got comfortable playing him.
http://www.dailyactor.com/actors-on-acting/david-harewood-supergirlstruggling-to-get-a-handle-on-his-character/
http://www.dailyactor.com/wp-content/uploads/2016/01/Jeff-Daniels.jpg
Jeff Daniels Remembers a Terrible Audition for a Diane Keaton Movie
One actor that knows the ups and downs of the audition process is Jeff Daniels.
http://www.dailyactor.com/actors-on-acting/jeff-daniels-terrible-audition-diane-keaton-movie/
http://www.dailyactor.com/wp-content/uploads/2016/02/Jennifer-Jason-Leigh-The-Hateful-Eight.jpg
Jennifer Jason Leigh on Her First-Ever Oscar Nomination: "It's kind of phenomenal"
"He knew that I could, in his words, 'act the … out of it' and I'm not afraid to take a risk in terms of acting" Jennifer Jason Leigh on Quentin Tarantino
http://www.dailyactor.com/actors-on-acting/jennifer-jason-leigh-oscar-nomination/
http://www.dailyactor.com/wp-content/uploads/2016/02/Forest-Whitaker-Hughie-Broadway.jpg
Forest Whitaker on Making His Broadway Debut in 'Hughie': "His rhythms are starting to invade inside of me"
"I want to get better as an actor, to keep trying to work harder, trying to discover something different" - Forest Whitaker
http://www.dailyactor.com/actors-on-acting/forest-whitaker-broadway-debut-hughie/
http://www.dailyactor.com/wp-content/uploads/2016/02/alicia-Vikander-Ex-machina.jpg
Alicia Vikander on the Her First Trip to L.A. and the Acting Tip 'Ex-Machina' Director Alex Garland Gave Her
"You [get immersed in] a film and of course you think that that is it. And then you go away and you read a new script and you have a new crush" - Alicia Vikander
http://www.dailyactor.com/actors-on-acting/alicia-vikanderacting-tip-ex-machina-director-alex-garland-gave-her/