What Made Freddie Prinze Jr. Almost Quit Acting? Working with 'Unprofessional Dude' Kiefer Sutherland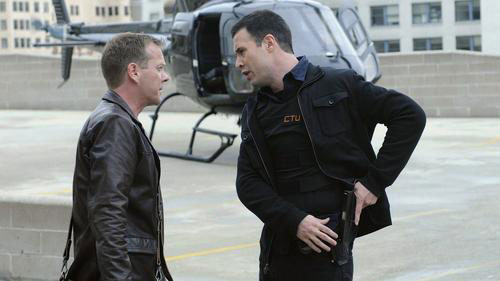 She's All That and Scooby-Doo star Freddie Prinze, Jr. does not appear on screen as much as he used to, and while he was at San Diego Comic-Con promoting Star Wars Rebels he has revealed why in a no-holds-barred way that reflects his current work experience with WWE.
Prinze didn't hold back when he reveals why he almost quit acting after filming 24: he had a horrible experience working with series star Kiefer Sutherland. He says, "I did 24, it was terrible. I hated every moment of it. Kiefer was the most unprofessional dude in the world. That's not me talking trash, I'd say it to his face, I think everyone that's worked with him has said that. I just wanted to quit the business after that. So, I just sort of stopped."
Where did Prinze end up? Actually, he ended up back as a producer and director for WWE pro wrestling (Prinze had previously worked as writer for WWE from 2008-2009). On that experience he says, "I went and worked for Vince McMahon at the WWE for Christ's sake and it was a crazier job than working with Kiefer. But, at least he was cool and tall. I didn't have to take my shoes off to do scenes with him, which they made me do. Just put the guy on an apple box or don't hire me next time. You know I'm 6 feet and he's 5'4″ (In Sutherland's defense, sources put his height at 5'9″).
Sutherland's response wasn't harsh in the least. In a statement to E!, a representative for Sutherland said, "Kiefer worked with Freddie Prinze, Jr. more than 5 years ago, and this is the first he has heard of Freddie's grievances. Kiefer enjoyed working with Freddie and wishes him the best."
via ABC News
http://www.dailyactor.com/wp-content/uploads/2016/07/watch-keegan-michael-key-explain.jpg
Watch: Keegan-Michael Key Explains Why "Improv actors are at war together"
Check out Key's points on why it's so important for improv actors to have each others' backs in the clip above.
http://www.dailyactor.com/videos/keegan-michael-key-improv-actors-at-war-together/
http://www.dailyactor.com/wp-content/uploads/2016/07/norman-reedus-actor.jpg
Norman Reedus on Acting: "If it's something you really want, you have to roll with the rejection"
Norman Reedus is a fan-favorite star on The Walking Dead and was in the cult favorite film The Boondock Saints. However, in the dozen years between those two gigs Reedus had experienced ups and downs in his career and in many cases he was cast in very small roles in big movies or lead roles […]
http://www.dailyactor.com/actors-on-acting/norman-reedus-acting-rejection/
http://www.dailyactor.com/wp-content/uploads/2016/07/frank-grillo.jpg
Frank Grillo on Being Typecast: "I welcome it"
"I hear actors pooh-pooh the idea... people might see them as a certain thing. I welcome it" - Frank Grillo on Typecasting
http://www.dailyactor.com/film/frank-grillo-on-typecasting/
http://www.dailyactor.com/wp-content/uploads/2016/07/Michael-Shannon-Acting-for-free.jpg
Michael Shannon on Actors Working for Free: "I think as a group actors need to stop enabling this behavior"
"If somebody's got a good script and you want to put good actors in it then everybody should be taken care of." - Michael Shannon
http://www.dailyactor.com/film/michael-shannon-actors-working-for-free/
http://www.dailyactor.com/wp-content/uploads/2016/07/Javier-Munoz-Hamilton.jpg
Javier Muñoz on Taking the Lead in 'Hamilton': "This is just fun, and glorious"
Muñoz talks about his feelings on playing Alexander Hamilton full-time and his relationship with Lin-Manuel Miranda.
http://www.dailyactor.com/broadway-theater/javier-munoz-new-hamilton/