Denzel Washington is Back on Broadway with an Incredibly Humble Approach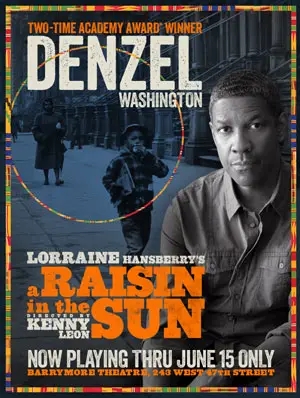 Oscar-winner Denzel Washington is familiar to audiences for his incredible work on the big screen in movies like The Hurricane, Glory and Flight. However, the actor is back on Broadway to dazzle the crowds in an American classic, A Raisin in the Sun.
He spoke with the Associated Press about his humble return to the theater. Washington explained why he chose this particular play to mark his time onstage.
"It's just a great opportunity – that's how I look at it," said the 59-year-old star. "It's like getting back to your roots. It's going good. But around about the 70th show, I might be going, 'What am I doing?'"
In preparation for the role, Washington went back to his training and "poured himself into the work, filling two composition books with notes and leaving every page of his script highlighted, underlined or annotated."
The last time audiences saw the Training Day star on the Great White Way was 2010 in August Wilson's Fences. That turn earned him a Tony Award to add to his impressive awards collection.
For his current role, Washington was not going to rest on his laurels since he was playing the role originated by the legendary Sidney Poitier both onstage and on film. To make sure he was on track to honor Poitier's work, he went straight to the source to work on the material. In fact, "when Poitier rose to act out scenes, Washington pulled out his cell phone to film it."
While Washington's body of work is growing, the one thing that hasn't expanded is his ego. The actor decided to trim his bio in Playbill because it became too much.
He explained, "It was really blowing my own horn. I don't need to advertise. I got the part."
For Washington, it's all about the work, not about the credits.
http://www.dailyactor.com/wp-content/uploads/2015/10/Bridge-of-Spies-Tom-Hanks-Mark-Rylance.jpg
Tom Hanks on Working with Steven Spielberg and Mark Rylance in 'Bridge of Spies'
"Steven does this incredible thing when he casts you: He empowers you with the scene." - Tom Hanks on Steven Spielberg
http://www.dailyactor.com/actors-on-acting/tom-hanks-working-steven-spielberg-mark-rylance-bridge-of-spies/
http://www.dailyactor.com/wp-content/uploads/2015/09/Tom-Hardy-Legend.jpg
Tom Hardy on Playing Twins in 'Legend,' Being Seen as a Tough Guy, and Working with Philip Seymour Hoffman
Hardy speaks about why he challenged himself to play twins, what he thinks of his tough guy image, and working with the late Philip Seymour Hoffman, who directed him on stage.
http://www.dailyactor.com/actors-on-acting/tom-hardy-playing-twins-legend/
http://www.dailyactor.com/wp-content/uploads/2015/09/Emily-Blunt-Sicario.jpg
Emily Blunt on Action Movie Roles: "I think it's important to show different layers. Nobody is just tough, nobody is just vulnerable"
Emily Blunt touches upon why she has gotten into roles with an action bent and why she thinks there aren't more action movies with female leads
http://www.dailyactor.com/actors-on-acting/emily-blunt-sicario-acting-layers/
http://www.dailyactor.com/wp-content/uploads/2015/09/Jorja-Fox-CSI.jpg
Jorja Fox on Life After 'CSI': "I've always enjoyed not knowing exactly where the road leads"
"I think you kind of have to embrace the unknown if you're an actor." - Jorja Fox
http://www.dailyactor.com/actors-on-acting/jorja-fox-life-after-csi/
http://www.dailyactor.com/wp-content/uploads/2015/09/John-Turturro-Mia-Madre.jpg
John Turturro on the Life of an Actor: "It's a rough business. I wouldn't want my kids to do it"
"I am usually very well prepared. If you're a surgeon, you've got to know what you're going to take out today." - John Turturro
http://www.dailyactor.com/actors-on-acting/john-turturro-life-of-an-actor/