Corey Stoll on How His Wig for 'The Strain' Is So Important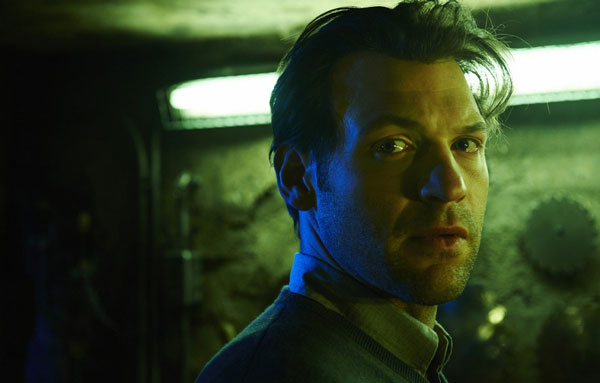 One of actor Corey Stoll's best-known recent roles was portraying a pitch-perfect Ernest Hemingway in Woody Allen's Midnight in Paris with a full head of hair. Of course, those who have seen Stoll in other work probably know that his actual hairline is more Mr. Clean than Papa Hemingway. Viewers of Guillermo del Toro's The Strain, the FX series that Stoll stars in, have even pointed out how his thick hairpiece for the show is a bit overboard. In an interview with Vulture, Stoll spoke about his resistance to wearing the rug for the series and how it has since become key to getting into his character.
Stoll recalls that he was initially against the idea of wearing a wig for The Strain. He says, "For somebody who is follicle-ly challenged, I spent a lot of time talking about hair. At first, when I heard [del Toro] wanted me to have a wig, I was resistant. I didn't want the reason to be so I could look like a standard TV guy or a hero. Then that points to a bigger problem. I'm not interested in playing that character. I made a choice in my career to not get hair plugs and not hide the fact that I was balding, and I've managed to play all sorts of characters who have shaved heads. But Guillermo's reasoning was so well thought-out. It isn't arbitrary. It isn't, I want you to look better."
However, Stoll has since realized how the hairpiece has helped him get into character. He explains, "But now it's part of the character for me. It's the mask. I'm able to access something different wearing that wig than without it."
http://www.dailyactor.com/wp-content/uploads/2015/10/Bridge-of-Spies-Tom-Hanks-Mark-Rylance.jpg
Tom Hanks on Working with Steven Spielberg and Mark Rylance in 'Bridge of Spies'
"Steven does this incredible thing when he casts you: He empowers you with the scene." - Tom Hanks on Steven Spielberg
http://www.dailyactor.com/actors-on-acting/tom-hanks-working-steven-spielberg-mark-rylance-bridge-of-spies/
http://www.dailyactor.com/wp-content/uploads/2015/09/Tom-Hardy-Legend.jpg
Tom Hardy on Playing Twins in 'Legend,' Being Seen as a Tough Guy, and Working with Philip Seymour Hoffman
Hardy speaks about why he challenged himself to play twins, what he thinks of his tough guy image, and working with the late Philip Seymour Hoffman, who directed him on stage.
http://www.dailyactor.com/actors-on-acting/tom-hardy-playing-twins-legend/
http://www.dailyactor.com/wp-content/uploads/2015/09/Emily-Blunt-Sicario.jpg
Emily Blunt on Action Movie Roles: "I think it's important to show different layers. Nobody is just tough, nobody is just vulnerable"
Emily Blunt touches upon why she has gotten into roles with an action bent and why she thinks there aren't more action movies with female leads
http://www.dailyactor.com/actors-on-acting/emily-blunt-sicario-acting-layers/
http://www.dailyactor.com/wp-content/uploads/2015/09/Jorja-Fox-CSI.jpg
Jorja Fox on Life After 'CSI': "I've always enjoyed not knowing exactly where the road leads"
"I think you kind of have to embrace the unknown if you're an actor." - Jorja Fox
http://www.dailyactor.com/actors-on-acting/jorja-fox-life-after-csi/
http://www.dailyactor.com/wp-content/uploads/2015/09/John-Turturro-Mia-Madre.jpg
John Turturro on the Life of an Actor: "It's a rough business. I wouldn't want my kids to do it"
"I am usually very well prepared. If you're a surgeon, you've got to know what you're going to take out today." - John Turturro
http://www.dailyactor.com/actors-on-acting/john-turturro-life-of-an-actor/