Comedian Jenny Slate Talks about Her Disappointing Turn on 'Saturday Night Live'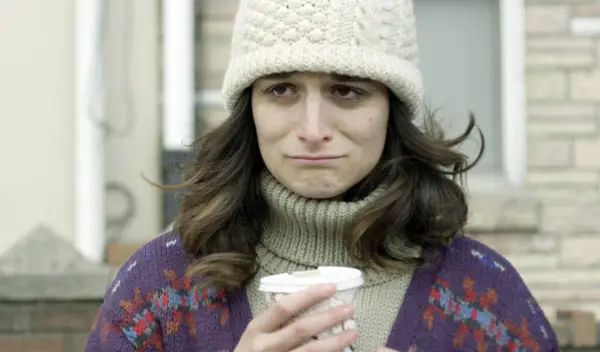 Comedian Jenny Slate wore a badge of dishonor for years after she was fired after her first season of Saturday Night Live for uttering the word "f**k" during her first episode in 2009. She punished herself for years after that incident.
She said, "I wasn't strong enough to tell myself it was okay, and I walked around with that kind of filthy, filthy embarrassment cloak on for a few years. I guess I chose to pay penance for quite a while."
The overall experience at NBC was a disappointing one for the 32-year-old actress because she never really fit in.
"Thirty Rock's a romantic place, and there are so many romantic things about it. The costumes have been there forever. You look in a pair of pants, and in Sharpie it says GILDA in them,a' Slate shared. "But it was a really weird disappointment when I got there and realized how foolish it was that what I expected it would be was from the expectations of a 7-year-old. And that they didn't actually want my creative input as a woman."
One thing Hollywood has done to Slate is create an impression that there isn't enough work out there for her.
The Obvious Child star explained, "There's a whole thing now in the entertainment industry that's like, 'You need to write for yourself. Those are the people that are really valuable.' And it's just like, I don't want to! I just want to act. It also says, 'You're not attractive enough or good enough that we would just let you act.'"
Slate is currently working as a scriptwriter on an upcoming Looney Tunes film for Warner Bros.
Via Vulture
http://www.dailyactor.com/wp-content/uploads/2016/08/imperium_daniele_radcliffe.jpg
Daniel Radcliffe on Playing a Neo-Nazi in 'Imperium': "It's still just horrible to say some of this stuff"
Radcliffe reveals how he played such a layered character and what it felt like to say his character's hate-filled dialogue.
http://www.dailyactor.com/actors-on-acting/daniel-radcliffe-playing-a-neo-nazi-imperium/
http://www.dailyactor.com/wp-content/uploads/2016/08/John-Cho-Star-Trek-Beyond.jpg
How John Cho Took A Stand for Diversity Early in His Career
"When one does speak one's mind, one might be surprised at how receptive people are." - Actor John Cho
http://www.dailyactor.com/actors-on-acting/john-cho-took-a-stand-for-diversity/
http://www.dailyactor.com/wp-content/uploads/2016/08/simon-helberg-florence-foster-jenkins.jpg
Simon Helberg on His 'Florence Foster Jenkins' Role: "I'm an actor and I want to stretch different muscles"
Helberg spoke about portraying his character in the film and whether or not he feels typecast by his Big Bang Theory role.
http://www.dailyactor.com/actors-on-acting/simon-helberg-florence-foster-jenkins-role/
http://www.dailyactor.com/wp-content/uploads/2016/08/Will-Chase-Something-Rotten.jpg
The Role That Got Away: Will Chase on Returning to 'Something Rotten!'
"I know that I am a poor man's fill-in-the-blank. And I know that there are poor man's Will Chases out there. That's just the nature of the business" - Will Chase
http://www.dailyactor.com/actors-on-acting/will-chase-something-rotten-role-that-got-away/
http://www.dailyactor.com/wp-content/uploads/2016/08/Julia-Stiles-Jason-Bourne.jpg
Julia Stiles on the Jason Bourne Series and Growing as an Actress: "There's always room for improvement"
"I like a director that encourages me to be playful. I don't really like being restricted or controlled by a director." - Julia Stiles
http://www.dailyactor.com/actors-on-acting/julia-stiles-growing-as-an-actress/