Comedian Jenny Slate Talks about Her Disappointing Turn on 'Saturday Night Live'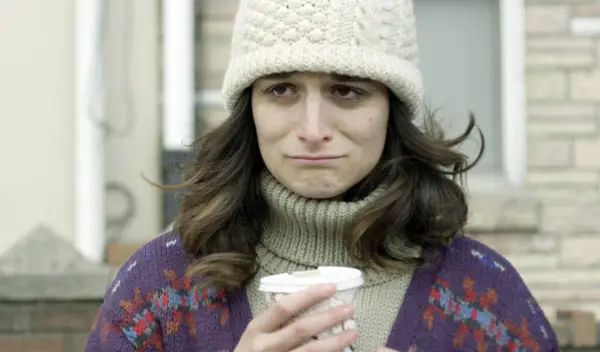 Comedian Jenny Slate wore a badge of dishonor for years after she was fired after her first season of Saturday Night Live for uttering the word "f**k" during her first episode in 2009. She punished herself for years after that incident.
She said, "I wasn't strong enough to tell myself it was okay, and I walked around with that kind of filthy, filthy embarrassment cloak on for a few years. I guess I chose to pay penance for quite a while."
The overall experience at NBC was a disappointing one for the 32-year-old actress because she never really fit in.
"Thirty Rock's a romantic place, and there are so many romantic things about it. The costumes have been there forever. You look in a pair of pants, and in Sharpie it says GILDA in them,a' Slate shared. "But it was a really weird disappointment when I got there and realized how foolish it was that what I expected it would be was from the expectations of a 7-year-old. And that they didn't actually want my creative input as a woman."
One thing Hollywood has done to Slate is create an impression that there isn't enough work out there for her.
The Obvious Child star explained, "There's a whole thing now in the entertainment industry that's like, 'You need to write for yourself. Those are the people that are really valuable.' And it's just like, I don't want to! I just want to act. It also says, 'You're not attractive enough or good enough that we would just let you act.'"
Slate is currently working as a scriptwriter on an upcoming Looney Tunes film for Warner Bros.
Via Vulture
http://www.dailyactor.com/wp-content/uploads/2016/05/Chris-Evans-Captain-America.jpg
Chris Evans on the Challenges of Being Captain America Outside of Acting
"It's part of the job, I've got to sell this thing. But it's just a gross feeling. It makes me insecure."
http://www.dailyactor.com/actors-on-acting/chris-evans-challenges-of-being-captain-america/
http://www.dailyactor.com/wp-content/uploads/2016/04/julia-louis-dreyfus-veep.jpg
Julia Louis-Dreyfus: "Opportunity for women in television has increased. It's because the landscape has widened"
"I did not come out of SNL as any kind of name. I didn't do anything particularly great when I was there. I didn't. It's fine. But I learned a tremendous amount."
http://www.dailyactor.com/actors-on-acting/julia-louis-dreyfus/
http://www.dailyactor.com/wp-content/uploads/2016/04/Tituss-Burgess-Unbreakable-Kimmy-Schmidt.jpg
Tituss Burgess on How He Landed His 'Unbreakable Kimmy Schmidt' Role
Burgess reveals how his role on 30 Rock led to 'Kimmy Schmidt' and whether or not he'd consider returning to Broadway.
http://www.dailyactor.com/actors-on-acting/tituss-burgess-unbreakable-kimmy-schmidt-role/
http://www.dailyactor.com/wp-content/uploads/2016/04/Christine-Baranski-The-Good-Wife.jpg
Christine Baranski on the End of 'The Good Wife' and Going Back to Theatre
The final episode of The Good Wife airs on May 8, and it's been several weeks since series star Christine Baranski shot the final episode with her co-stars. She spoke to The Hollywood Reporter about the end of the series she has spent the last seven years working on and what she plans to do […]
http://www.dailyactor.com/actors-on-acting/christine-baranski-the-good-wife-theatre/
http://www.dailyactor.com/wp-content/uploads/2016/04/jake-gyllenhaal-demolition.jpg
Jake Gyllenhaal on 'Demolition', Working with Chris Cooper and Directors Who Want Nothing to Do With Him
"I think storytelling is the most important part of movie-making over performance." - Jake Gyllenhaal
http://www.dailyactor.com/actors-on-acting/jake-gyllenhaal-demolition-chris-cooper/