Comedian Jenny Slate Talks about Her Disappointing Turn on 'Saturday Night Live'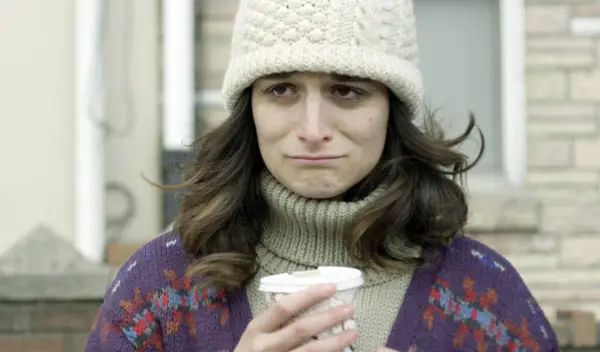 Comedian Jenny Slate wore a badge of dishonor for years after she was fired after her first season of Saturday Night Live for uttering the word "f**k" during her first episode in 2009. She punished herself for years after that incident.
She said, "I wasn't strong enough to tell myself it was okay, and I walked around with that kind of filthy, filthy embarrassment cloak on for a few years. I guess I chose to pay penance for quite a while."
The overall experience at NBC was a disappointing one for the 32-year-old actress because she never really fit in.
"Thirty Rock's a romantic place, and there are so many romantic things about it. The costumes have been there forever. You look in a pair of pants, and in Sharpie it says GILDA in them,a' Slate shared. "But it was a really weird disappointment when I got there and realized how foolish it was that what I expected it would be was from the expectations of a 7-year-old. And that they didn't actually want my creative input as a woman."
One thing Hollywood has done to Slate is create an impression that there isn't enough work out there for her.
The Obvious Child star explained, "There's a whole thing now in the entertainment industry that's like, 'You need to write for yourself. Those are the people that are really valuable.' And it's just like, I don't want to! I just want to act. It also says, 'You're not attractive enough or good enough that we would just let you act.'"
Slate is currently working as a scriptwriter on an upcoming Looney Tunes film for Warner Bros.
Via Vulture
http://www.dailyactor.com/wp-content/uploads/2016/06/jeff-bridges-hell-or-high-water.jpg
Jeff Bridges on Creating a Character, 'Hell or High Water' and Playing The Dude
"I use elements of myself—I see my parallels with a character—and find similar things in my own personality." - Jeff Bridges on Creating a Character
http://www.dailyactor.com/film/jeff-bridges-creating-a-character/
http://www.dailyactor.com/wp-content/uploads/2016/07/benjamin-bratt-actor.jpg
Benjamin Bratt: "For as limiting as the opportunities are for actors and actresses of color I've been very blessed"
"...it's dangerous to keep going down the same artistic path." - Benjamin Bratt
http://www.dailyactor.com/film/benjamin-bratt-ive-been-very-blessed/
http://www.dailyactor.com/wp-content/uploads/2016/07/watch-keegan-michael-key-explain.jpg
Watch: Keegan-Michael Key Explains Why "Improv actors are at war together"
Check out Key's points on why it's so important for improv actors to have each others' backs in the clip above.
http://www.dailyactor.com/videos/keegan-michael-key-improv-actors-at-war-together/
http://www.dailyactor.com/wp-content/uploads/2016/07/norman-reedus-actor.jpg
Norman Reedus on Acting: "If it's something you really want, you have to roll with the rejection"
Norman Reedus is a fan-favorite star on The Walking Dead and was in the cult favorite film The Boondock Saints. However, in the dozen years between those two gigs Reedus had experienced ups and downs in his career and in many cases he was cast in very small roles in big movies or lead roles […]
http://www.dailyactor.com/actors-on-acting/norman-reedus-acting-rejection/
http://www.dailyactor.com/wp-content/uploads/2016/07/frank-grillo.jpg
Frank Grillo on Being Typecast: "I welcome it"
"I hear actors pooh-pooh the idea... people might see them as a certain thing. I welcome it" - Frank Grillo on Typecasting
http://www.dailyactor.com/film/frank-grillo-on-typecasting/