Christopher Eccleston on Keeping Quiet About his Religious Beliefs and The Hardest Scene to Shoot in 'The Leftovers'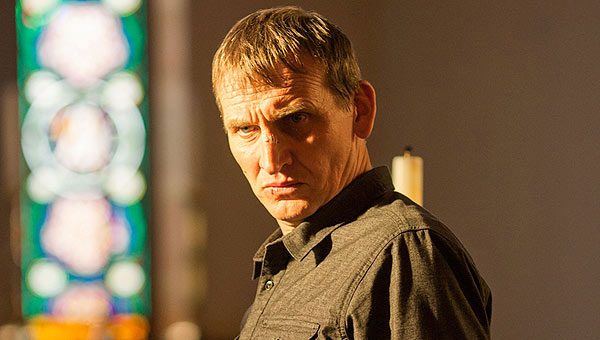 Christopher Eccleston is no stranger to TV — after all, he is the actor who brought Doctor Who back to life after a sixteen year absence and was also on another cult favorite TV series, Heroes — and he recently returned to the small screen in the HBO series The Leftovers. On the series Eccleston portrays Matt Jamison, a former reverend who is distraught and confused about why he wasn't "chosen" to disappear in a rapture-like event that caused 2% of the world's population to disappear that happened three years before the start of the series. He spoke to Vulture about why he doesn't think he should talk about his own religious beliefs and what was the hardest scene to film.
In the past, Eccleston has identified himself as an atheist. When asked how that worldview affects his performance as a former reverend, Eccleston retreats from his earlier statements on religion. He explains why by saying, "You know, I think I said I was an atheist years ago when I was young and headstrong. I don't know what I would say now. I'd probably say nothing. I actually think it's quite important when you're playing a character like this to keep your mouth shut about that. So, I'm keeping my mouth shut."
He also spoke about the most difficult scene to film, and explains why he doesn't plan on watching it. He reveals, "The scene where Matt puts his camp bed next to his wife, who is in a semi-vegetative state, and stares at the portrait of Job. That's his darkest hour. How to pitch that … crumbling was a challenge, and probably one I won't look at. That was hard. It's those quiet moments where the camera pulls into you and and you try and open yourself outward … I don't want to sound too much like an actor here but you know what I mean? Those moments of fragility are the hardest."
http://www.dailyactor.com/wp-content/uploads/2016/04/julia-louis-dreyfus-veep.jpg
Julia Louis-Dreyfus: "Opportunity for women in television has increased. It's because the landscape has widened"
"I did not come out of SNL as any kind of name. I didn't do anything particularly great when I was there. I didn't. It's fine. But I learned a tremendous amount."
http://www.dailyactor.com/tv/julia-louis-dreyfus/
http://www.dailyactor.com/wp-content/uploads/2016/04/Tituss-Burgess-Unbreakable-Kimmy-Schmidt.jpg
Tituss Burgess on How He Landed His 'Unbreakable Kimmy Schmidt' Role
Burgess reveals how his role on 30 Rock led to 'Kimmy Schmidt' and whether or not he'd consider returning to Broadway.
http://www.dailyactor.com/tv/tituss-burgess-unbreakable-kimmy-schmidt-role/
http://www.dailyactor.com/wp-content/uploads/2016/04/Christine-Baranski-The-Good-Wife.jpg
Christine Baranski on the End of 'The Good Wife' and Going Back to Theatre
The final episode of The Good Wife airs on May 8, and it's been several weeks since series star Christine Baranski shot the final episode with her co-stars. She spoke to The Hollywood Reporter about the end of the series she has spent the last seven years working on and what she plans to do […]
http://www.dailyactor.com/tv/christine-baranski-the-good-wife-theatre/
http://www.dailyactor.com/wp-content/uploads/2016/04/jake-gyllenhaal-demolition.jpg
Jake Gyllenhaal on 'Demolition', Working with Chris Cooper and Directors Who Want Nothing to Do With Him
"I think storytelling is the most important part of movie-making over performance." - Jake Gyllenhaal
http://www.dailyactor.com/film/jake-gyllenhaal-demolition-chris-cooper/
http://www.dailyactor.com/wp-content/uploads/2016/04/don-cheadle-miles-davis.jpg
Don Cheadle: "Be scared. Be on the edge of your creativity"
"Be willing to fall flat on your face and be in an unknown place. If you're doing that, you're probably growing" - Don Cheadle
http://www.dailyactor.com/film/don-cheadle-scared-creativity/