Chris O'Dowd on Acting in 'Of Mice and Men' on Broadway: "It's an absolute privilege"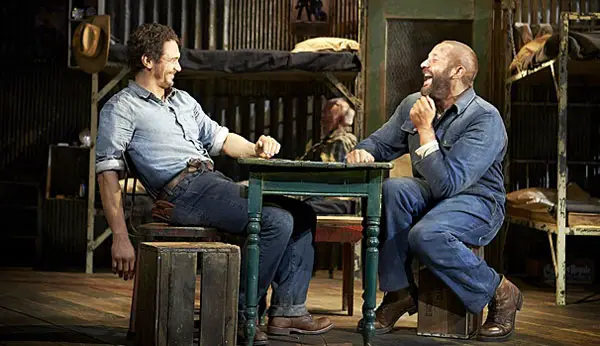 While New York Times theater critic Ben Brantley may not have loved the current production of Of Mice and Men as a whole (just ask James Franco about that), most critics have given considerable praise to Chris O'Dowd for his portrayal of Lennie. In a conversation with NPR, O'Dowd spoke about why he decided to do such a high-profile play at this point in his career, the challenges of playing a character like Lennie,
O'Dowd explains that he ended up starring in Of Mice and Men because he had the desire to do a play after a long hiatus from the stage. He says, "I had been looking for a play to do. I come from a theater background but I hadn't done a show in maybe five years or so. So I was feeling a little rusty and wanted to give it a go."
Playing Lennie is a particular challenge since O'Dowd (or any other actor) has to remain committed to portraying a character with a mental disability as honestly and consistent as possible. He confesses, "It is hard of course, any time you're playing someone with a cognitive disability of any kind it's dangerous territory. … I kind of based it on a guy I knew from London that kind of lived at the end of our road. I'm not 100 percent sure what was wrong with him. … Steinbeck doesn't at any stage say what exactly is wrong with Lennie so it's very open to interpretation. By all accounts it's specifically about somebody that he knew."
One thing that O'Dowd believes helped him in nailing that portrayal is the fact that he has never seen the play or book performed before. He reveals, "I feel fortunate in that I've never seen … a production of it. I never saw the film. I think maybe they put it on in school but I fell asleep … that's more about me as a student rather than the film … I feel unburdened by any expectations of the play."
However, when it comes to acting on Broadway O'Dowd feels it is almost entirely a pleasurable experience. He explains, "It's an absolute privilege. Every night I feel at various moments terrified that we have to go out and to this again but very confident because I feel the show is in a good place. In that last scene I feel very, very privileged to be able to do it — the writing is so good. Regardless of what we're doing with it — to bring it to people who have maybe never seen it before. I believe that this production will be seen by more people than have ever seen this play and that's absolutely exhilarating."
http://www.dailyactor.com/wp-content/uploads/2016/06/jeff-bridges-hell-or-high-water.jpg
Jeff Bridges on Creating a Character, 'Hell or High Water' and Playing The Dude
"I use elements of myself—I see my parallels with a character—and find similar things in my own personality." - Jeff Bridges on Creating a Character
http://www.dailyactor.com/actors-on-acting/jeff-bridges-creating-a-character/
http://www.dailyactor.com/wp-content/uploads/2016/07/benjamin-bratt-actor.jpg
Benjamin Bratt: "For as limiting as the opportunities are for actors and actresses of color I've been very blessed"
"...it's dangerous to keep going down the same artistic path." - Benjamin Bratt
http://www.dailyactor.com/actors-on-acting/benjamin-bratt-ive-been-very-blessed/
http://www.dailyactor.com/wp-content/uploads/2016/07/watch-keegan-michael-key-explain.jpg
Watch: Keegan-Michael Key Explains Why "Improv actors are at war together"
Check out Key's points on why it's so important for improv actors to have each others' backs in the clip above.
http://www.dailyactor.com/actors-on-acting/keegan-michael-key-improv-actors-at-war-together/
http://www.dailyactor.com/wp-content/uploads/2016/07/norman-reedus-actor.jpg
Norman Reedus on Acting: "If it's something you really want, you have to roll with the rejection"
Norman Reedus is a fan-favorite star on The Walking Dead and was in the cult favorite film The Boondock Saints. However, in the dozen years between those two gigs Reedus had experienced ups and downs in his career and in many cases he was cast in very small roles in big movies or lead roles […]
http://www.dailyactor.com/actors-on-acting/norman-reedus-acting-rejection/
http://www.dailyactor.com/wp-content/uploads/2016/07/frank-grillo.jpg
Frank Grillo on Being Typecast: "I welcome it"
"I hear actors pooh-pooh the idea... people might see them as a certain thing. I welcome it" - Frank Grillo on Typecasting
http://www.dailyactor.com/actors-on-acting/frank-grillo-on-typecasting/