Chris Messina on Acting in Television: "You have to be open to change and surprises"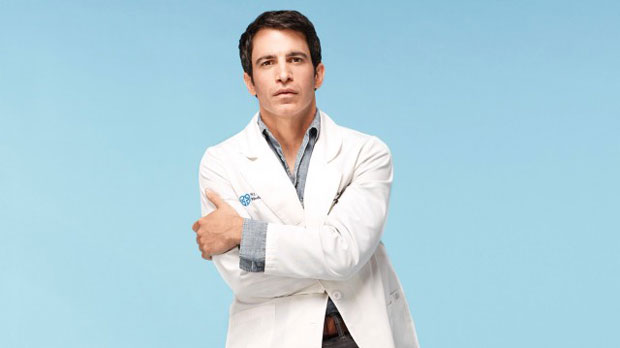 While Chris Messina has been busy this season with the coupling of Mindy and Danny on The Mindy Project, there's one other show fans can still catch him on, The Newsroom. The HBO show is coming back for a third and final season.
Messina shared his thoughts to Vulture about the short run of the cable show.
He said, "I don't know. I actually think [short seasons] will be something we see a lot more of, like True Detective. There's so much great television and I'm so behind, it's kind of nice to not to be overwhelmed with the idea of season after season of something. I can enjoy a show and move on. We do 22 episodes on Mindy, and it's a lot on everybody. Three seasons, I thought, sounded nice and human."
Viewers last left his character Reese with deciding to not accept the resignations of Will [Jeff Daniels], Charlie [Sam Waterston] and Mac [Emily Mortimer] after the Genoa scandal. It was a move that surprised many fans.
The 39-year-old actor explained his take on it, "You know, with television shows, they take on a life of their own. You can tell an actor, this is what your character is and does, but it changes. You have to be open to change and surprises. When I did six episodes of Six Feet Under, I remember I was nervous and I hadn't done a lot, so I was asking, 'What happens? What happens with my character?' And I remember Alan Ball saying to me, 'You know, like in life, these characters don't know what's going to happen to them.' That relaxed me. Now I know you have to go with it. If you don't, you're going to be frustrated."
Season 3 of The Newsroom will debut in the fall. The Mindy Project wraps up Season 2 on Tuesday, May 6 on FOX.
http://www.dailyactor.com/wp-content/uploads/2016/04/julia-louis-dreyfus-veep.jpg
Julia Louis-Dreyfus: "Opportunity for women in television has increased. It's because the landscape has widened"
"I did not come out of SNL as any kind of name. I didn't do anything particularly great when I was there. I didn't. It's fine. But I learned a tremendous amount."
http://www.dailyactor.com/tv/julia-louis-dreyfus/
http://www.dailyactor.com/wp-content/uploads/2016/04/Tituss-Burgess-Unbreakable-Kimmy-Schmidt.jpg
Tituss Burgess on How He Landed His 'Unbreakable Kimmy Schmidt' Role
Burgess reveals how his role on 30 Rock led to 'Kimmy Schmidt' and whether or not he'd consider returning to Broadway.
http://www.dailyactor.com/tv/tituss-burgess-unbreakable-kimmy-schmidt-role/
http://www.dailyactor.com/wp-content/uploads/2016/04/Christine-Baranski-The-Good-Wife.jpg
Christine Baranski on the End of 'The Good Wife' and Going Back to Theatre
The final episode of The Good Wife airs on May 8, and it's been several weeks since series star Christine Baranski shot the final episode with her co-stars. She spoke to The Hollywood Reporter about the end of the series she has spent the last seven years working on and what she plans to do […]
http://www.dailyactor.com/tv/christine-baranski-the-good-wife-theatre/
http://www.dailyactor.com/wp-content/uploads/2016/04/jake-gyllenhaal-demolition.jpg
Jake Gyllenhaal on 'Demolition', Working with Chris Cooper and Directors Who Want Nothing to Do With Him
"I think storytelling is the most important part of movie-making over performance." - Jake Gyllenhaal
http://www.dailyactor.com/film/jake-gyllenhaal-demolition-chris-cooper/
http://www.dailyactor.com/wp-content/uploads/2016/04/don-cheadle-miles-davis.jpg
Don Cheadle: "Be scared. Be on the edge of your creativity"
"Be willing to fall flat on your face and be in an unknown place. If you're doing that, you're probably growing" - Don Cheadle
http://www.dailyactor.com/film/don-cheadle-scared-creativity/