Chris Colfer on Writing a 'Glee' Episode: "It was definitely an opportunity I couldn't turn down"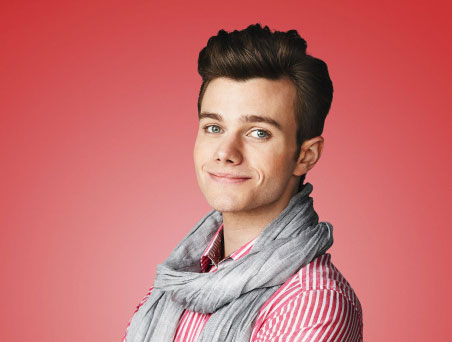 After six seasons on the FOX show, Glee, Chris Colfer is taking his career to the next level. In addition to playing Kurt on the musical series, the 23-year-old actor was given the opportunity to write an episode of the show.
While this wasn't his first time as a writer, he was nervous about the process.
"I've been asked for years if I ever wanted to write an episode for Glee, but I always said I never did. Glee was not my world, it was not my creation, and I would never want to tamper it or damage it in any way. So when they came to me and they asked me if I wanted to write an episode, I was very very shocked. But it was definitely an opportunity I couldn't turn down," Colfer explained. "I was very, very apprehensive when I walked into the writers' room for the first time. I knew there was a story I wanted to tell, but I didn't know if I was going to be able to. Or if they had a story they wanted me to write, or what kind of guidelines they would give me. They really were just rock stars about it. They were so patient and so generous, and they let me tell the story I wanted to tell. It was a great experience thanks to them."
The young star was given the second-to-last episode of the season, but there were a few specific instructions he had to follow. He said, "They gave me two guidelines, one that I couldn't break up with Blaine and two that I couldn't kill anyone."
Once the script was written and the cast was shooting on set, did he stick around to hear his words play out?
Colfer shared, "It's very nerve-wracking to watch people say the words that you've written. I learned that when I did my movie Struck by Lightning. But it was even harder to do that in this environment because I've known everyone for so long. We've been on the show for six years, and to suddenly take the steering wheel was very nerve-wracking. So if I wasn't needed for a scene I would let everyone do their thing. I did not stay. I let everyone do their own job."
Glee airs on Tuesdays on FOX
Via Vulture
http://www.dailyactor.com/wp-content/uploads/2015/09/Tom-Hardy-Legend.jpg
Tom Hardy on Playing Twins in 'Legend,' Being Seen as a Tough Guy, and Working with Philip Seymour Hoffman
Hardy speaks about why he challenged himself to play twins, what he thinks of his tough guy image, and working with the late Philip Seymour Hoffman, who directed him on stage.
http://www.dailyactor.com/actors-on-acting/tom-hardy-playing-twins-legend/
http://www.dailyactor.com/wp-content/uploads/2015/09/Emily-Blunt-Sicario.jpg
Emily Blunt on Action Movie Roles: "I think it's important to show different layers. Nobody is just tough, nobody is just vulnerable"
Emily Blunt touches upon why she has gotten into roles with an action bent and why she thinks there aren't more action movies with female leads
http://www.dailyactor.com/actors-on-acting/emily-blunt-sicario-acting-layers/
http://www.dailyactor.com/wp-content/uploads/2015/09/Jorja-Fox-CSI.jpg
Jorja Fox on Life After 'CSI': "I've always enjoyed not knowing exactly where the road leads"
"I think you kind of have to embrace the unknown if you're an actor." - Jorja Fox
http://www.dailyactor.com/actors-on-acting/jorja-fox-life-after-csi/
http://www.dailyactor.com/wp-content/uploads/2015/09/John-Turturro-Mia-Madre.jpg
John Turturro on the Life of an Actor: "It's a rough business. I wouldn't want my kids to do it"
"I am usually very well prepared. If you're a surgeon, you've got to know what you're going to take out today." - John Turturro
http://www.dailyactor.com/actors-on-acting/john-turturro-life-of-an-actor/
http://www.dailyactor.com/wp-content/uploads/2015/09/Matt-Damon-The-Martian.jpg
Matt Damon's Controversial Comments on Actors Keeping Their Real Lives a Mystery
"I think you're a better actor the less people know about you period. And sexuality is a huge part of that." - Matt Damon
http://www.dailyactor.com/actors-on-acting/matt-damon-actors-keeping-their-real-lives-a-mystery/