'Bullets Over Broadway' Star Nick Cordero Talks About His Striking Height, Pink Socks and Playing a Mafioso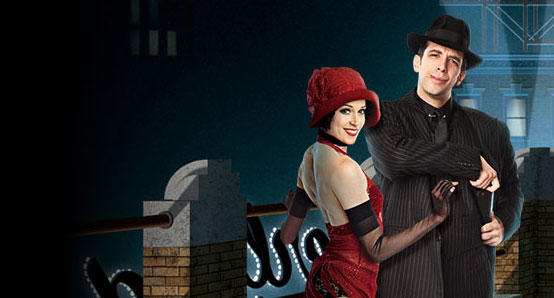 Nick Cordero is an unusual figure in the Broadway musical theatre community. Standing at a striking 6 feet, 5 inches tall, the actor is currently playing a mafioso named Cheech in Woody Allen's Bullets Over Broadway.
Even though he's had successful runs in Rock of Ages and The Toxic Avenger, he shared that being so tall resulted in losing out on roles, "most of them," because of his height. He explained, "They give it to someone who looks better next to the leading lady."
He didn't have to worry about a leading lady in his current show, but he did have a bit of a misstep with his director, Susan Stroman.
The Tony nominee for Best Featured Actor in a Musical said, "We were doing a presentation in the fall. I hadn't had time to do laundry, so I wore pink socks. I walked up to Susan and I was like, 'I hope you don't mind.' She was like, 'What are you doing?' She sent [an assistant] to get me some black socks. I thought it would be a cool thing, Cheech expressing himself."
While it is obviously not pink socks that drives his character, it is more of a physicality that creates his demeanor.
"The thuggishness of him, the physical intimidation, that took me a little bit to get," Cordero said. "What I realized: It's really just his stillness. He's the rock, this stoic sort of presence amid all these characters going crazy."
Bullets Over Broadway is currently nominated for 6 Tony Awards. It is playing at the St. James Theatre in New York City.
http://www.dailyactor.com/wp-content/uploads/2016/08/Will-Chase-Something-Rotten.jpg
The Role That Got Away: Will Chase on Returning to 'Something Rotten!'
"I know that I am a poor man's fill-in-the-blank. And I know that there are poor man's Will Chases out there. That's just the nature of the business" - Will Chase
http://www.dailyactor.com/broadway-theater/will-chase-something-rotten-role-that-got-away/
http://www.dailyactor.com/wp-content/uploads/2016/08/Julia-Stiles-Jason-Bourne.jpg
Julia Stiles on the Jason Bourne Series and Growing as an Actress: "There's always room for improvement"
"I like a director that encourages me to be playful. I don't really like being restricted or controlled by a director." - Julia Stiles
http://www.dailyactor.com/film/julia-stiles-growing-as-an-actress/
http://www.dailyactor.com/wp-content/uploads/2016/08/Michael-Kenneth-Williams-The-Night-Of.jpg
Michael Kenneth Williams on How His Roles Impact Him: "That energy's gotta go somewhere"
Since his days of playing Omar on 'The Wire', Williams has learned how to separate himself from his characters.
http://www.dailyactor.com/tv/michael-kenneth-williams-the-night-of/
http://www.dailyactor.com/wp-content/uploads/2016/08/margot-robbie-the-wolf-of-wall-street.jpg
Margot Robbie Believed 'The Wolf of Wall Street' Would Ruin Her Career
Many actors can point to a single role that was a career breakthrough -- but not all of them realize that it's a breakthrough as it's happening.
http://www.dailyactor.com/film/margot-robbie-the-wolf-of-wall-street-ruin-her-career/
http://www.dailyactor.com/wp-content/uploads/2016/08/Jonah-Hill-War-Dogs.jpg
Jonah Hill Talks 'War Dogs' and Getting into Character by Listening to Music
"When I started taking acting classes, it was the first time teachers were like, 'You're good and you should keep doing this.'" - Jonah Hill
http://www.dailyactor.com/film/jonah-hill-war-dogs/