Biography: Zoe Kazan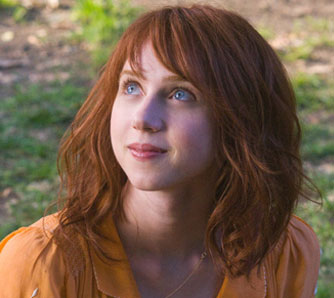 Ruby Sparks is the first screenplay written by Zoe Kazan. An acclaimed theater actress and 2005 graduate of Yale University, Zoe made her New York stage debut in 2006 in the Off-Broadway revival of The Prime of Miss Jean Brodie opposite Cynthia Nixon. She continued to shine on stage in 2007, starring in Jonathan Marc Sherman's Things We Want, directed by Ethan Hawke, and Playwrights Horizons' production of 100 Saints You Should Know, for which she received a Drama Desk Award nomination for Outstanding Featured Actress in a Play, as well as the Lucille Lortel Award nomination for Outstanding Featured Actress.
In January 2008, Zoe made her Broadway debut opposite S. Epatha Merkerson in a revival of William Inge's Come Back, Little Sheba. Following this role, Zoe was named the recipient of the 2008 Clarence Derwent Award, honoring "the most promising female and male performers on the New York metropolitan scene."
She is the only actor to be awarded the Derwent Award for three roles in one year: Come Back, Little Sheba; 100 Saints You Should Know and Things We Want. Since then, she has returned twice to Broadway: in 2009 as Masha in Ian Rickson's critically acclaimed production of The Seagull, opposite Kristin Scott Thomas, Peter Sarsgaard and Carey Mulligan; and in 2010 in Martin McDonagh's comedy A Behanding in Spokane opposite Christopher Walken and Sam Rockwell. Zoe returned to Off-Broadway in the fall of 2010, starring as Harper in The Signature Theatre Company's revival of Tony Kushner's Angels In America.
Zoe is also a promising playwright, whose family drama Absalom was produced at the Humana Festival at the Actor's Theater of Louisville in 2009. Her second play, We Live Here, was produced Off-Broadway by The Manhattan Theatre Company in the fall of 2011, in a production directed by Sam Gold. As Zoe continues her success in the theatre, she also has been working consistently on the big screen. Zoe received high praise for her breakout role as Maureen Grube in Sam Mendes' Revolutionary Road opposite Leonardo DiCaprio and Kate Winslet. She also appeared in Paul Haggis' thriller In The Valley of Elah with Charlize Theron, Gregory Hoblit's Fracture with Ryan Gosling, Rebecca Miller's The Private Lives of Pippa Lee, Richard Linklater's Me and Orson Wells, Josh Radnor's HappyThankYouMorePlease, Kelly Reichardt's Meek's Cutoff with Paul Dano and Michelle Williams, and Nancy Meyers' It's Complicated with Meryl Streep. Zoe was awarded Best Actress in a Narrative Feature Film by the Tribeca Film Festival in 2009 for her first starring role, in Bradley Rust Gray's The Exploding Girl. She also guest-starred in four episodes of HBO's Bored To Death, opposite Jason Schwartzman.
Since wrapping Ruby Sparks, Zoe has acted in three independent films, including starring roles in the upcoming In Your Eyes, written and produced by Joss Whedon, and The Pretty One, written and directed by Jenee Lamarque and co-starring Jake Johnson.
http://www.dailyactor.com/wp-content/uploads/2016/07/watch-keegan-michael-key-explain.jpg
Watch: Keegan-Michael Key Explains Why "Improv actors are at war together"
Check out Key's points on why it's so important for improv actors to have each others' backs in the clip above.
http://www.dailyactor.com/actors-on-acting/keegan-michael-key-improv-actors-at-war-together/
http://www.dailyactor.com/wp-content/uploads/2016/07/norman-reedus-actor.jpg
Norman Reedus on Acting: "If it's something you really want, you have to roll with the rejection"
Norman Reedus is a fan-favorite star on The Walking Dead and was in the cult favorite film The Boondock Saints. However, in the dozen years between those two gigs Reedus had experienced ups and downs in his career and in many cases he was cast in very small roles in big movies or lead roles […]
http://www.dailyactor.com/actors-on-acting/norman-reedus-acting-rejection/
http://www.dailyactor.com/wp-content/uploads/2016/07/frank-grillo.jpg
Frank Grillo on Being Typecast: "I welcome it"
"I hear actors pooh-pooh the idea... people might see them as a certain thing. I welcome it" - Frank Grillo on Typecasting
http://www.dailyactor.com/actors-on-acting/frank-grillo-on-typecasting/
http://www.dailyactor.com/wp-content/uploads/2016/07/Michael-Shannon-Acting-for-free.jpg
Michael Shannon on Actors Working for Free: "I think as a group actors need to stop enabling this behavior"
"If somebody's got a good script and you want to put good actors in it then everybody should be taken care of." - Michael Shannon
http://www.dailyactor.com/actors-on-acting/michael-shannon-actors-working-for-free/
http://www.dailyactor.com/wp-content/uploads/2016/07/Javier-Munoz-Hamilton.jpg
Javier Muñoz on Taking the Lead in 'Hamilton': "This is just fun, and glorious"
Muñoz talks about his feelings on playing Alexander Hamilton full-time and his relationship with Lin-Manuel Miranda.
http://www.dailyactor.com/actors-on-acting/javier-munoz-new-hamilton/