Biography: Joseph Gordon-Levitt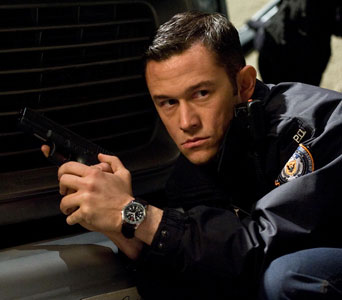 Joseph Gordon-Levitt is one of today's busiest actors and has also been showcasing his talents behind the camera.
Following The Dark Knight Rises, he stars in three more films due out this year: the thriller Premium Rush, for writer/director David Koepp; Rian Johnson's sci-fi thriller Looper, which he stars in with Emily Blunt and Bruce Willis and also executive produced; and the Steven Spielberg-directed biopic Lincoln, playing Robert Todd Lincoln. In addition, Gordon-Levitt is currently making his feature film directorial debut on the comedy Don Jon's Addiction, which he also wrote and stars in with Scarlett Johansson and Julianne Moore.
Gordon-Levitt recently earned his second Golden Globe nomination in the category of Best Actor in a Motion Picture – Comedy or Musical for his performance in the comedy/drama 50/50, in which he starred with Seth Rogen, Anna Kendrick and Bryce Dallas Howard. He previously garnered Golden Globe and Independent Spirit Award nominations for his work in the award-winning sleeper hit (500) Days of Summer, opposite Zooey Deschanel.
In 2010, Gordon-Levitt starred in Christopher Nolan's hit thriller Inception, joining an international all-star cast, including Leonardo DiCaprio, Ellen Page and Tom Hardy. He also played the title role in the independent drama Hesher, which premiered at the 2010 Sundance Film Festival.
His broad range of film credits also include the global action hit G.I. Joe: The Rise of Cobra, for director Stephen Sommers; Spike Lee's World War II drama Miracle at St. Anna; Kimberly Peirce's controversial drama Stop-Loss; and the crime drama The Lookout, which marked Scott Frank's directorial debut. In addition, Gordon-Levitt has received widespread praise for his performances in such independent features as John Madden's Killshot; Lee Daniels' Shadowboxer; Rian Johnson's award-winning debut film, Brick; Mysterious Skin, for writer/director Gregg Araki; and Manic, with Don Cheadle.
Early in his career, Gordon-Levitt won a Young Artist Award for his first major role, in Robert Redford's drama A River Runs Through It. He went on to co-star in Angels in the Outfield, The Juror, Halloween H20 and 10 Things I Hate About You.
Gordon-Levitt is also well known to television audiences for his starring role on NBC's award-winning comedy series 3rd Rock from the Sun. During his six seasons on the show, he won two YoungStar Awards and also shared in three Screen Actors Guild Award® nominations for Outstanding Comedy Series Cast. Following the series, Gordon-Levitt took a short break from acting to attend Columbia University.
Gordon-Levitt founded and directs an open collaborative production company called hitRECord.org comprised of an online community of thousands of artists from all over the world. Through the site, more than 40,000 participants have had the opportunity to team together to create short films, music, art or stories. The company has presented evenings of short film and live entertainment at the Sundance and South by Southwest Film Festivals; toured some of the country's top colleges; published Tiny Book of Tiny Stories (released by Harper Collins in December 2011); and last fall released a DVD/book/CD called RECollection Volume 1.
A budding writer/director in the more traditional sense, as well, Gordon-Levitt adapted the Elmore Leonard story Sparks into a 24-minute short film. Marking his directorial debut, the short screened at the 2009 Sundance Film Festival.
http://www.dailyactor.com/wp-content/uploads/2016/08/John-Krasinski-The-Hollars.jpg
John Krasinski on his "Lottery-Ticket Life": "What I try to do instead is try to deserve to stay here"
"It's so unbelievably rare to get the opportunity that I did to be on The Office, so what I try to do instead is try to deserve to stay here" - John Krasinski
http://www.dailyactor.com/film/john-krasinski-ottery-ticket-life/
http://www.dailyactor.com/wp-content/uploads/2016/08/john-turturro-the-night-of.jpg
John Turturro on 'The Night Of', Almost Quitting Acting and Why He Doesn't Chase Awards
"Why do I have to pay a publicist? I'd rather save my money so I can go do an Off Broadway play.'" - John Turturro
http://www.dailyactor.com/tv/john-turturro-the-night-of-quitting-actingawards/
http://www.dailyactor.com/wp-content/uploads/2016/08/imperium_daniele_radcliffe.jpg
Daniel Radcliffe on Playing a Neo-Nazi in 'Imperium': "It's still just horrible to say some of this stuff"
Radcliffe reveals how he played such a layered character and what it felt like to say his character's hate-filled dialogue.
http://www.dailyactor.com/film/daniel-radcliffe-playing-a-neo-nazi-imperium/
http://www.dailyactor.com/wp-content/uploads/2016/08/John-Cho-Star-Trek-Beyond.jpg
How John Cho Took A Stand for Diversity Early in His Career
"When one does speak one's mind, one might be surprised at how receptive people are." - Actor John Cho
http://www.dailyactor.com/film/john-cho-took-a-stand-for-diversity/
http://www.dailyactor.com/wp-content/uploads/2016/08/simon-helberg-florence-foster-jenkins.jpg
Simon Helberg on His 'Florence Foster Jenkins' Role: "I'm an actor and I want to stretch different muscles"
Helberg spoke about portraying his character in the film and whether or not he feels typecast by his Big Bang Theory role.
http://www.dailyactor.com/film/simon-helberg-florence-foster-jenkins-role/