Anthony Mackie on Landing 'Captain America: The Winter Soldier' Role: "When I heard I got the role I broke down in tears"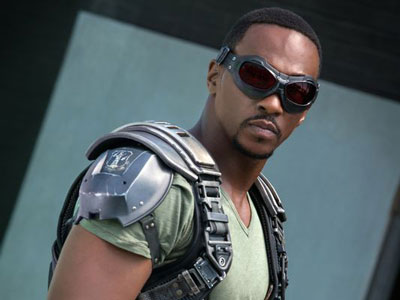 As an increasing number of Oscar winners — including Tommy Lee Jones, Robert Redford, and Russell Crowe, just to name a few — turn toward supporting roles in superhero films, it's important to note that there are younger actors who are also in supporting roles and are hoping that the visibility of roles in superhero movies will launch their careers to the next level. One such actor is Anthony Mackie, who plays superhero The Falcon in Captain America: The Winter Soldier. Speaking with The Washington Post, Mackie spoke about his persistence in his acting career, why starring as the Falcon is especially meaningful to our culture, troubles faced by minority actors, and how he hopes his Marvel fame will help him pursue projects he is passionate about.
Mackie points out that for several years he would contact Marvel about every four to five months in an effort to get a role in one of the brand's superhero movies. When he finally got cast as the Falcon, Mackie reveals that he got emotional but not just because of what playing the Falcon meant to him. He explains, "When I heard I got the role I broke down in tears. I realized two years from that date some little brown boy was going to be at my door in a Falcon costume on Halloween. When I was a kid I didn't have that. It wasn't like I could get asked, 'Who do you want to be for Halloween?' and say Shaft. Being the Falcon is monumental."
Unlike other superhero actors, Mackie comes to the role with a classically trained background. As a kid he was a troublemaker, but acting gave him the opportunity to aspire to be somebody. He recalls, "I had this great teacher who introduced me to Shakespeare, which opened my eyes to a different idea of who I could be."
However, Mackie came face to face with tragedy when his mother died when he was only fifteen. Her estate was split between Mackie and his five siblings, and Mackie ended up with $550. It cost him $542 to travel to New York, where he auditioned for Juilliard, where he was accepted. Not only was that acceptance a lifesaver, it gave Mackie a shot of confidence. He says, "It confirmed to me that I had the ability to do this and make a living at it."
While attending Julliard Mackie was cast in 8 Mile and he has been working steadily in several movies per year ever since. Nonetheless, Mackie is aware that his frequent work makes him somewhat of a minority within a minority. He explains, "In this business specifically, race plays such a daunting role in our life because so many of my friends, who are 10 times more talented than I am, they aren't working. There aren't enough roles for them. It is simply because they are black, Latino or Asian actors. I think that's slowly changing and evolving."
Because of his role now-ongoing role in the Marvel Cinematic Universe as the Falcon, Mackie believes his visibility has increased significantly in the industry and he might finally be able to get his passion project, a biography film about Olympic gold medalist Jesse Owens, into production. He doesn't plan on giving up on that dream. For a guy who nearly spent his last dollar to get into Julliard and who refused to take a "no" from Marvel as an answer, it's not hard to take Mackie seriously when he insists, "If you let me in the door, then I'm there to stay."
http://www.dailyactor.com/wp-content/uploads/2016/07/watch-keegan-michael-key-explain.jpg
Watch: Keegan-Michael Key Explains Why "Improv actors are at war together"
Check out Key's points on why it's so important for improv actors to have each others' backs in the clip above.
http://www.dailyactor.com/actors-on-acting/keegan-michael-key-improv-actors-at-war-together/
http://www.dailyactor.com/wp-content/uploads/2016/07/norman-reedus-actor.jpg
Norman Reedus on Acting: "If it's something you really want, you have to roll with the rejection"
Norman Reedus is a fan-favorite star on The Walking Dead and was in the cult favorite film The Boondock Saints. However, in the dozen years between those two gigs Reedus had experienced ups and downs in his career and in many cases he was cast in very small roles in big movies or lead roles […]
http://www.dailyactor.com/actors-on-acting/norman-reedus-acting-rejection/
http://www.dailyactor.com/wp-content/uploads/2016/07/frank-grillo.jpg
Frank Grillo on Being Typecast: "I welcome it"
"I hear actors pooh-pooh the idea... people might see them as a certain thing. I welcome it" - Frank Grillo on Typecasting
http://www.dailyactor.com/actors-on-acting/frank-grillo-on-typecasting/
http://www.dailyactor.com/wp-content/uploads/2016/07/Michael-Shannon-Acting-for-free.jpg
Michael Shannon on Actors Working for Free: "I think as a group actors need to stop enabling this behavior"
"If somebody's got a good script and you want to put good actors in it then everybody should be taken care of." - Michael Shannon
http://www.dailyactor.com/actors-on-acting/michael-shannon-actors-working-for-free/
http://www.dailyactor.com/wp-content/uploads/2016/07/Javier-Munoz-Hamilton.jpg
Javier Muñoz on Taking the Lead in 'Hamilton': "This is just fun, and glorious"
Muñoz talks about his feelings on playing Alexander Hamilton full-time and his relationship with Lin-Manuel Miranda.
http://www.dailyactor.com/actors-on-acting/javier-munoz-new-hamilton/