Andrew Rannells Follows in Neil Patrick Harris' Footsteps to Broadway in 'Hedwig and the Angry Inch'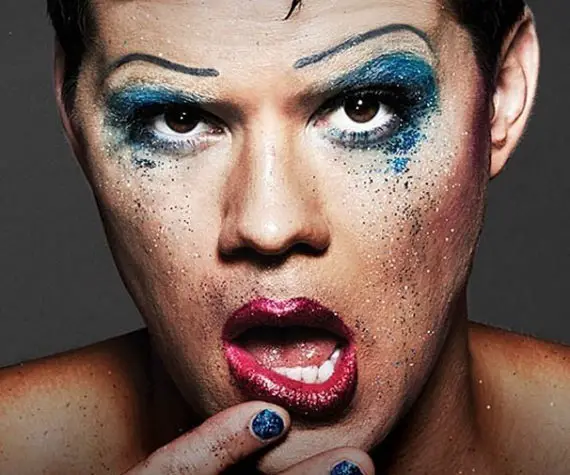 Neil Patrick Harris just finished his Tony Award-winning run in Hedwig and the Angry Inch on Broadway. Girls star Andrew Rannells stepped into the role on Aug. 20 after doing the show 12 years ago in Texas.
He talked about what it was like to return to a role he played when he was only 23. Rannells said, "Now I feel more connected to the Hedwig that has more life experience, that has more time under her belt. It's interesting to go back and look at it now. The things that really resonated with me 12 years ago still do but in a much different way now."
Surprisingly, The Book of Mormon veteran felt very little pressure in following in NPH's footsteps. He explained, "It's a very unique show. You see it and, I think, kind of lose the actor a little bit. You really do believe that there is this odd creature up there that you're watching and this is all happening in front of you in a crazy way. The show itself, and Hedwig, is the star. So even if you've seen it six times, if there's a new actor in it, it's going to be a completely different show to you."
However, he almost didn't take the role when he was approached to do it. He said, "My knee-jerk reaction was to say no. It seemed like a lot and I was like, 'I don't know if I have that in me.' And, then, as soon as I saw it, I was like, 'Of course.'"
Yet he changed his mind very early into watching NPH's performance. Rannells revealed, "During the first song, 'Tear Me Down.' I was like, 'I'm doing this.' I looked at my boyfriend and I sort of nodded and he was like, 'OK, I guess we're doing this.'"
There is one thing the well-mannered boy from Nebraska isn't comfortable with — spitting on the crowed. Yet he knows it's all part of the gig.
Rannells summed up, "The Nebraska part of me is not comfortable with that. It's really not. I remember doing it in Texas and being like, 'I'm sorry!' I sort of decided I'm just going to go for it this time. Once you get that wig on and all that makeup, all of a sudden your politeness flies out the window."
Rannells will be in the show for a limited eight-week engagement.
Via AP News
http://www.dailyactor.com/wp-content/uploads/2016/04/Christine-Baranski-The-Good-Wife.jpg
Christine Baranski on the End of 'The Good Wife' and Going Back to Theatre
The final episode of The Good Wife airs on May 8, and it's been several weeks since series star Christine Baranski shot the final episode with her co-stars. She spoke to The Hollywood Reporter about the end of the series she has spent the last seven years working on and what she plans to do […]
http://www.dailyactor.com/tv/christine-baranski-the-good-wife-theatre/
http://www.dailyactor.com/wp-content/uploads/2016/04/jake-gyllenhaal-demolition.jpg
Jake Gyllenhaal on 'Demolition', Working with Chris Cooper and Directors Who Want Nothing to Do With Him
"I think storytelling is the most important part of movie-making over performance." - Jake Gyllenhaal
http://www.dailyactor.com/actors-on-acting/jake-gyllenhaal-demolition-chris-cooper/
http://www.dailyactor.com/wp-content/uploads/2016/04/don-cheadle-miles-davis.jpg
Don Cheadle: "Be scared. Be on the edge of your creativity"
"Be willing to fall flat on your face and be in an unknown place. If you're doing that, you're probably growing" - Don Cheadle
http://www.dailyactor.com/actors-on-acting/don-cheadle-scared-creativity/
http://www.dailyactor.com/wp-content/uploads/2016/04/jessie-eisenberg-louder-than-bombs.jpg
What is Jesse Eisenberg's "Most Fulfilling Acting Experience"?
"My absolute favorite thing to do is to write a play and then, after I finish, do the first reading of it with my friends around the table"- Jesse Eisenberg
http://www.dailyactor.com/actors-on-acting/jesse-eisenberg-most-fulfilling-acting-experience/
http://www.dailyactor.com/wp-content/uploads/2016/03/Lupita-Nyong'o-eclipsed.jpg
Lupita Nyong'o on Her Broadway Debut: "When we get up on that stage, you do not know what will happen"
"I think theater offers a chance to flex muscles that then only help to sustain cinematic work." - Lupita Nyong'o
http://www.dailyactor.com/actors-on-acting/lupita-nyongo-eclipsed-broadway/