Andrew Rannells Follows in Neil Patrick Harris' Footsteps to Broadway in 'Hedwig and the Angry Inch'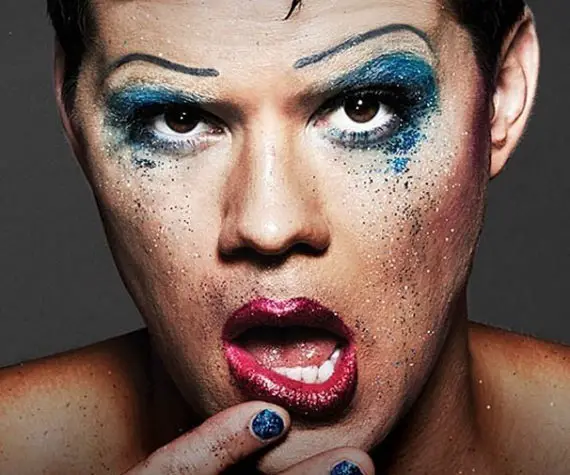 Neil Patrick Harris just finished his Tony Award-winning run in Hedwig and the Angry Inch on Broadway. Girls star Andrew Rannells stepped into the role on Aug. 20 after doing the show 12 years ago in Texas.
He talked about what it was like to return to a role he played when he was only 23. Rannells said, "Now I feel more connected to the Hedwig that has more life experience, that has more time under her belt. It's interesting to go back and look at it now. The things that really resonated with me 12 years ago still do but in a much different way now."
Surprisingly, The Book of Mormon veteran felt very little pressure in following in NPH's footsteps. He explained, "It's a very unique show. You see it and, I think, kind of lose the actor a little bit. You really do believe that there is this odd creature up there that you're watching and this is all happening in front of you in a crazy way. The show itself, and Hedwig, is the star. So even if you've seen it six times, if there's a new actor in it, it's going to be a completely different show to you."
However, he almost didn't take the role when he was approached to do it. He said, "My knee-jerk reaction was to say no. It seemed like a lot and I was like, 'I don't know if I have that in me.' And, then, as soon as I saw it, I was like, 'Of course.'"
Yet he changed his mind very early into watching NPH's performance. Rannells revealed, "During the first song, 'Tear Me Down.' I was like, 'I'm doing this.' I looked at my boyfriend and I sort of nodded and he was like, 'OK, I guess we're doing this.'"
There is one thing the well-mannered boy from Nebraska isn't comfortable with — spitting on the crowed. Yet he knows it's all part of the gig.
Rannells summed up, "The Nebraska part of me is not comfortable with that. It's really not. I remember doing it in Texas and being like, 'I'm sorry!' I sort of decided I'm just going to go for it this time. Once you get that wig on and all that makeup, all of a sudden your politeness flies out the window."
Rannells will be in the show for a limited eight-week engagement.
Via AP News
http://www.dailyactor.com/wp-content/uploads/2016/06/jeff-bridges-hell-or-high-water.jpg
Jeff Bridges on Creating a Character, 'Hell or High Water' and Playing The Dude
"I use elements of myself—I see my parallels with a character—and find similar things in my own personality." - Jeff Bridges on Creating a Character
http://www.dailyactor.com/actors-on-acting/jeff-bridges-creating-a-character/
http://www.dailyactor.com/wp-content/uploads/2016/07/benjamin-bratt-actor.jpg
Benjamin Bratt: "For as limiting as the opportunities are for actors and actresses of color I've been very blessed"
"...it's dangerous to keep going down the same artistic path." - Benjamin Bratt
http://www.dailyactor.com/actors-on-acting/benjamin-bratt-ive-been-very-blessed/
http://www.dailyactor.com/wp-content/uploads/2016/07/watch-keegan-michael-key-explain.jpg
Watch: Keegan-Michael Key Explains Why "Improv actors are at war together"
Check out Key's points on why it's so important for improv actors to have each others' backs in the clip above.
http://www.dailyactor.com/actors-on-acting/keegan-michael-key-improv-actors-at-war-together/
http://www.dailyactor.com/wp-content/uploads/2016/07/norman-reedus-actor.jpg
Norman Reedus on Acting: "If it's something you really want, you have to roll with the rejection"
Norman Reedus is a fan-favorite star on The Walking Dead and was in the cult favorite film The Boondock Saints. However, in the dozen years between those two gigs Reedus had experienced ups and downs in his career and in many cases he was cast in very small roles in big movies or lead roles […]
http://www.dailyactor.com/actors-on-acting/norman-reedus-acting-rejection/
http://www.dailyactor.com/wp-content/uploads/2016/07/frank-grillo.jpg
Frank Grillo on Being Typecast: "I welcome it"
"I hear actors pooh-pooh the idea... people might see them as a certain thing. I welcome it" - Frank Grillo on Typecasting
http://www.dailyactor.com/actors-on-acting/frank-grillo-on-typecasting/