'A Separation' Actress Leila Hatami Threatened with Public Flogging for Kissing Cannes President on the Cheek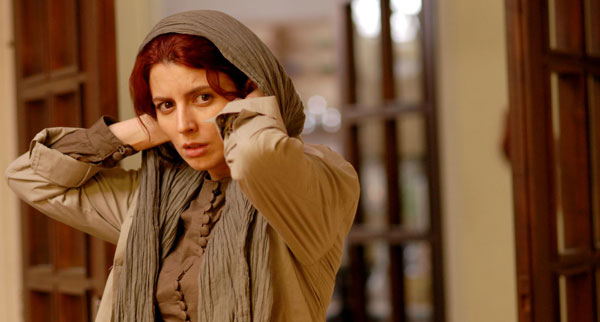 In one of those stories that make you question what century we are living in, Iranian actress Leila Hatami, who starred in the Oscar-winning film A Separation, has been reported to Iran's judiciary for "violating Islamic laws." Her supposed crime? While on a red carpet at this year's Cannes Film Festival, Hatami — who was a member of the Festival's jury — was kissed on the cheek by Gilles Jacob, the President of Cannes Festival, a gesture that Hatami returned.
The university organization Hizbullah Students filed the complaint and want the government to make an example of Hatami by giving her a public flogging. According to law, she could face as many as 50 lashes for embracing a man who is not her relative in public. The organization also criticized Hatami because the scarf covering her head during the kissing did not cover all of her hair, which is in violation of another law. Though Hatami typically wears a headscarf in public, it rarely covers all of her hair.
Jacob pointed out that it is a common greeting custom in the West, remarking, "This controversy based on a normal Western custom is baseless."
Hatami has since written a letter to Iran's Cinema Organization to apologize for the embrace, stating that she instructed festival organizers that she would be unable to shake hands or embrace any men at festival events, but blamed the kiss on Jacob, who in his old age "forgot" about her restrictions. She wrote, "Due to his age, he had forgotten about the measures. He is obviously elderly and I consider his status to be like that of a grandfather."
via The Telegraph & Bloomberg
http://www.dailyactor.com/wp-content/uploads/2016/04/jake-gyllenhaal-demolition.jpg
Jake Gyllenhaal on 'Demolition', Working with Chris Cooper and Directors Who Want Nothing to Do With Him
"I think storytelling is the most important part of movie-making over performance." - Jake Gyllenhaal
http://www.dailyactor.com/actors-on-acting/jake-gyllenhaal-demolition-chris-cooper/
http://www.dailyactor.com/wp-content/uploads/2016/04/don-cheadle-miles-davis.jpg
Don Cheadle: "Be scared. Be on the edge of your creativity"
"Be willing to fall flat on your face and be in an unknown place. If you're doing that, you're probably growing" - Don Cheadle
http://www.dailyactor.com/actors-on-acting/don-cheadle-scared-creativity/
http://www.dailyactor.com/wp-content/uploads/2016/04/jessie-eisenberg-louder-than-bombs.jpg
What is Jesse Eisenberg's "Most Fulfilling Acting Experience"?
"My absolute favorite thing to do is to write a play and then, after I finish, do the first reading of it with my friends around the table"- Jesse Eisenberg
http://www.dailyactor.com/actors-on-acting/jesse-eisenberg-most-fulfilling-acting-experience/
http://www.dailyactor.com/wp-content/uploads/2016/03/Lupita-Nyong'o-eclipsed.jpg
Lupita Nyong'o on Her Broadway Debut: "When we get up on that stage, you do not know what will happen"
"I think theater offers a chance to flex muscles that then only help to sustain cinematic work." - Lupita Nyong'o
http://www.dailyactor.com/actors-on-acting/lupita-nyongo-eclipsed-broadway/
http://www.dailyactor.com/wp-content/uploads/2016/03/jake-gyllenhaal-demolition.jpg
Jake Gyllenhaal on Missed Superhero Opportunities and Portraying "Antisocial" Characters
"I've always wanted to have the opportunity to play a number of different roles, and I knew it wasn't necessarily the role, but how you played them" - Jake Gyllenhaal
http://www.dailyactor.com/actors-on-acting/jake-gyllenhaal-antisocial-characters/