'A Separation' Actress Leila Hatami Threatened with Public Flogging for Kissing Cannes President on the Cheek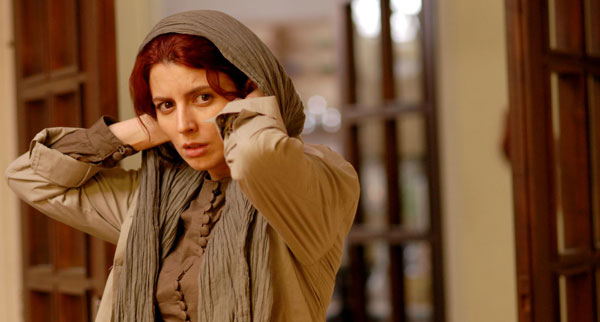 In one of those stories that make you question what century we are living in, Iranian actress Leila Hatami, who starred in the Oscar-winning film A Separation, has been reported to Iran's judiciary for "violating Islamic laws." Her supposed crime? While on a red carpet at this year's Cannes Film Festival, Hatami — who was a member of the Festival's jury — was kissed on the cheek by Gilles Jacob, the President of Cannes Festival, a gesture that Hatami returned.
The university organization Hizbullah Students filed the complaint and want the government to make an example of Hatami by giving her a public flogging. According to law, she could face as many as 50 lashes for embracing a man who is not her relative in public. The organization also criticized Hatami because the scarf covering her head during the kissing did not cover all of her hair, which is in violation of another law. Though Hatami typically wears a headscarf in public, it rarely covers all of her hair.
Jacob pointed out that it is a common greeting custom in the West, remarking, "This controversy based on a normal Western custom is baseless."
Hatami has since written a letter to Iran's Cinema Organization to apologize for the embrace, stating that she instructed festival organizers that she would be unable to shake hands or embrace any men at festival events, but blamed the kiss on Jacob, who in his old age "forgot" about her restrictions. She wrote, "Due to his age, he had forgotten about the measures. He is obviously elderly and I consider his status to be like that of a grandfather."
via The Telegraph & Bloomberg
http://www.dailyactor.com/wp-content/uploads/2015/10/Bridge-of-Spies-Tom-Hanks-Mark-Rylance.jpg
Tom Hanks on Working with Steven Spielberg and Mark Rylance in 'Bridge of Spies'
"Steven does this incredible thing when he casts you: He empowers you with the scene." - Tom Hanks on Steven Spielberg
http://www.dailyactor.com/actors-on-acting/tom-hanks-working-steven-spielberg-mark-rylance-bridge-of-spies/
http://www.dailyactor.com/wp-content/uploads/2015/09/Tom-Hardy-Legend.jpg
Tom Hardy on Playing Twins in 'Legend,' Being Seen as a Tough Guy, and Working with Philip Seymour Hoffman
Hardy speaks about why he challenged himself to play twins, what he thinks of his tough guy image, and working with the late Philip Seymour Hoffman, who directed him on stage.
http://www.dailyactor.com/actors-on-acting/tom-hardy-playing-twins-legend/
http://www.dailyactor.com/wp-content/uploads/2015/09/Emily-Blunt-Sicario.jpg
Emily Blunt on Action Movie Roles: "I think it's important to show different layers. Nobody is just tough, nobody is just vulnerable"
Emily Blunt touches upon why she has gotten into roles with an action bent and why she thinks there aren't more action movies with female leads
http://www.dailyactor.com/actors-on-acting/emily-blunt-sicario-acting-layers/
http://www.dailyactor.com/wp-content/uploads/2015/09/Jorja-Fox-CSI.jpg
Jorja Fox on Life After 'CSI': "I've always enjoyed not knowing exactly where the road leads"
"I think you kind of have to embrace the unknown if you're an actor." - Jorja Fox
http://www.dailyactor.com/actors-on-acting/jorja-fox-life-after-csi/
http://www.dailyactor.com/wp-content/uploads/2015/09/John-Turturro-Mia-Madre.jpg
John Turturro on the Life of an Actor: "It's a rough business. I wouldn't want my kids to do it"
"I am usually very well prepared. If you're a surgeon, you've got to know what you're going to take out today." - John Turturro
http://www.dailyactor.com/actors-on-acting/john-turturro-life-of-an-actor/