Interview: Maggie Siff talks 'Sons of Anarchy' and How She's Surprised That Her Character is a Fan Favorite (video)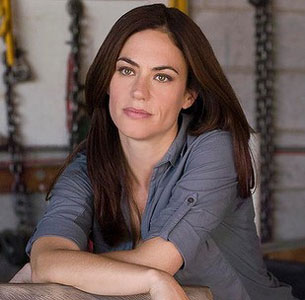 Comic-Con: Maggie Siff stars as fan favorite Tara Knowles on the hit FX show, Sons of Anarchy and as she said in the video below, she is always a bit surprised to hear that. "I think of it as being a show about the guys," she says.
That definitely says something about Siff and her work. Besides Sons, Siff was on the first season of Mad Men, appeared in Judd Apatow's Funny People and, theater wise, has had roles at New York's Public Theater and Playwright's Horizon and was most recently in the title role at the Geffen in the world premiere of Jane Anderson's The Escort.
In the interview, she talks about Tara, the most difficult things she's had to do during her time on the show and if she prepares for each episode the same way she did her first season.
Check out the video below!
http://www.dailyactor.com/wp-content/uploads/2015/09/Tom-Hardy-Legend.jpg
Tom Hardy on Playing Twins in 'Legend,' Being Seen as a Tough Guy, and Working with Philip Seymour Hoffman
Hardy speaks about why he challenged himself to play twins, what he thinks of his tough guy image, and working with the late Philip Seymour Hoffman, who directed him on stage.
http://www.dailyactor.com/actors-on-acting/tom-hardy-playing-twins-legend/
http://www.dailyactor.com/wp-content/uploads/2015/09/Emily-Blunt-Sicario.jpg
Emily Blunt on Action Movie Roles: "I think it's important to show different layers. Nobody is just tough, nobody is just vulnerable"
Emily Blunt touches upon why she has gotten into roles with an action bent and why she thinks there aren't more action movies with female leads
http://www.dailyactor.com/actors-on-acting/emily-blunt-sicario-acting-layers/
http://www.dailyactor.com/wp-content/uploads/2015/09/Jorja-Fox-CSI.jpg
Jorja Fox on Life After 'CSI': "I've always enjoyed not knowing exactly where the road leads"
"I think you kind of have to embrace the unknown if you're an actor." - Jorja Fox
http://www.dailyactor.com/actors-on-acting/jorja-fox-life-after-csi/
http://www.dailyactor.com/wp-content/uploads/2015/09/John-Turturro-Mia-Madre.jpg
John Turturro on the Life of an Actor: "It's a rough business. I wouldn't want my kids to do it"
"I am usually very well prepared. If you're a surgeon, you've got to know what you're going to take out today." - John Turturro
http://www.dailyactor.com/actors-on-acting/john-turturro-life-of-an-actor/
http://www.dailyactor.com/wp-content/uploads/2015/09/Matt-Damon-The-Martian.jpg
Matt Damon's Controversial Comments on Actors Keeping Their Real Lives a Mystery
"I think you're a better actor the less people know about you period. And sexuality is a huge part of that." - Matt Damon
http://www.dailyactor.com/actors-on-acting/matt-damon-actors-keeping-their-real-lives-a-mystery/