Zac Efron Talks Taking Risky Parts and Wanting to do Broadway
Zac Efron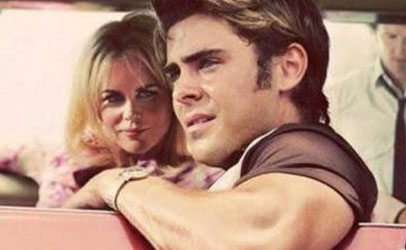 will no longer by playing teenyboppers in movies like High School Musical and Hairspray.  The actor will be appearing next in the much talked about film The Paperboy, alongside Nicole Kidman.
In an interview with gay magazine, The Advocate, Efron was asked about being interested in playing a gay character (his costar Matthew McConaughey plays a gay man in The Paperboy.)  "I'd never take a role just for the sake of playing gay, but I'm always looking for a role that's challenging, different, and entails some risk, so there's no doubt in my mind that one of those characters will be gay at some point in the future," Efron said.  "It's always interesting to delve into unexplored territory, and that would be a new avenue for me.  I definitely wouldn't be afraid."
This marks a significant change in the roles Efron is pursuing.  However, he admits he doesn't want to completely shed his musical theater roots.  "Without a doubt, I'd love to do Broadway," he said.  "I actually can't wait to get back to musical theater.  There's a part of me that wishes I could go do it right now, but there's also a part of me that knows I need to tackle other types of acting opportunities first.  I want to be a well-rounded, versatile performer.  Until I master other things, it would be hard for me to get back to musical theater.  But that will always be my home base and where I feel the most free, and it's something I will definitely do again, even if it's just for pleasure and personal fulfillment."
The Paperboy will open in limited release on October 5.
http://www.dailyactor.com/wp-content/uploads/2016/08/imperium_daniele_radcliffe.jpg
Daniel Radcliffe on Playing a Neo-Nazi in 'Imperium': "It's still just horrible to say some of this stuff"
Radcliffe reveals how he played such a layered character and what it felt like to say his character's hate-filled dialogue.
http://www.dailyactor.com/actors-on-acting/daniel-radcliffe-playing-a-neo-nazi-imperium/
http://www.dailyactor.com/wp-content/uploads/2016/08/John-Cho-Star-Trek-Beyond.jpg
How John Cho Took A Stand for Diversity Early in His Career
"When one does speak one's mind, one might be surprised at how receptive people are." - Actor John Cho
http://www.dailyactor.com/actors-on-acting/john-cho-took-a-stand-for-diversity/
http://www.dailyactor.com/wp-content/uploads/2016/08/simon-helberg-florence-foster-jenkins.jpg
Simon Helberg on His 'Florence Foster Jenkins' Role: "I'm an actor and I want to stretch different muscles"
Helberg spoke about portraying his character in the film and whether or not he feels typecast by his Big Bang Theory role.
http://www.dailyactor.com/actors-on-acting/simon-helberg-florence-foster-jenkins-role/
http://www.dailyactor.com/wp-content/uploads/2016/08/Will-Chase-Something-Rotten.jpg
The Role That Got Away: Will Chase on Returning to 'Something Rotten!'
"I know that I am a poor man's fill-in-the-blank. And I know that there are poor man's Will Chases out there. That's just the nature of the business" - Will Chase
http://www.dailyactor.com/actors-on-acting/will-chase-something-rotten-role-that-got-away/
http://www.dailyactor.com/wp-content/uploads/2016/08/Julia-Stiles-Jason-Bourne.jpg
Julia Stiles on the Jason Bourne Series and Growing as an Actress: "There's always room for improvement"
"I like a director that encourages me to be playful. I don't really like being restricted or controlled by a director." - Julia Stiles
http://www.dailyactor.com/actors-on-acting/julia-stiles-growing-as-an-actress/