Watch: The Harry Potter Cast Wraps and Final Good-Byes
On the last day of shooting Harry Potter and the Deathly Hallows II, cast and crew paid tribute to each other and said their goodbyes. Now, so can the public.
A newly released video documents the bittersweet close of the saga behind the saga. Many fans are likely to tear up as the actors cast back over the last ten years, themselves looking like college grads about to pack up their cars.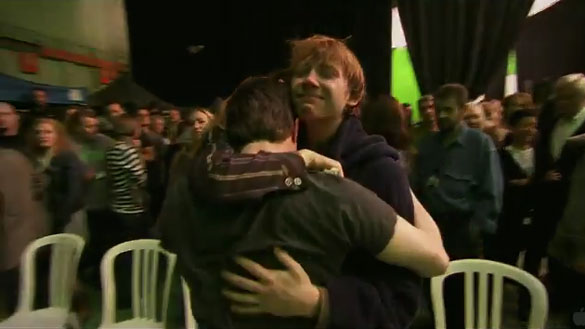 Highlights of the almost-three-minute clip include: a goofy Voldemort, in full make-up, palling around with Pettigrew; standing ovations for Alan Rickman, David Thewlis and Robbie Coltrane; Daniel Radcliffe's poignant farewell; and many hugs.
"I just want to say I—I love this place," Radcliffe declared, standing on a plastic white chair as cameras flashed around him. "This has been my life. And so it's going to be very, very hard, I think, for all of us, because I don't know what my day-to-day life consists of without you, all of you, and it's wonderful. And I just want to say that I've loved every minute, and thank you all very, very much for making it possible."
"I don't know, how do I put that into words? I mean, what an incredible experience," Emma Watson reflected in an interview. "I just feel so blessed that I was chosen, that I was given the chance to experience all of this and have this be part of my life.
"We were the chosen ones," she joked, with the obligatory air quotes. "Yeah, we were. Very lucky."
One thing is certain: if it was fun for us to watch them onscreen these past ten years, one can only imagine how they're feeling.
http://www.dailyactor.com/wp-content/uploads/2016/08/imperium_daniele_radcliffe.jpg
Daniel Radcliffe on Playing a Neo-Nazi in 'Imperium': "It's still just horrible to say some of this stuff"
Radcliffe reveals how he played such a layered character and what it felt like to say his character's hate-filled dialogue.
http://www.dailyactor.com/actors-on-acting/daniel-radcliffe-playing-a-neo-nazi-imperium/
http://www.dailyactor.com/wp-content/uploads/2016/08/John-Cho-Star-Trek-Beyond.jpg
How John Cho Took A Stand for Diversity Early in His Career
"When one does speak one's mind, one might be surprised at how receptive people are." - Actor John Cho
http://www.dailyactor.com/actors-on-acting/john-cho-took-a-stand-for-diversity/
http://www.dailyactor.com/wp-content/uploads/2016/08/simon-helberg-florence-foster-jenkins.jpg
Simon Helberg on His 'Florence Foster Jenkins' Role: "I'm an actor and I want to stretch different muscles"
Helberg spoke about portraying his character in the film and whether or not he feels typecast by his Big Bang Theory role.
http://www.dailyactor.com/actors-on-acting/simon-helberg-florence-foster-jenkins-role/
http://www.dailyactor.com/wp-content/uploads/2016/08/Will-Chase-Something-Rotten.jpg
The Role That Got Away: Will Chase on Returning to 'Something Rotten!'
"I know that I am a poor man's fill-in-the-blank. And I know that there are poor man's Will Chases out there. That's just the nature of the business" - Will Chase
http://www.dailyactor.com/actors-on-acting/will-chase-something-rotten-role-that-got-away/
http://www.dailyactor.com/wp-content/uploads/2016/08/Julia-Stiles-Jason-Bourne.jpg
Julia Stiles on the Jason Bourne Series and Growing as an Actress: "There's always room for improvement"
"I like a director that encourages me to be playful. I don't really like being restricted or controlled by a director." - Julia Stiles
http://www.dailyactor.com/actors-on-acting/julia-stiles-growing-as-an-actress/