Watch: The Harry Potter Cast Wraps and Final Good-Byes
On the last day of shooting Harry Potter and the Deathly Hallows II, cast and crew paid tribute to each other and said their goodbyes. Now, so can the public.
A newly released video documents the bittersweet close of the saga behind the saga. Many fans are likely to tear up as the actors cast back over the last ten years, themselves looking like college grads about to pack up their cars.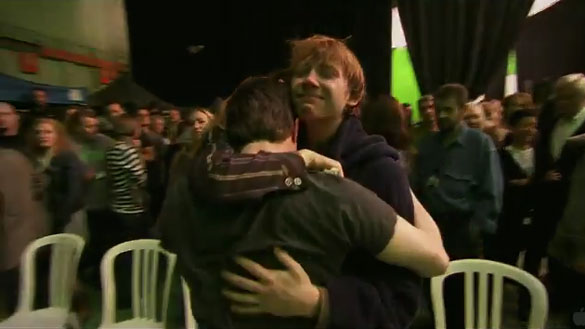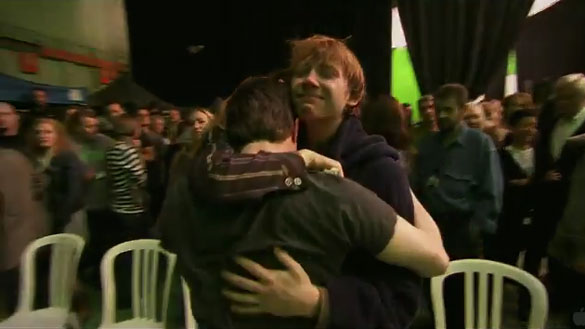 Highlights of the almost-three-minute clip include: a goofy Voldemort, in full make-up, palling around with Pettigrew; standing ovations for Alan Rickman, David Thewlis and Robbie Coltrane; Daniel Radcliffe's poignant farewell; and many hugs.
"I just want to say I—I love this place," Radcliffe declared, standing on a plastic white chair as cameras flashed around him. "This has been my life. And so it's going to be very, very hard, I think, for all of us, because I don't know what my day-to-day life consists of without you, all of you, and it's wonderful. And I just want to say that I've loved every minute, and thank you all very, very much for making it possible."
"I don't know, how do I put that into words? I mean, what an incredible experience," Emma Watson reflected in an interview. "I just feel so blessed that I was chosen, that I was given the chance to experience all of this and have this be part of my life.
"We were the chosen ones," she joked, with the obligatory air quotes. "Yeah, we were. Very lucky."
One thing is certain: if it was fun for us to watch them onscreen these past ten years, one can only imagine how they're feeling.
http://www.dailyactor.com/wp-content/uploads/2016/02/david-harewood-supergirl.jpg
David Harewood on 'Supergirl' and How He Was "Struggling to Get a Handle" on His Character
Harewood reveals how he relates to the character and how he eventually got comfortable playing him.
http://www.dailyactor.com/actors-on-acting/david-harewood-supergirlstruggling-to-get-a-handle-on-his-character/
http://www.dailyactor.com/wp-content/uploads/2016/01/Jeff-Daniels.jpg
Jeff Daniels Remembers a Terrible Audition for a Diane Keaton Movie
One actor that knows the ups and downs of the audition process is Jeff Daniels.
http://www.dailyactor.com/actors-on-acting/jeff-daniels-terrible-audition-diane-keaton-movie/
http://www.dailyactor.com/wp-content/uploads/2016/02/Jennifer-Jason-Leigh-The-Hateful-Eight.jpg
Jennifer Jason Leigh on Her First-Ever Oscar Nomination: "It's kind of phenomenal"
"He knew that I could, in his words, 'act the … out of it' and I'm not afraid to take a risk in terms of acting" Jennifer Jason Leigh on Quentin Tarantino
http://www.dailyactor.com/actors-on-acting/jennifer-jason-leigh-oscar-nomination/
http://www.dailyactor.com/wp-content/uploads/2016/02/Forest-Whitaker-Hughie-Broadway.jpg
Forest Whitaker on Making His Broadway Debut in 'Hughie': "His rhythms are starting to invade inside of me"
"I want to get better as an actor, to keep trying to work harder, trying to discover something different" - Forest Whitaker
http://www.dailyactor.com/actors-on-acting/forest-whitaker-broadway-debut-hughie/
http://www.dailyactor.com/wp-content/uploads/2016/02/alicia-Vikander-Ex-machina.jpg
Alicia Vikander on the Her First Trip to L.A. and the Acting Tip 'Ex-Machina' Director Alex Garland Gave Her
"You [get immersed in] a film and of course you think that that is it. And then you go away and you read a new script and you have a new crush" - Alicia Vikander
http://www.dailyactor.com/actors-on-acting/alicia-vikanderacting-tip-ex-machina-director-alex-garland-gave-her/