Tommy Lee Jones on Starring in 'Lincoln', the Research He Did and Thoughts on Improvisation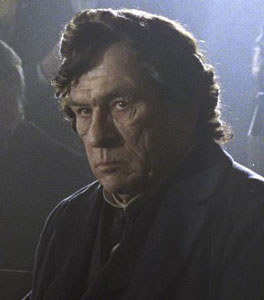 Among the many familiar faces in Steven Spielberg's Lincoln is Tommy Lee Jones.  Jones plays Thaddeus Stevens, a Pennsylvania Republican congressman who helped end slavery in the United States.  Although he says some of the pretty standard stuff about working on the film in his interview with Moviefone, it's always worth a moment to read what the Oscar-winning actor has to say about his roles.
When it comes to playing a historical figure, Jones reveals that he doesn't have a standard approach.  He says, "It's never the same. For this one, I found all the biographies that I could. There are three. Two of them are worth reading. I learned as much as I could about the life of Thaddeus Stevens because it's informative to me, as I interpret the screenplay."
As for whether or not he tends to stay in character on set when he isn't filming — like co-stars Daniel Day-Lewis and Sally Field — Jones admits that it's really up to the people he's working with, saying, "It doesn't matter to me. I'm going to do what you do. I don't have any way of working. I want to work the way the other actor or the director works."  However, with a laugh he denies that he went home at night as Thaddeus Stevens.
Something else that Jones admits that he didn't do is improvise any lines, saying succinctly, "Improvisation? Not in my life!"  Nevertheless, he found the whole experience creatively fulfilling and said he vastly enjoyed the experience working on Lincoln, pointing out "I enjoyed every day on that set. I enjoyed every hour. It was a lot of fun to work on this movie."
http://www.dailyactor.com/wp-content/uploads/2016/06/jeff-bridges-hell-or-high-water.jpg
Jeff Bridges on Creating a Character, 'Hell or High Water' and Playing The Dude
"I use elements of myself—I see my parallels with a character—and find similar things in my own personality." - Jeff Bridges on Creating a Character
http://www.dailyactor.com/film/jeff-bridges-creating-a-character/
http://www.dailyactor.com/wp-content/uploads/2016/07/benjamin-bratt-actor.jpg
Benjamin Bratt: "For as limiting as the opportunities are for actors and actresses of color I've been very blessed"
"...it's dangerous to keep going down the same artistic path." - Benjamin Bratt
http://www.dailyactor.com/film/benjamin-bratt-ive-been-very-blessed/
http://www.dailyactor.com/wp-content/uploads/2016/07/watch-keegan-michael-key-explain.jpg
Watch: Keegan-Michael Key Explains Why "Improv actors are at war together"
Check out Key's points on why it's so important for improv actors to have each others' backs in the clip above.
http://www.dailyactor.com/videos/keegan-michael-key-improv-actors-at-war-together/
http://www.dailyactor.com/wp-content/uploads/2016/07/norman-reedus-actor.jpg
Norman Reedus on Acting: "If it's something you really want, you have to roll with the rejection"
Norman Reedus is a fan-favorite star on The Walking Dead and was in the cult favorite film The Boondock Saints. However, in the dozen years between those two gigs Reedus had experienced ups and downs in his career and in many cases he was cast in very small roles in big movies or lead roles […]
http://www.dailyactor.com/actors-on-acting/norman-reedus-acting-rejection/
http://www.dailyactor.com/wp-content/uploads/2016/07/frank-grillo.jpg
Frank Grillo on Being Typecast: "I welcome it"
"I hear actors pooh-pooh the idea... people might see them as a certain thing. I welcome it" - Frank Grillo on Typecasting
http://www.dailyactor.com/film/frank-grillo-on-typecasting/