Taylor Kitsch Talks about 'Lone Survivor', 'The Normal Heart' and His 'Friday Night Lights' Audition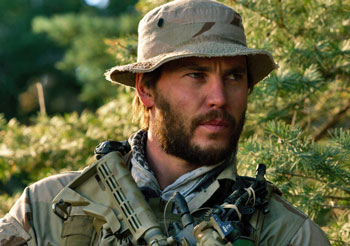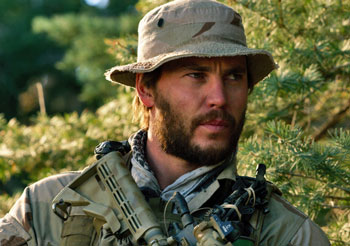 Taylor Kitsch will forever be known as Tim Riggins in the beloved TV series Friday Night Lights, but he has a big year ahead of him with two important films Lone Survivor and The Normal Heart.
Lone Survivor follows four Navy SEALS who do their best to stay alive while on a mission in Afghanistan. Kitsch co-stars with Emile Hirsch, Mark Wahlberg and Ben Foster. The actors found the shoot to be an emotional experience. It was even tough to watch the final cut.
The 32-year-old star said, "I broke down three times. You just hold all this energy in as an actor, and I didn't truly let it go until then. Knowing all the families and getting to be a part of it and tell the story … yeah, it fuckin' crushed me. That's what takes you out of your head when you're watching yourself."
The Battleship actor said that the training he received for the role "absolutely" stuck with him.
He explained, "That's such an incredible thing about my gig, these tools that you accumulate along the way. And you learn these things from the best of the best."
His next project is the '80s AIDS drama The Normal Heart directed by Ryan Murphy for HBO. Since Kitsch was playing against type, he knew he was doing something new "on every level. But being out of your comfort zone is why you become an actor. You try to stretch yourself as much as you can."
The star's switch from big-budgeted movies like John Carter and Savages to more character-driven pieces wasn't a conscious decision.
He shared, "I was on that track [of blockbuster films] as well, but it's really about reacting to the opportunities that come in front of you. In retrospect, I'd do them all over again."
His hot career has come a long way from his first meeting with Friday Night Lights director Peter Berg who interrogated the young actor as a part of his audition.
Kitsch reminisced, "I was nervous. I was sitting in a boardroom and he came in and brought me down this long hallway, and we were doing improv with me as Riggins. He was interviewing me like an ESPN reporter."
While FNL is done and the creators have confirmed that a movie is not in the cards, fans can still see a Berg-Kitsch collaboration on the big screen with Lone Survivor which opens in limited release on Dec. 25.
Via Vulture
http://www.dailyactor.com/wp-content/uploads/2016/02/alicia-Vikander-Ex-machina.jpg
Alicia Vikander on the Her First Trip to L.A. and the Acting Tip 'Ex-Machina' Director Alex Garland Gave Her
"You [get immersed in] a film and of course you think that that is it. And then you go away and you read a new script and you have a new crush" - Alicia Vikander
http://www.dailyactor.com/actors-on-acting/alicia-vikanderacting-tip-ex-machina-director-alex-garland-gave-her/
http://www.dailyactor.com/wp-content/uploads/2016/02/Channing-Tatum-Hail-Caesar.jpg
Channing Tatum Talks 'Hail, Caesar!': "I've been beating on the Coens' door for years, man"
"It's the most I've ever prepped for a six-minute section in a movie." - Channing Tatum
http://www.dailyactor.com/actors-on-acting/channing-tatum-hail-caesar-tap-dancing/
http://www.dailyactor.com/wp-content/uploads/2016/01/Isidora-Goreshter-Shameless-audition.jpg
Isidora Goreshter Remembers Her Audition for 'Shameless'
Goreshter recently recalled that her audition for the 'Shameless' was by far her worst ever.
http://www.dailyactor.com/actors-on-acting/isidora-goreshter-audition-for-shameless/
http://www.dailyactor.com/wp-content/uploads/2016/01/Sutton-Foster-Younger.jpg
Sutton Foster: "Sometimes I won't even find a character until I put on the costume"
"I never had grand aspirations to be a movie star, to be famous or to be on TV. The theater was what I wanted." - Sutton Foster
http://www.dailyactor.com/actors-on-acting/sutton-foster-younger-character-costume/
http://www.dailyactor.com/wp-content/uploads/2016/01/Paul-Giamatti-Billions.jpg
Paul Giamatti on Building His Career: "I was always willing to just go, 'OK, sure, I'll do that'"
"I've done everything an actor can do except porn and performing in an amusement park" - Paul Giamatti
http://www.dailyactor.com/actors-on-acting/paul-giamatti-billions-building-an-acting-career/