Steve Buscemi on Improv in 'The Incredible Burt Wonderstone': "I never did improv professionally, but that was certainly in my training as an actor"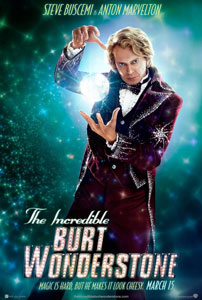 Steve Buscemi is one of my favorite actors, mostly because he's so versatile.  He can be cold and calculating, like in Fargo or as Nucky Thompson in HBO's Boardwalk Empire, and he can be quirky, like in Ghost World or The Big Lebowski.  But I'm looking forward to seeing a more comedic Buscemi — the kind who makes cameos in all of Adam Sandler's movies — as Anton Marvelton, the partner to Steve Carell's titular magician in The Incredible Burt Wonderstone.  Buscemi spoke to Collider about tackling a lead comedic role and his experience with improv.
As for whether he finds it more difficult to shoot a comedy or a drama, Buscemi points out that the rules of shooting a comedy are less strict.  He says, "The preparation is the same. But I'd say on this it's just a bit looser, and there's room for improv. Whereas on, say, Boardwalk, we really stick to the script. Not that we're not sticking to the script on this, there's just more room for improvisation."
However, when it comes to improv Buscemi admits he's not as experienced as his co-stars Carell and Jim Carrey.  However, his background in theater certainly was closely related to improv.  He recalls, "I never did improv professionally, but that was certainly in my training as an actor. I like it. Actually, when I did theater, I used to have a partner, and that was the way we used to write a lot of our sketches, through improvisation. So it's something I feel comfortable with, and when you have somebody like Steve, he really listens. He really plays off of the person he's improv'ing with. It's a nice give and take."
http://www.dailyactor.com/wp-content/uploads/2015/09/Tom-Hardy-Legend.jpg
Tom Hardy on Playing Twins in 'Legend,' Being Seen as a Tough Guy, and Working with Philip Seymour Hoffman
Hardy speaks about why he challenged himself to play twins, what he thinks of his tough guy image, and working with the late Philip Seymour Hoffman, who directed him on stage.
http://www.dailyactor.com/actors-on-acting/tom-hardy-playing-twins-legend/
http://www.dailyactor.com/wp-content/uploads/2015/09/Emily-Blunt-Sicario.jpg
Emily Blunt on Action Movie Roles: "I think it's important to show different layers. Nobody is just tough, nobody is just vulnerable"
Emily Blunt touches upon why she has gotten into roles with an action bent and why she thinks there aren't more action movies with female leads
http://www.dailyactor.com/actors-on-acting/emily-blunt-sicario-acting-layers/
http://www.dailyactor.com/wp-content/uploads/2015/09/Jorja-Fox-CSI.jpg
Jorja Fox on Life After 'CSI': "I've always enjoyed not knowing exactly where the road leads"
"I think you kind of have to embrace the unknown if you're an actor." - Jorja Fox
http://www.dailyactor.com/actors-on-acting/jorja-fox-life-after-csi/
http://www.dailyactor.com/wp-content/uploads/2015/09/John-Turturro-Mia-Madre.jpg
John Turturro on the Life of an Actor: "It's a rough business. I wouldn't want my kids to do it"
"I am usually very well prepared. If you're a surgeon, you've got to know what you're going to take out today." - John Turturro
http://www.dailyactor.com/actors-on-acting/john-turturro-life-of-an-actor/
http://www.dailyactor.com/wp-content/uploads/2015/09/Matt-Damon-The-Martian.jpg
Matt Damon's Controversial Comments on Actors Keeping Their Real Lives a Mystery
"I think you're a better actor the less people know about you period. And sexuality is a huge part of that." - Matt Damon
http://www.dailyactor.com/actors-on-acting/matt-damon-actors-keeping-their-real-lives-a-mystery/