Sleepwalk With Me's Mike Birbiglia on being a first time director: "It's like going to medical school"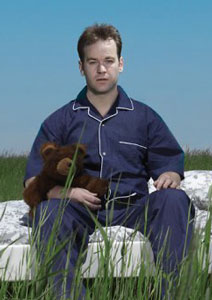 Comedian Mike Birbiglia has taken his own strange experiences with a sleep disorder and transformed them into a new movie, Sleepwalk with Me.
However, he is quick to admit that he struggled to figure out how to make the film "every second of every day."  In an interview with Time, Birbiglia said, "It's like showing up to the field trip in seventh grade and jumping on the bus and saying, 'Hey, everybody, I'm gonna drive the bus.'  Everyone's like, 'What?  You don't know how to drive a bus.'  And you're like, 'I know, but I've been watching the bus driver.  I feel like I have the hang of it.  I've been watching other bus rides and I have my favorites and my least favorites, and I feel like I have a bus-driving aesthetic and I feel like that's going to carry us through.'  Fortunately we arrived at the field trip.  We didn't drive off the road."
Birbiglia enjoyed the process of working as a collaborative team on the film.  "I've always had collaborators," he said.  "That's how I started in college; I was in the improv group at Georgetown.  And I hired a director, Seth Barrish [who co-directed the movie] to direct my one-man shows.  But I'm on stage alone quite a bit and I have to manage an audience.  Managing an audience in a lot of ways is like directing a film."
Birbiglia is certain he'll be behind the camera in the future as well.  "I just feel it's like going to medical school," he said.  "You can't go to medical school and come out and be like, 'I'm going to be a dog catcher.'  That would be so pointless.  Once you know how to make a movie, you can't not make a movie.  It's the hardest damn thing you could ever imagine and the skill-set is so specific.  Also it's a passion.  I love movies and I loved making a movie, as hard as it was.  I'm working on the film adaptation of My Girlfriend's Boyfriend, which is the show I'm touring the world with right now."
http://www.dailyactor.com/wp-content/uploads/2016/08/imperium_daniele_radcliffe.jpg
Daniel Radcliffe on Playing a Neo-Nazi in 'Imperium': "It's still just horrible to say some of this stuff"
Radcliffe reveals how he played such a layered character and what it felt like to say his character's hate-filled dialogue.
http://www.dailyactor.com/film/daniel-radcliffe-playing-a-neo-nazi-imperium/
http://www.dailyactor.com/wp-content/uploads/2016/08/John-Cho-Star-Trek-Beyond.jpg
How John Cho Took A Stand for Diversity Early in His Career
"When one does speak one's mind, one might be surprised at how receptive people are." - Actor John Cho
http://www.dailyactor.com/film/john-cho-took-a-stand-for-diversity/
http://www.dailyactor.com/wp-content/uploads/2016/08/simon-helberg-florence-foster-jenkins.jpg
Simon Helberg on His 'Florence Foster Jenkins' Role: "I'm an actor and I want to stretch different muscles"
Helberg spoke about portraying his character in the film and whether or not he feels typecast by his Big Bang Theory role.
http://www.dailyactor.com/film/simon-helberg-florence-foster-jenkins-role/
http://www.dailyactor.com/wp-content/uploads/2016/08/Will-Chase-Something-Rotten.jpg
The Role That Got Away: Will Chase on Returning to 'Something Rotten!'
"I know that I am a poor man's fill-in-the-blank. And I know that there are poor man's Will Chases out there. That's just the nature of the business" - Will Chase
http://www.dailyactor.com/broadway-theater/will-chase-something-rotten-role-that-got-away/
http://www.dailyactor.com/wp-content/uploads/2016/08/Julia-Stiles-Jason-Bourne.jpg
Julia Stiles on the Jason Bourne Series and Growing as an Actress: "There's always room for improvement"
"I like a director that encourages me to be playful. I don't really like being restricted or controlled by a director." - Julia Stiles
http://www.dailyactor.com/film/julia-stiles-growing-as-an-actress/