Scarlett Johansson Accepted a Marvel Studios Role to "prove to myself that I could do it"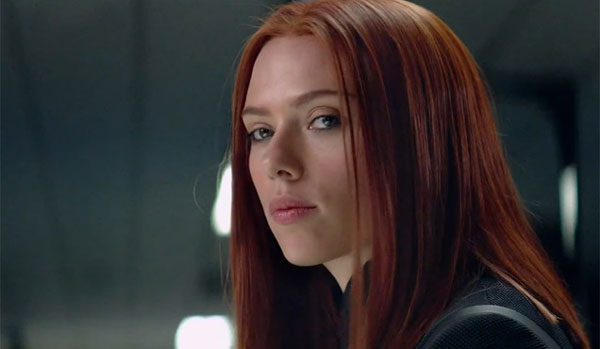 Scarlett Johansson started out her career in small, independent films, but that hasn't stopped her from becoming a part of the Marvel franchise. She made her big-budget film debut in 2010's Iron Man 2 as Natasha Romanoff, aka the Black Widow.
Johansson spoke with the The Wall Street Journal about her reasons for taking on the role.
She said, "I was like, I want to be part of something big like that. I want to be in a really successful, huge film that's good and works."
The action sequences didn't deter her either.
"I wanted to prove to myself that I could do it," she said. "I wanted to stretch myself physically, out of my comfort zone, and still succeed. I'm probably like most actors. We have huge egos, and you want to know you can be successful, no matter what. I don't want to be pigeonholed in one genre or budget or whatever."
Even with the success of the Marvel Studios films, don't expect her to abandon her indie roots.
The 29-year-old actress shared, "I'd rather take the chance of a film not working than be stuck in a pattern of making the same movie over and over."
While the WSJ spoke with the Her star a few months before the pregnancy announcement with fiancé Romain Dauriac was revealed, it was obvious that family was on her mind during the interview. She talked about finding a balance between her personal and professional life.
"There must exist a world in which I can balance those things, be able to raise a family and still make a film a year, or work on my own, develop things, do theater. I want to be able to have it all." She laughed. "Selfishly."
Even though she was joking, it's clear she understood that you can't have it all at once sometimes.
"I know that with that there will be some sacrifices. I know that's the struggle with working mothers and successful careers. It happens," she explained. "With [male actors] it just doesn't happen that way. You can be every woman's fantasy, and nobody thinks twice about the fact that you have eight kids or whatever."
Johansson will next be seen in Captain America: The Winter Soldier which opens nationwide on April 4.
http://www.dailyactor.com/wp-content/uploads/2016/05/Chris-Evans-Captain-America.jpg
Chris Evans on the Challenges of Being Captain America Outside of Acting
"It's part of the job, I've got to sell this thing. But it's just a gross feeling. It makes me insecure."
http://www.dailyactor.com/film/chris-evans-challenges-of-being-captain-america/
http://www.dailyactor.com/wp-content/uploads/2016/04/julia-louis-dreyfus-veep.jpg
Julia Louis-Dreyfus: "Opportunity for women in television has increased. It's because the landscape has widened"
"I did not come out of SNL as any kind of name. I didn't do anything particularly great when I was there. I didn't. It's fine. But I learned a tremendous amount."
http://www.dailyactor.com/tv/julia-louis-dreyfus/
http://www.dailyactor.com/wp-content/uploads/2016/04/Tituss-Burgess-Unbreakable-Kimmy-Schmidt.jpg
Tituss Burgess on How He Landed His 'Unbreakable Kimmy Schmidt' Role
Burgess reveals how his role on 30 Rock led to 'Kimmy Schmidt' and whether or not he'd consider returning to Broadway.
http://www.dailyactor.com/tv/tituss-burgess-unbreakable-kimmy-schmidt-role/
http://www.dailyactor.com/wp-content/uploads/2016/04/Christine-Baranski-The-Good-Wife.jpg
Christine Baranski on the End of 'The Good Wife' and Going Back to Theatre
The final episode of The Good Wife airs on May 8, and it's been several weeks since series star Christine Baranski shot the final episode with her co-stars. She spoke to The Hollywood Reporter about the end of the series she has spent the last seven years working on and what she plans to do […]
http://www.dailyactor.com/tv/christine-baranski-the-good-wife-theatre/
http://www.dailyactor.com/wp-content/uploads/2016/04/jake-gyllenhaal-demolition.jpg
Jake Gyllenhaal on 'Demolition', Working with Chris Cooper and Directors Who Want Nothing to Do With Him
"I think storytelling is the most important part of movie-making over performance." - Jake Gyllenhaal
http://www.dailyactor.com/film/jake-gyllenhaal-demolition-chris-cooper/