Samuel L. Jackson: "I'm not one of those actors who feels like audiences have to like him"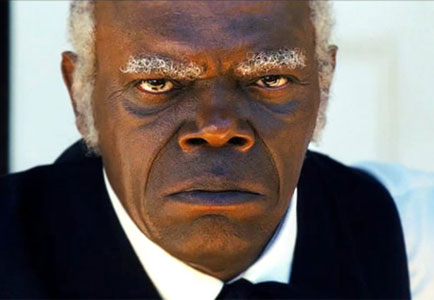 Samuel L. Jackson continues his long association with director Quentin Tarantino with a major role in Django Unchained.  Jackson plays Stephen, the head slave on the plantation known as Candieland.  A Tarantino film on its own is often a source of controversy, but the controversy surrounding Django Unchained is heightened because it deals with slavery.  Naturally, since Stephen is a slave, one would expect to feel compassion for him.  However, instead Tarantino and Jackson have created a paradox not seen in film for decades — a villainous slave. Jackson spoke to The Los Angeles Times about the issues surrounding the role.
Though Jackson generally doesn't really look his age — he just turned 64 in December — Stephen looks all of those years plus more.  When asked if this is the type of appearance one can expect in future Jackson roles, he replies with a laugh, "No, it's not. At least, I hope it's not. Quentin and I wanted to give Stephen a certain look — we wanted him to appear like the most ancient slave in the place. Which he is. But we also wanted him to seem strong and smart. He looks feeble, but there's also something else there."
Even more surprising, however, is just how funny Jackson's character is.  He points out, "I'm not one of those actors who feels like audiences have to like him. Stephen's funny — he does funny things, at least. There's an insulting jocularity to him. But he's still insulting."
In fact, Jackson believes that Tarantino's humorous approach to horrid things is one of the best things about the film, and he mentions a particularly funny scene to make his point.  He explains, "Quentin has an affinity for writing horrible things and then making you laugh. So there's the scene … where the Klan is gathering and they're about to go do some terrible stuff, and then they start arguing about their hoods because they can't see out of them. I think it's dangerous if this is where you get your information from. He's making entertainment. Hopefully, it makes you go ask questions and you Google it. If you want to learn something from a movie, watch a documentary."
Jackson affirms his support for Tarantino by talking about how other great movies are hardly as entertaining for audiences than Tarantino's controversial films.  He says,  "They're making entertainment. I can't blame them for that. And it comes down to what people want to watch when they're eating popcorn. I just saw this movie Sex Traffic. It's a documentary about the sex-slave trade across Europe. Awesome movie. But no one's going to see it. Look at The Hurt Locker. Oscar winner. Did anyone go see it? No. You can't blame Hollywood for wanting to make entertainment."
http://www.dailyactor.com/wp-content/uploads/2016/06/jeff-bridges-hell-or-high-water.jpg
Jeff Bridges on Creating a Character, 'Hell or High Water' and Playing The Dude
"I use elements of myself—I see my parallels with a character—and find similar things in my own personality." - Jeff Bridges on Creating a Character
http://www.dailyactor.com/film/jeff-bridges-creating-a-character/
http://www.dailyactor.com/wp-content/uploads/2016/07/benjamin-bratt-actor.jpg
Benjamin Bratt: "For as limiting as the opportunities are for actors and actresses of color I've been very blessed"
"...it's dangerous to keep going down the same artistic path." - Benjamin Bratt
http://www.dailyactor.com/film/benjamin-bratt-ive-been-very-blessed/
http://www.dailyactor.com/wp-content/uploads/2016/07/watch-keegan-michael-key-explain.jpg
Watch: Keegan-Michael Key Explains Why "Improv actors are at war together"
Check out Key's points on why it's so important for improv actors to have each others' backs in the clip above.
http://www.dailyactor.com/videos/keegan-michael-key-improv-actors-at-war-together/
http://www.dailyactor.com/wp-content/uploads/2016/07/norman-reedus-actor.jpg
Norman Reedus on Acting: "If it's something you really want, you have to roll with the rejection"
Norman Reedus is a fan-favorite star on The Walking Dead and was in the cult favorite film The Boondock Saints. However, in the dozen years between those two gigs Reedus had experienced ups and downs in his career and in many cases he was cast in very small roles in big movies or lead roles […]
http://www.dailyactor.com/actors-on-acting/norman-reedus-acting-rejection/
http://www.dailyactor.com/wp-content/uploads/2016/07/frank-grillo.jpg
Frank Grillo on Being Typecast: "I welcome it"
"I hear actors pooh-pooh the idea... people might see them as a certain thing. I welcome it" - Frank Grillo on Typecasting
http://www.dailyactor.com/film/frank-grillo-on-typecasting/