Ron Howard Reveals Chris Hemsworth Shot His Own "Self-Made" Audition for 'Rush'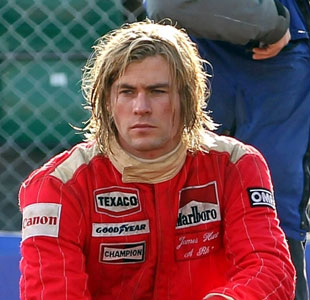 Ron Howard's movie Rush is about the real-life rivalry between Formula One drivers Niki Lauda and James Hunt.  Chris Hemsworth stars as Hunt in the film, but according to Howard in an interview with MTV, Hemsworth wasn't originally able to audition for the part in person because of other commitments.  However, Howard reveals that Hemsworth wasn't going to let that prevent him from getting the part.
Howard explains that at first it was very difficult to find a suitable actor for the part.  He says, "I started meeting some people, started thinking about it, and it wasn't going very well. I thought, 'Maybe we're just not going to be able to do this movie.'"  Though Howard's longtime producing partner Brian Grazer suggested that Howard consider Hemsworth for the part, Howard wanted him to audition. 
Except that wasn't possible — Hemsworth was a little busy filming a movie you might have heard of: The Avengers.  However, that didn't stop Hemsworth from auditioning.  Howard reveals, "I asked Chris if he would audition, and he couldn't because he was doing Avengers. The next day, or literally within 36 hours, I had a self-made audition that he did, just from his hotel room from location in Albuquerque.  It was unbelievable. Brian was right. We had our Hunt. Suddenly, it was done. We had a great young cast, and they were gifted and right for the roles. Ultimately, it was the easiest time I had casting a movie."
And just think about all the time you've probably wasted just sitting around hotel rooms… look what you could've been doing instead!
http://www.dailyactor.com/wp-content/uploads/2016/08/imperium_daniele_radcliffe.jpg
Daniel Radcliffe on Playing a Neo-Nazi in 'Imperium': "It's still just horrible to say some of this stuff"
Radcliffe reveals how he played such a layered character and what it felt like to say his character's hate-filled dialogue.
http://www.dailyactor.com/actors-on-acting/daniel-radcliffe-playing-a-neo-nazi-imperium/
http://www.dailyactor.com/wp-content/uploads/2016/08/John-Cho-Star-Trek-Beyond.jpg
How John Cho Took A Stand for Diversity Early in His Career
"When one does speak one's mind, one might be surprised at how receptive people are." - Actor John Cho
http://www.dailyactor.com/actors-on-acting/john-cho-took-a-stand-for-diversity/
http://www.dailyactor.com/wp-content/uploads/2016/08/simon-helberg-florence-foster-jenkins.jpg
Simon Helberg on His 'Florence Foster Jenkins' Role: "I'm an actor and I want to stretch different muscles"
Helberg spoke about portraying his character in the film and whether or not he feels typecast by his Big Bang Theory role.
http://www.dailyactor.com/actors-on-acting/simon-helberg-florence-foster-jenkins-role/
http://www.dailyactor.com/wp-content/uploads/2016/08/Will-Chase-Something-Rotten.jpg
The Role That Got Away: Will Chase on Returning to 'Something Rotten!'
"I know that I am a poor man's fill-in-the-blank. And I know that there are poor man's Will Chases out there. That's just the nature of the business" - Will Chase
http://www.dailyactor.com/actors-on-acting/will-chase-something-rotten-role-that-got-away/
http://www.dailyactor.com/wp-content/uploads/2016/08/Julia-Stiles-Jason-Bourne.jpg
Julia Stiles on the Jason Bourne Series and Growing as an Actress: "There's always room for improvement"
"I like a director that encourages me to be playful. I don't really like being restricted or controlled by a director." - Julia Stiles
http://www.dailyactor.com/actors-on-acting/julia-stiles-growing-as-an-actress/