Robert Downey Jr. Talks Improvising, Co-Stars and 'Sherlock Holmes'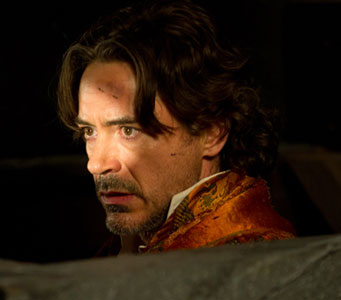 One of the most anticipated sequels of the year was finally being released this past weekend: Sherlock Holmes: A Game of Shadows.  Returning to the role of the English detective is Robert Downey Jr., who received rave reviews for his portrayal in the 2009 original.  But ever the team player, Downey won't take sole credit for the film's success: in an interview with Collider, Downey talks about his co-stars in the film and how they helped make the sequel worthwhile.
Many have commented on the interplay between Downey and his counterpart Dr. Watson, Jude Law.  Downey describes that some of that energy comes from improvising on the script, revealing, "The goal is to make a well-written scene seem like it's improvised, and come up with things that you find in the room, that you couldn't have known until you get into the real situation. You just try to improve things, as you go along."  But aside from Law, Downey also has praise for the man play Holmes' arch-nemesis Professor Moriarty, Jared Harris.  Harris was cast relatively late in pre-production, and Downey particularly compliments him for being able to jump into the role, saying, "Everything Jared Harris did, in the course of making this movie, was essentially thrown at him with very little time to prepare. It was shock and awe. I think what he brought with him was something that was just so particularly him, while still being this character. It honestly is the main reason that the movie works, but it was also an exercise in trial by fire for him."
Sherlock Holmes: A Game of Shadows opens in theaters on December 16.
http://www.dailyactor.com/wp-content/uploads/2016/08/imperium_daniele_radcliffe.jpg
Daniel Radcliffe on Playing a Neo-Nazi in 'Imperium': "It's still just horrible to say some of this stuff"
Radcliffe reveals how he played such a layered character and what it felt like to say his character's hate-filled dialogue.
http://www.dailyactor.com/actors-on-acting/daniel-radcliffe-playing-a-neo-nazi-imperium/
http://www.dailyactor.com/wp-content/uploads/2016/08/John-Cho-Star-Trek-Beyond.jpg
How John Cho Took A Stand for Diversity Early in His Career
"When one does speak one's mind, one might be surprised at how receptive people are." - Actor John Cho
http://www.dailyactor.com/actors-on-acting/john-cho-took-a-stand-for-diversity/
http://www.dailyactor.com/wp-content/uploads/2016/08/simon-helberg-florence-foster-jenkins.jpg
Simon Helberg on His 'Florence Foster Jenkins' Role: "I'm an actor and I want to stretch different muscles"
Helberg spoke about portraying his character in the film and whether or not he feels typecast by his Big Bang Theory role.
http://www.dailyactor.com/actors-on-acting/simon-helberg-florence-foster-jenkins-role/
http://www.dailyactor.com/wp-content/uploads/2016/08/Will-Chase-Something-Rotten.jpg
The Role That Got Away: Will Chase on Returning to 'Something Rotten!'
"I know that I am a poor man's fill-in-the-blank. And I know that there are poor man's Will Chases out there. That's just the nature of the business" - Will Chase
http://www.dailyactor.com/actors-on-acting/will-chase-something-rotten-role-that-got-away/
http://www.dailyactor.com/wp-content/uploads/2016/08/Julia-Stiles-Jason-Bourne.jpg
Julia Stiles on the Jason Bourne Series and Growing as an Actress: "There's always room for improvement"
"I like a director that encourages me to be playful. I don't really like being restricted or controlled by a director." - Julia Stiles
http://www.dailyactor.com/actors-on-acting/julia-stiles-growing-as-an-actress/