Rashida Jones on 'Celeste and Jesse Forever' and Reading Bad Scripts: "Sometimes you wonder if anybody ever read it out loud"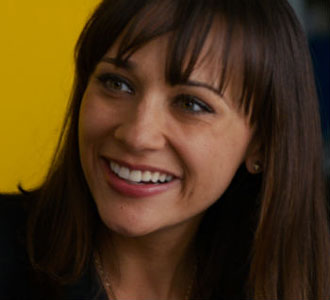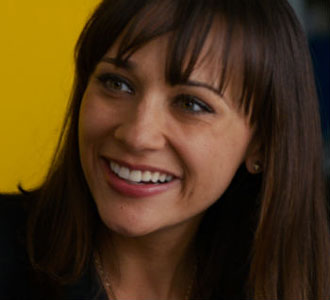 Parks and Recreation star Rashida Jones is talking to just about everyone about her new film, Celeste and Jesse Forever.  Of course, one of the main reasons why Jones is so excited about this film is that it is the first movie she has co-written the script for (with her co-star Will McCormack). 
The Wall Street Journal caught up with Jones on the New York red carpet premiere of Celeste and Jesse Forever and she spoke about writing and the response to the film so far.
According to Jones, her experience as an actress helped her as a writer.  She explained, "I think you get really sensitive to dialogue and we read so many scripts. Sometimes the scripts were incredible and you can't believe the poetry of it and then sometimes you wonder if anybody ever read it out loud. We were conscious to try and write dialogue that sounded the way people talked. That is really important to us as actors."
As for how the film has been received (which has been generally positive), Jones is more focused on how the storyline affects individual people.  She said, "We felt a lot of love for the film which is nice. Not everyone is going to like it, my favorite films not everyone likes them so that's OK. My heart is kind of cracking open with the people who have come up to me and told me that they've felt affected by the film that personally they felt like we stole their life story and they cried and made them think about their own relationships."
Celeste and Jesse Forever is now in theaters.
http://www.dailyactor.com/wp-content/uploads/2016/02/david-harewood-supergirl.jpg
David Harewood on 'Supergirl' and How He Was "Struggling to Get a Handle" on His Character
Harewood reveals how he relates to the character and how he eventually got comfortable playing him.
http://www.dailyactor.com/actors-on-acting/david-harewood-supergirlstruggling-to-get-a-handle-on-his-character/
http://www.dailyactor.com/wp-content/uploads/2016/01/Jeff-Daniels.jpg
Jeff Daniels Remembers a Terrible Audition for a Diane Keaton Movie
One actor that knows the ups and downs of the audition process is Jeff Daniels.
http://www.dailyactor.com/actors-on-acting/jeff-daniels-terrible-audition-diane-keaton-movie/
http://www.dailyactor.com/wp-content/uploads/2016/02/Jennifer-Jason-Leigh-The-Hateful-Eight.jpg
Jennifer Jason Leigh on Her First-Ever Oscar Nomination: "It's kind of phenomenal"
"He knew that I could, in his words, 'act the … out of it' and I'm not afraid to take a risk in terms of acting" Jennifer Jason Leigh on Quentin Tarantino
http://www.dailyactor.com/actors-on-acting/jennifer-jason-leigh-oscar-nomination/
http://www.dailyactor.com/wp-content/uploads/2016/02/Forest-Whitaker-Hughie-Broadway.jpg
Forest Whitaker on Making His Broadway Debut in 'Hughie': "His rhythms are starting to invade inside of me"
"I want to get better as an actor, to keep trying to work harder, trying to discover something different" - Forest Whitaker
http://www.dailyactor.com/actors-on-acting/forest-whitaker-broadway-debut-hughie/
http://www.dailyactor.com/wp-content/uploads/2016/02/alicia-Vikander-Ex-machina.jpg
Alicia Vikander on the Her First Trip to L.A. and the Acting Tip 'Ex-Machina' Director Alex Garland Gave Her
"You [get immersed in] a film and of course you think that that is it. And then you go away and you read a new script and you have a new crush" - Alicia Vikander
http://www.dailyactor.com/actors-on-acting/alicia-vikanderacting-tip-ex-machina-director-alex-garland-gave-her/