Project X's Jonathan Daniel Brown Started in… Porn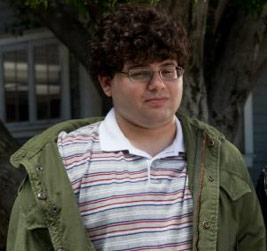 It's an unusual way to get your start in the world of acting but some performers  do what they can to break into the business.  Case in point, Jonathan Daniel Brown of director Todd Phillips Project X. 
Discovered and revealed by TMZ, before Brown nabbed a role as the character JB in the film, that also stars Thomas Mann, Oliver Cooper, Kirby Bliss Blanton and Alexis Knapp, he was the star of the porno Nerd Hunting, a Bang Brothers Production.
According to an unknown source close to Brown, who has also appeared as the nerdy guy in the TV series Pretend Time, he took the role as a way to get a start.  "It was just kids being kids," the individual shared.  Seen in the movie, Brown shares some x-rated one on one time with some extremely attractive ladies in the said to be popular adult film. 
Now three years later the Project X  actor has commanded strong reviews for his new role, as well as scoring some extra attention because of his stint in Nerd Hunting. Brown can be seen next up as a guest star in the TV series Dating Rules from My Future Self.
http://www.dailyactor.com/wp-content/uploads/2016/08/Will-Chase-Something-Rotten.jpg
The Role That Got Away: Will Chase on Returning to 'Something Rotten!'
"I know that I am a poor man's fill-in-the-blank. And I know that there are poor man's Will Chases out there. That's just the nature of the business" - Will Chase
http://www.dailyactor.com/broadway-theater/will-chase-something-rotten-role-that-got-away/
http://www.dailyactor.com/wp-content/uploads/2016/08/Julia-Stiles-Jason-Bourne.jpg
Julia Stiles on the Jason Bourne Series and Growing as an Actress: "There's always room for improvement"
"I like a director that encourages me to be playful. I don't really like being restricted or controlled by a director." - Julia Stiles
http://www.dailyactor.com/film/julia-stiles-growing-as-an-actress/
http://www.dailyactor.com/wp-content/uploads/2016/08/Michael-Kenneth-Williams-The-Night-Of.jpg
Michael Kenneth Williams on How His Roles Impact Him: "That energy's gotta go somewhere"
Since his days of playing Omar on 'The Wire', Williams has learned how to separate himself from his characters.
http://www.dailyactor.com/tv/michael-kenneth-williams-the-night-of/
http://www.dailyactor.com/wp-content/uploads/2016/08/margot-robbie-the-wolf-of-wall-street.jpg
Margot Robbie Believed 'The Wolf of Wall Street' Would Ruin Her Career
Many actors can point to a single role that was a career breakthrough -- but not all of them realize that it's a breakthrough as it's happening.
http://www.dailyactor.com/film/margot-robbie-the-wolf-of-wall-street-ruin-her-career/
http://www.dailyactor.com/wp-content/uploads/2016/08/Jonah-Hill-War-Dogs.jpg
Jonah Hill Talks 'War Dogs' and Getting into Character by Listening to Music
"When I started taking acting classes, it was the first time teachers were like, 'You're good and you should keep doing this.'" - Jonah Hill
http://www.dailyactor.com/film/jonah-hill-war-dogs/