Project X's Jonathan Daniel Brown Started in… Porn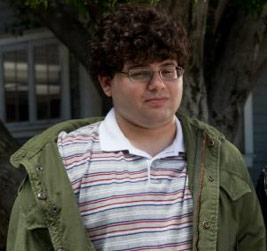 It's an unusual way to get your start in the world of acting but some performers  do what they can to break into the business.  Case in point, Jonathan Daniel Brown of director Todd Phillips Project X. 
Discovered and revealed by TMZ, before Brown nabbed a role as the character JB in the film, that also stars Thomas Mann, Oliver Cooper, Kirby Bliss Blanton and Alexis Knapp, he was the star of the porno Nerd Hunting, a Bang Brothers Production.
According to an unknown source close to Brown, who has also appeared as the nerdy guy in the TV series Pretend Time, he took the role as a way to get a start.  "It was just kids being kids," the individual shared.  Seen in the movie, Brown shares some x-rated one on one time with some extremely attractive ladies in the said to be popular adult film. 
Now three years later the Project X  actor has commanded strong reviews for his new role, as well as scoring some extra attention because of his stint in Nerd Hunting. Brown can be seen next up as a guest star in the TV series Dating Rules from My Future Self.
http://www.dailyactor.com/wp-content/uploads/2016/04/jake-gyllenhaal-demolition.jpg
Jake Gyllenhaal on 'Demolition', Working with Chris Cooper and Directors Who Want Nothing to Do With Him
"I think storytelling is the most important part of movie-making over performance." - Jake Gyllenhaal
http://www.dailyactor.com/film/jake-gyllenhaal-demolition-chris-cooper/
http://www.dailyactor.com/wp-content/uploads/2016/04/don-cheadle-miles-davis.jpg
Don Cheadle: "Be scared. Be on the edge of your creativity"
"Be willing to fall flat on your face and be in an unknown place. If you're doing that, you're probably growing" - Don Cheadle
http://www.dailyactor.com/film/don-cheadle-scared-creativity/
http://www.dailyactor.com/wp-content/uploads/2016/04/jessie-eisenberg-louder-than-bombs.jpg
What is Jesse Eisenberg's "Most Fulfilling Acting Experience"?
"My absolute favorite thing to do is to write a play and then, after I finish, do the first reading of it with my friends around the table"- Jesse Eisenberg
http://www.dailyactor.com/actors-on-acting/jesse-eisenberg-most-fulfilling-acting-experience/
http://www.dailyactor.com/wp-content/uploads/2016/03/Lupita-Nyong'o-eclipsed.jpg
Lupita Nyong'o on Her Broadway Debut: "When we get up on that stage, you do not know what will happen"
"I think theater offers a chance to flex muscles that then only help to sustain cinematic work." - Lupita Nyong'o
http://www.dailyactor.com/broadway-theater/lupita-nyongo-eclipsed-broadway/
http://www.dailyactor.com/wp-content/uploads/2016/03/jake-gyllenhaal-demolition.jpg
Jake Gyllenhaal on Missed Superhero Opportunities and Portraying "Antisocial" Characters
"I've always wanted to have the opportunity to play a number of different roles, and I knew it wasn't necessarily the role, but how you played them" - Jake Gyllenhaal
http://www.dailyactor.com/film/jake-gyllenhaal-antisocial-characters/