Olga Kurylenko on How She and Terrence Malick Created Her Character in 'To the Wonder'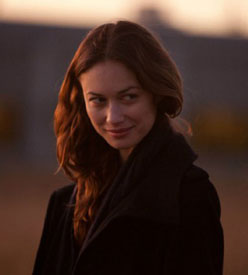 Olga Kurylenko is ready to prove she's more than just a pretty face.  Although she got her start modeling and starred as a Bond girl in Quantum of Solace, she's hoping to branch out more.
"That's not what an actor hopes to play," she said in an interview with The New York Post. "They've mostly been dull and just arm candy."
With her new role in Terrence Malick's To the Wonder, Kurylenko did as much preparation as possible.  "I had to read three Russian novels: Anna Karenina, The Idiot and The Brothers Karamazov," she recalled.  "They were very tiny little novels.  After that it was just discussions about what I drew from the books, how we can compose the character, and what similarities are there between [her character] and the different female characters in those books."
The Ukrainian actress acknowledges how lucky her life is.  "You don't dream about things that are impossible, that are out of your range," she said, remembering her childhood in the former Soviet Union.  "So I couldn't dream.  For me, that was never going to happen."
But despite landing on the covers of magazines like Vogue and Elle, Kurylenko still feels like a simple girl at heart.
"Hollywood always represents this big dream and fairy tale in people's minds, and to me it's hard work," she admitted.  "It's all Cinderella [on the red carpet], but when the clock strikes midnight everything turns, and I turn into a gray mouse and go home and take my dress off and it's over.  That's Hollywood."
To the Wonder is currently playing in limited release.
http://www.dailyactor.com/wp-content/uploads/2016/04/julia-louis-dreyfus-veep.jpg
Julia Louis-Dreyfus: "Opportunity for women in television has increased. It's because the landscape has widened"
"I did not come out of SNL as any kind of name. I didn't do anything particularly great when I was there. I didn't. It's fine. But I learned a tremendous amount."
http://www.dailyactor.com/tv/julia-louis-dreyfus/
http://www.dailyactor.com/wp-content/uploads/2016/04/Tituss-Burgess-Unbreakable-Kimmy-Schmidt.jpg
Tituss Burgess on How He Landed His 'Unbreakable Kimmy Schmidt' Role
Burgess reveals how his role on 30 Rock led to 'Kimmy Schmidt' and whether or not he'd consider returning to Broadway.
http://www.dailyactor.com/tv/tituss-burgess-unbreakable-kimmy-schmidt-role/
http://www.dailyactor.com/wp-content/uploads/2016/04/Christine-Baranski-The-Good-Wife.jpg
Christine Baranski on the End of 'The Good Wife' and Going Back to Theatre
The final episode of The Good Wife airs on May 8, and it's been several weeks since series star Christine Baranski shot the final episode with her co-stars. She spoke to The Hollywood Reporter about the end of the series she has spent the last seven years working on and what she plans to do […]
http://www.dailyactor.com/tv/christine-baranski-the-good-wife-theatre/
http://www.dailyactor.com/wp-content/uploads/2016/04/jake-gyllenhaal-demolition.jpg
Jake Gyllenhaal on 'Demolition', Working with Chris Cooper and Directors Who Want Nothing to Do With Him
"I think storytelling is the most important part of movie-making over performance." - Jake Gyllenhaal
http://www.dailyactor.com/film/jake-gyllenhaal-demolition-chris-cooper/
http://www.dailyactor.com/wp-content/uploads/2016/04/don-cheadle-miles-davis.jpg
Don Cheadle: "Be scared. Be on the edge of your creativity"
"Be willing to fall flat on your face and be in an unknown place. If you're doing that, you're probably growing" - Don Cheadle
http://www.dailyactor.com/film/don-cheadle-scared-creativity/