What Was Nicholas Hoult's "All-Time Worst" Audition?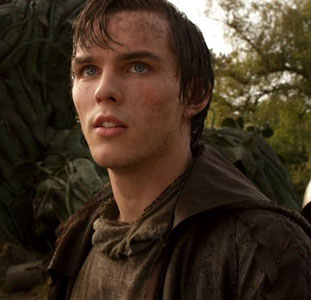 When you are a successful actor, it's hard for the public to imagine that there are many disappointments in your acting career. However, every actor has a bad day and remembers that role that slipped away from them.
Nicholas Hoult admitted to Entertainment Weekly that scenario has happened to him many times.
He told the entertainment magazine, "There are hundreds you audition for and give terrible auditions for. Sometimes I walk out and I'm like, 'Wow, that was embarrassing.'"
For every successful audition for movies like About A Boy, Warm Bodies and X-Men: First Class, he has also had his share of awful days in that audition room.
The 23-year-old British actor revealed, "One of my all-time worst [auditions] was definitely Prince Caspian. They asked if I could do a Hispanic accent. I was like, 'What would I base that on?' They were like, 'Have you seen Shrek? Puss in Boots.'"
Even though he was well-prepard for the audition, he hadn't planned on doing an accent.
"I was doing the scene, but in my head before saying each line, I was trying to do my Antonio Banderas impression, saying [in a Desperado voice] 'I am Prince Caspian!' It was horrendous. It sounded more like Borat," shared an embarrassed Hoult.
Clearly, he did not get the role, but fellow Brit Ben Barnes did. Barnes even had that Hispanic accent that the director wanted for the part. While the bad audition certainly did not affect his career, it does remind every actor that each audition brings its own set of challenges. Be prepared for each and every one of them.
http://www.dailyactor.com/wp-content/uploads/2016/04/jake-gyllenhaal-demolition.jpg
Jake Gyllenhaal on 'Demolition', Working with Chris Cooper and Directors Who Want Nothing to Do With Him
"I think storytelling is the most important part of movie-making over performance." - Jake Gyllenhaal
http://www.dailyactor.com/actors-on-acting/jake-gyllenhaal-demolition-chris-cooper/
http://www.dailyactor.com/wp-content/uploads/2016/04/don-cheadle-miles-davis.jpg
Don Cheadle: "Be scared. Be on the edge of your creativity"
"Be willing to fall flat on your face and be in an unknown place. If you're doing that, you're probably growing" - Don Cheadle
http://www.dailyactor.com/actors-on-acting/don-cheadle-scared-creativity/
http://www.dailyactor.com/wp-content/uploads/2016/04/jessie-eisenberg-louder-than-bombs.jpg
What is Jesse Eisenberg's "Most Fulfilling Acting Experience"?
"My absolute favorite thing to do is to write a play and then, after I finish, do the first reading of it with my friends around the table"- Jesse Eisenberg
http://www.dailyactor.com/actors-on-acting/jesse-eisenberg-most-fulfilling-acting-experience/
http://www.dailyactor.com/wp-content/uploads/2016/03/Lupita-Nyong'o-eclipsed.jpg
Lupita Nyong'o on Her Broadway Debut: "When we get up on that stage, you do not know what will happen"
"I think theater offers a chance to flex muscles that then only help to sustain cinematic work." - Lupita Nyong'o
http://www.dailyactor.com/actors-on-acting/lupita-nyongo-eclipsed-broadway/
http://www.dailyactor.com/wp-content/uploads/2016/03/jake-gyllenhaal-demolition.jpg
Jake Gyllenhaal on Missed Superhero Opportunities and Portraying "Antisocial" Characters
"I've always wanted to have the opportunity to play a number of different roles, and I knew it wasn't necessarily the role, but how you played them" - Jake Gyllenhaal
http://www.dailyactor.com/actors-on-acting/jake-gyllenhaal-antisocial-characters/