End of Watch's Michael Pena on growing up in the "ghetto" and how Hollywood is getting diversity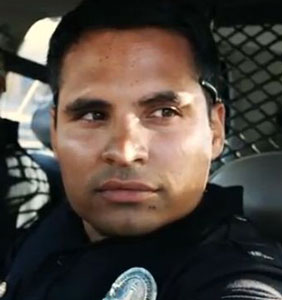 Michael Pena thinks Hollywood is finally starting to diversify. 
The Latino actor, who was cast alongside Jake Gyllenhaal in the cop drama End of Watch, tells Movieline that "the script was written for actors like Jake Gyllenhaal and me—a Latin dude. It had to be a Latin dude, there is so much Latin [material] in it.  Ten years ago, I don't know if that would have been the case.  I don't know if it would have been so easy to do."
Pena, who has appeared in films like Crash, Million Dollar Baby, and The Lincoln Lawyer, could definitely relate to a character familiar with rough neighborhoods.  "I never wanted to be in a gang," he said.  "I didn't want to follow anybody's orders.  I thought of myself as an individual ever since I was little.  I grew up in the ghetto, and the thing is when there were problems, I knew when to get away.  But police go to the problems.  I didn't do that growing up."
"Seeing it through Jake's eyes, it re-ignited what I always knew, but I guess I had buried it.  I've been living in Hollywood for the past 15 years.  And reality just smacks you in the face—that feeling of potential danger everywhere."
It was essential for Pena and Gyllenhaal to create a realistic bond when portraying the two partners.  "It took three months to click," the actor said.  "There's a lot of pressure to play like brothers.  We had to spend a lot of time together opening up to each other as well as tactical training, rehearsing.  Three months later we had a good rapport and we put that in the movie."
End of Watch comes out Friday, September 21.
http://www.dailyactor.com/wp-content/uploads/2016/08/imperium_daniele_radcliffe.jpg
Daniel Radcliffe on Playing a Neo-Nazi in 'Imperium': "It's still just horrible to say some of this stuff"
Radcliffe reveals how he played such a layered character and what it felt like to say his character's hate-filled dialogue.
http://www.dailyactor.com/actors-on-acting/daniel-radcliffe-playing-a-neo-nazi-imperium/
http://www.dailyactor.com/wp-content/uploads/2016/08/John-Cho-Star-Trek-Beyond.jpg
How John Cho Took A Stand for Diversity Early in His Career
"When one does speak one's mind, one might be surprised at how receptive people are." - Actor John Cho
http://www.dailyactor.com/actors-on-acting/john-cho-took-a-stand-for-diversity/
http://www.dailyactor.com/wp-content/uploads/2016/08/simon-helberg-florence-foster-jenkins.jpg
Simon Helberg on His 'Florence Foster Jenkins' Role: "I'm an actor and I want to stretch different muscles"
Helberg spoke about portraying his character in the film and whether or not he feels typecast by his Big Bang Theory role.
http://www.dailyactor.com/actors-on-acting/simon-helberg-florence-foster-jenkins-role/
http://www.dailyactor.com/wp-content/uploads/2016/08/Will-Chase-Something-Rotten.jpg
The Role That Got Away: Will Chase on Returning to 'Something Rotten!'
"I know that I am a poor man's fill-in-the-blank. And I know that there are poor man's Will Chases out there. That's just the nature of the business" - Will Chase
http://www.dailyactor.com/actors-on-acting/will-chase-something-rotten-role-that-got-away/
http://www.dailyactor.com/wp-content/uploads/2016/08/Julia-Stiles-Jason-Bourne.jpg
Julia Stiles on the Jason Bourne Series and Growing as an Actress: "There's always room for improvement"
"I like a director that encourages me to be playful. I don't really like being restricted or controlled by a director." - Julia Stiles
http://www.dailyactor.com/actors-on-acting/julia-stiles-growing-as-an-actress/