Michael Cera's Effort to Go Method for 'Crystal Fairy' Failed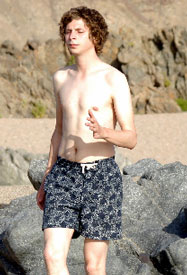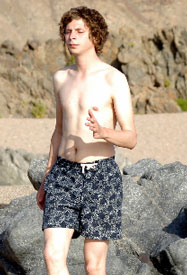 Michael Cera decided to go Method on his new film Crystal Fairy by doing the same drugs his character does.
Cera admitted to The Huffington Post that he and his cast-mates tried doing mescaline to experience what their characters would have on the same type of hallucinogenic trip.
"We cooked the cactus for the movie and drank it, but it didn't work," Cera confessed.  "We had this plan to do it and not film because that was going to be overwhelming for everyone.  We ended up drinking it and shooting that day, and everyone was fine and nobody felt anything.
"Maybe it was because we were working or something.  We were all in work mode…Maybe we got the wrong cactus.  Is that possible?"
The film, which is currently screening at Sundance Film Festival, did teach Cera one thing—he does not like boiled cactus.  "It's a very kind of acrid, earthy, terrible taste," he said.  "It's almost like a wheatgrass shot, that terrible taste that keeps revisiting you.  It shouldn't be eaten.  Nature didn't want you to eat it."
http://www.dailyactor.com/wp-content/uploads/2016/01/Jeff-Daniels.jpg
Jeff Daniels Remembers a Terrible Audition for a Diane Keaton Movie
One actor that knows the ups and downs of the audition process is Jeff Daniels.
http://www.dailyactor.com/actors-on-acting/jeff-daniels-terrible-audition-diane-keaton-movie/
http://www.dailyactor.com/wp-content/uploads/2016/02/Jennifer-Jason-Leigh-The-Hateful-Eight.jpg
Jennifer Jason Leigh on Her First-Ever Oscar Nomination: "It's kind of phenomenal"
"He knew that I could, in his words, 'act the … out of it' and I'm not afraid to take a risk in terms of acting" Jennifer Jason Leigh on Quentin Tarantino
http://www.dailyactor.com/actors-on-acting/jennifer-jason-leigh-oscar-nomination/
http://www.dailyactor.com/wp-content/uploads/2016/02/Forest-Whitaker-Hughie-Broadway.jpg
Forest Whitaker on Making His Broadway Debut in 'Hughie': "His rhythms are starting to invade inside of me"
"I want to get better as an actor, to keep trying to work harder, trying to discover something different" - Forest Whitaker
http://www.dailyactor.com/actors-on-acting/forest-whitaker-broadway-debut-hughie/
http://www.dailyactor.com/wp-content/uploads/2016/02/alicia-Vikander-Ex-machina.jpg
Alicia Vikander on the Her First Trip to L.A. and the Acting Tip 'Ex-Machina' Director Alex Garland Gave Her
"You [get immersed in] a film and of course you think that that is it. And then you go away and you read a new script and you have a new crush" - Alicia Vikander
http://www.dailyactor.com/actors-on-acting/alicia-vikanderacting-tip-ex-machina-director-alex-garland-gave-her/
http://www.dailyactor.com/wp-content/uploads/2016/02/Channing-Tatum-Hail-Caesar.jpg
Channing Tatum Talks 'Hail, Caesar!': "I've been beating on the Coens' door for years, man"
"It's the most I've ever prepped for a six-minute section in a movie." - Channing Tatum
http://www.dailyactor.com/actors-on-acting/channing-tatum-hail-caesar-tap-dancing/