Mary-Louise Parker Wants to Quit Acting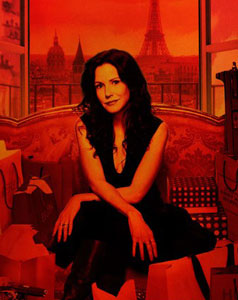 Mary-Louise Parker has announced she's going to quit acting.
"I'm almost done acting," she said in an interview with The Herald Sun.  "I'm not really that into it anymore.  I don't know how many more movies I wanna do.  I wouldn't mind doing a TV show again, I'd like to do a couple more plays, but I'm almost done acting, I think…It's only started happening to me recently that I've felt weary of it all, so I dunno.  There's another play I wanna do after [The Snow Geese] and I wouldn't mind doing a couple more years of a TV show, but after that not much more."
Parker, who is starring in two summer blockbusters (Red 2 and R.I.P.D.), admitted she wouldn't really miss acting.  "I would write, still," she said.  "I write for Esquire and writing makes me happy.  I would take care of my kids and my goats.  That's about it.  Bake.  Throw my internet in the lake."
In fact, the Internet is one of the elements that is driving Parker away from the entertainment industry.  "The world has gotten too mean for me, it's just too bitchy," she admitted.  "All the websites and the blogging and all the people giving their opinion and their hatred…it's all so mean-spirited, it's all so critical."
"It's sport for people, it's fun to get on at night and unleash their own self-loathing by attacking someone else who they think has a happier life or something, I dunno.  I don't know if you can imagine a friend sending you something they thought was funny, that was something mean someone wrote about you and there's like 50 comments from complete strangers across the world about you—and you can say 'Oh I let it roll off my back' and 'I wouldn't take it personally,' but you have no idea until it happens to you.  It doesn't feel nice."
Despite finding major success starring in the Showtime series, Weeds, Parker is still having a hard time staying away from the negativity.  "There's more of the [mean comments] than there is whatever praise people think you're getting," she continued.  "There's way more mean-spiritedness.  I stay away from it as best I can because I'm too thin-skinned, but it still finds you.
"It's a mean culture—it's reality TV and it's watching people suffer and watching people humiliate themselves.  It's little girls in pageants and housewives and plastic surgery and people in rehab.  It just feels like a very ugly…it's like someone just lifted up a rock and that's all we're looking at."
Red 2 and R.I.P.D both come out Friday, July 19. 
http://www.dailyactor.com/wp-content/uploads/2016/08/imperium_daniele_radcliffe.jpg
Daniel Radcliffe on Playing a Neo-Nazi in 'Imperium': "It's still just horrible to say some of this stuff"
Radcliffe reveals how he played such a layered character and what it felt like to say his character's hate-filled dialogue.
http://www.dailyactor.com/actors-on-acting/daniel-radcliffe-playing-a-neo-nazi-imperium/
http://www.dailyactor.com/wp-content/uploads/2016/08/John-Cho-Star-Trek-Beyond.jpg
How John Cho Took A Stand for Diversity Early in His Career
"When one does speak one's mind, one might be surprised at how receptive people are." - Actor John Cho
http://www.dailyactor.com/actors-on-acting/john-cho-took-a-stand-for-diversity/
http://www.dailyactor.com/wp-content/uploads/2016/08/simon-helberg-florence-foster-jenkins.jpg
Simon Helberg on His 'Florence Foster Jenkins' Role: "I'm an actor and I want to stretch different muscles"
Helberg spoke about portraying his character in the film and whether or not he feels typecast by his Big Bang Theory role.
http://www.dailyactor.com/actors-on-acting/simon-helberg-florence-foster-jenkins-role/
http://www.dailyactor.com/wp-content/uploads/2016/08/Will-Chase-Something-Rotten.jpg
The Role That Got Away: Will Chase on Returning to 'Something Rotten!'
"I know that I am a poor man's fill-in-the-blank. And I know that there are poor man's Will Chases out there. That's just the nature of the business" - Will Chase
http://www.dailyactor.com/actors-on-acting/will-chase-something-rotten-role-that-got-away/
http://www.dailyactor.com/wp-content/uploads/2016/08/Julia-Stiles-Jason-Bourne.jpg
Julia Stiles on the Jason Bourne Series and Growing as an Actress: "There's always room for improvement"
"I like a director that encourages me to be playful. I don't really like being restricted or controlled by a director." - Julia Stiles
http://www.dailyactor.com/actors-on-acting/julia-stiles-growing-as-an-actress/