Clips and Quotes from Tomorrow Night's 'Inside the Actors Studio' Featuring Liam Neeson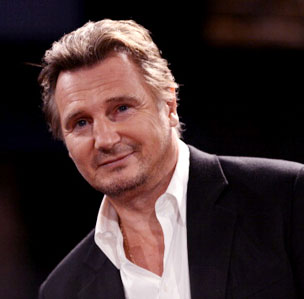 Inside the Actors Studio and its host, James Lipton, welcomes Oscar-nominated actor and Taken 2 star Liam Neeson to its stage tomorrow night (October 2nd).
In the show, Lipton asks Neeson about his roles in Schindler's List, The Dark Knight Rises and Kinsey. I'm assuming they won't talk about the cinematic trash pile, Battleship.
Neeson also shares details ranging from his always-changing accents to his romances with famous leading ladies.
 Here are some quotes from the upcoming episode:
– "Of course I can ride [a horse], John. I'm Irish." – The lie Neeson told "Excalibur" director John Boorman to get a part.
– "That's a big tree, right?" – Neeson's response to drama critic John Lahr's description of him as "a sequoia of sex."
–  "It's always script, then director, then size of the salary I guess." – Neeson on how he picks his choice of role.
– "You're wife's inside with a big chilled bottle of Pinot Noir." – Neeson on what he would like to hear God say at the gates of Heaven.
Check out some clips:
Neeson discusses his involvement with Taken
 Neeson shares that he was a competent boxer
http://www.dailyactor.com/wp-content/uploads/2015/10/Bridge-of-Spies-Tom-Hanks-Mark-Rylance.jpg
Tom Hanks on Working with Steven Spielberg and Mark Rylance in 'Bridge of Spies'
"Steven does this incredible thing when he casts you: He empowers you with the scene." - Tom Hanks on Steven Spielberg
http://www.dailyactor.com/actors-on-acting/tom-hanks-working-steven-spielberg-mark-rylance-bridge-of-spies/
http://www.dailyactor.com/wp-content/uploads/2015/09/Tom-Hardy-Legend.jpg
Tom Hardy on Playing Twins in 'Legend,' Being Seen as a Tough Guy, and Working with Philip Seymour Hoffman
Hardy speaks about why he challenged himself to play twins, what he thinks of his tough guy image, and working with the late Philip Seymour Hoffman, who directed him on stage.
http://www.dailyactor.com/actors-on-acting/tom-hardy-playing-twins-legend/
http://www.dailyactor.com/wp-content/uploads/2015/09/Emily-Blunt-Sicario.jpg
Emily Blunt on Action Movie Roles: "I think it's important to show different layers. Nobody is just tough, nobody is just vulnerable"
Emily Blunt touches upon why she has gotten into roles with an action bent and why she thinks there aren't more action movies with female leads
http://www.dailyactor.com/actors-on-acting/emily-blunt-sicario-acting-layers/
http://www.dailyactor.com/wp-content/uploads/2015/09/Jorja-Fox-CSI.jpg
Jorja Fox on Life After 'CSI': "I've always enjoyed not knowing exactly where the road leads"
"I think you kind of have to embrace the unknown if you're an actor." - Jorja Fox
http://www.dailyactor.com/actors-on-acting/jorja-fox-life-after-csi/
http://www.dailyactor.com/wp-content/uploads/2015/09/John-Turturro-Mia-Madre.jpg
John Turturro on the Life of an Actor: "It's a rough business. I wouldn't want my kids to do it"
"I am usually very well prepared. If you're a surgeon, you've got to know what you're going to take out today." - John Turturro
http://www.dailyactor.com/actors-on-acting/john-turturro-life-of-an-actor/