Keira Knightley on 'Seeking a Friend': "It was one of the best scripts I'd seen in years – and so unique"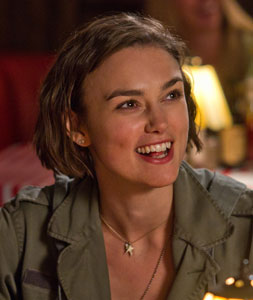 In Seeking a Friend for the End of the World, Keira Knightley's character Penny joins the ranks of cinema's Manic Pixie Dream Girls.  Not familiar with the term?  Coined by film critic Nathan Rabin to describe the type of free-spirited, indie-music loving, quirky young girls who seem to only exist in movies to open up emotionally hollow men (like Natalie Portman's character in Garden State and Zooey Deschannel's in 500 Days of Summer), Knightley's version of the MPDG serves as inspiration to Steve Carrell's character in the film, who is trying to come to terms with the failures in his life as the world is coming to an end. 
Despite taking place in the final weeks before the end of the world, Knightley was ironically attracted to the the positive outlook in the script.  She says, "My agent sent me the script. I thought it was one of the most strangely optimistic pieces that I'd read, and I instantly said, 'Yeah, I want to be a part of it.' It was one of the best scripts I'd seen in years – and so unique. I got on the phone with Lorene and we had a great chat for about an hour. I don't think we even actually talked about the film. We talked about our mothers, and about family."
Of course, one the advantageous of starring in a movie set in the present is that Knightley, who is often seen in period films, doesn't have to spend extended hours doing make-up and costuming.  She confesses, "I love doing modern-day movies – because I'm able to get up later in the morning."  Nonetheless, Knightley was also drawn to the relationship between the two main characters, explaining, "For these two, it's about what suddenly becomes important. I think what's actually being said here is, why do we not live as we should live?  Why do we not see what things are important? Why do we not spend time with the people that we love? We act as if we have 'tomorrow and tomorrow and tomorrow,' but what if we don't?  That's why I found the story so optimistic; aside from the occasional riot, positive things will come forth from humanity at the turning point."
Seeking a Friend for the End of the World opens in theaters on June 22.
http://www.dailyactor.com/wp-content/uploads/2016/04/julia-louis-dreyfus-veep.jpg
Julia Louis-Dreyfus: "Opportunity for women in television has increased. It's because the landscape has widened"
"I did not come out of SNL as any kind of name. I didn't do anything particularly great when I was there. I didn't. It's fine. But I learned a tremendous amount."
http://www.dailyactor.com/actors-on-acting/julia-louis-dreyfus/
http://www.dailyactor.com/wp-content/uploads/2016/04/Tituss-Burgess-Unbreakable-Kimmy-Schmidt.jpg
Tituss Burgess on How He Landed His 'Unbreakable Kimmy Schmidt' Role
Burgess reveals how his role on 30 Rock led to 'Kimmy Schmidt' and whether or not he'd consider returning to Broadway.
http://www.dailyactor.com/actors-on-acting/tituss-burgess-unbreakable-kimmy-schmidt-role/
http://www.dailyactor.com/wp-content/uploads/2016/04/Christine-Baranski-The-Good-Wife.jpg
Christine Baranski on the End of 'The Good Wife' and Going Back to Theatre
The final episode of The Good Wife airs on May 8, and it's been several weeks since series star Christine Baranski shot the final episode with her co-stars. She spoke to The Hollywood Reporter about the end of the series she has spent the last seven years working on and what she plans to do […]
http://www.dailyactor.com/actors-on-acting/christine-baranski-the-good-wife-theatre/
http://www.dailyactor.com/wp-content/uploads/2016/04/jake-gyllenhaal-demolition.jpg
Jake Gyllenhaal on 'Demolition', Working with Chris Cooper and Directors Who Want Nothing to Do With Him
"I think storytelling is the most important part of movie-making over performance." - Jake Gyllenhaal
http://www.dailyactor.com/actors-on-acting/jake-gyllenhaal-demolition-chris-cooper/
http://www.dailyactor.com/wp-content/uploads/2016/04/don-cheadle-miles-davis.jpg
Don Cheadle: "Be scared. Be on the edge of your creativity"
"Be willing to fall flat on your face and be in an unknown place. If you're doing that, you're probably growing" - Don Cheadle
http://www.dailyactor.com/actors-on-acting/don-cheadle-scared-creativity/