Julianne Nicholson Talks About Working with Meryl Streep, Julia Roberts and the "Hardest Scene to Film" in 'August: Osage County'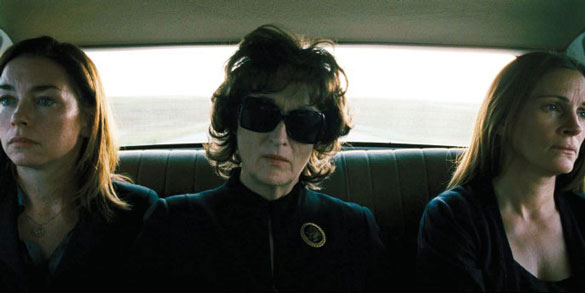 One of the films currently gunning for an Oscar nomination is August: Osage County starring Meryl Streep and Julia Roberts in the dysfunctional family drama. Actress Julianne Nicholson, who plays Roberts and Juliette Lewis' younger sister with a shocking secret, the role was a chance to shine alongside some of Hollywood's heaviest hitters.
While the film has a serious of climatic moments, the reveal to Nicholson's character Ivy that her cousin Little Charles (Benedict Cumberbatch) is actually her brother is heartbreaking. The two characters had been carrying on a secret affair so the taboo of incest slaps the audience in the face.
The 42-year-old actress talked to Vulture about filming that scene with its challenging rhythmic dialogue.
She explained, "That was definitely the hardest scene to film, for me. Between the language, which is so specific, and those lines are quite similar, each of our lines, especially when Julia is saying, 'Eat the fish. Eat the fucking fish. Eat the fish, bitch,' and I would have, 'Barb. Barb, please. Please, Barb.' But if you mess up the order in which you say it, there's a trickle-down effect with the lines that follow. And I was trying to not let on at the beginning that I know what's coming at the end. And then when Meryl tells me, it's like, Oof!"
The impact resonates throughout the rest of the film while Nicholson holds her own against Oscar winners Streep and Roberts. With Oscar nominations on Jan. 16, there's a good chance the cast will see a Best Picture nomination coming their way.
Nicholson will next be seen in the new television series The Red Road in a six-episode series on Sundance Channel. It is slated to premiere on Feb. 27.
http://www.dailyactor.com/wp-content/uploads/2016/02/alicia-Vikander-Ex-machina.jpg
Alicia Vikander on the Her First Trip to L.A. and the Acting Tip 'Ex-Machina' Director Alex Garland Gave Her
"You [get immersed in] a film and of course you think that that is it. And then you go away and you read a new script and you have a new crush" - Alicia Vikander
http://www.dailyactor.com/actors-on-acting/alicia-vikanderacting-tip-ex-machina-director-alex-garland-gave-her/
http://www.dailyactor.com/wp-content/uploads/2016/02/Channing-Tatum-Hail-Caesar.jpg
Channing Tatum Talks 'Hail, Caesar!': "I've been beating on the Coens' door for years, man"
"It's the most I've ever prepped for a six-minute section in a movie." - Channing Tatum
http://www.dailyactor.com/actors-on-acting/channing-tatum-hail-caesar-tap-dancing/
http://www.dailyactor.com/wp-content/uploads/2016/01/Isidora-Goreshter-Shameless-audition.jpg
Isidora Goreshter Remembers Her Audition for 'Shameless'
Goreshter recently recalled that her audition for the 'Shameless' was by far her worst ever.
http://www.dailyactor.com/actors-on-acting/isidora-goreshter-audition-for-shameless/
http://www.dailyactor.com/wp-content/uploads/2016/01/Sutton-Foster-Younger.jpg
Sutton Foster: "Sometimes I won't even find a character until I put on the costume"
"I never had grand aspirations to be a movie star, to be famous or to be on TV. The theater was what I wanted." - Sutton Foster
http://www.dailyactor.com/actors-on-acting/sutton-foster-younger-character-costume/
http://www.dailyactor.com/wp-content/uploads/2016/01/Paul-Giamatti-Billions.jpg
Paul Giamatti on Building His Career: "I was always willing to just go, 'OK, sure, I'll do that'"
"I've done everything an actor can do except porn and performing in an amusement park" - Paul Giamatti
http://www.dailyactor.com/actors-on-acting/paul-giamatti-billions-building-an-acting-career/