Jude Law on His 'Dom Hemingway' Character: "It was a wonderful cathartic purge"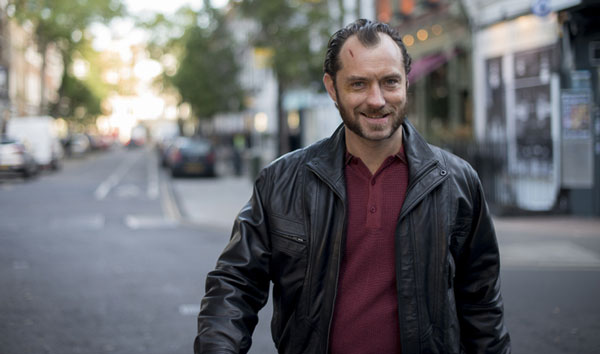 Jude Law is receiving considerable praise for playing against type in Dom Hemingway, a film about a roughneck, hard-drinking, womanizing safe-cracker. It's certainly not the type of role Law would have played in the late 1990s and seems to be the culmination of the more grotesque roles that he has dabbled in with movies like Road to Perdition. Speaking with IndieWire, Law revealed how he felt about playing the Dom Hemingway character and why he felt responsible to take on a more prominent behind-the-scenes role during production.
Though the Dom Hemingway character is quite a cad, Law admits it was a lot of fun to play him. He explains, "It was a wonderful cathartic purge, you know? And there's something great about going, there were nuances and tones to him, cause he's a deep and complicated and layered kind of human, as we all are, as you start picking him. But there's a wonderful kind of release. He's got a front, and it's protecting vulnerability. There's a wonderful kind of swagger that is incredibly fun to step in to. That rubs off on you, you know? And when you walk around in an electric blue suit and Cuban heel boots, you can't help but walk around with a bit of attitude."
However, when asked how he developed Hemingway's "swagger," Law confesses he isn't quite sure. He says, "I don't know, none of that is sort of done consciously. I mean a little bit, you rehearse bits, and try stuff and he reminded me a lot of a couple people I grew up with and knew as a kid, and one of them had this particular kind of walk like he was gonna fight anyone, at any moment. So I stole bits from them, the boots helped, and a lot of that comes from inside as well. It comes from 'if I scare people off, then maybe no one will see the real me'… that kind of attitude."
Though earlier in his career Law had a reputation for playing devilish handsome characters, he admits that with Dom Hemingway he has attempted to get away from that perception. He explains, "I've never been a great believer in relying on looks to get you through. To me it's all about the work, and what you do in the workplace. And if a part like this that demands that kind of grotesqueness, if you like, comes along then why not embrace it with two hands and relish it? That's not to say that leading men roles don't interest me any more, cause they do, if they've got a challenge. So I don't know if I'm toying with it, so much as really just trying to take the parts that come my way and trying to make the most of them."
In addition to starring in Dom Hemingway, Law was deeply involved behind the scenes and, in particular, assisted with auditioning other actors. He points out, "I'm always as involved, as little involved or as much involved as a director wants me to be. I'll always do my work, and I'll always want to be a part of the team. With this particular film though, it just felt, you know, the film is Dom, and as Dom, I felt the responsibility of sort of leading from the front in a way. So being all over it, and understanding it from beginning to end, seems like an important part of how to pull off the character."
http://www.dailyactor.com/wp-content/uploads/2016/04/jake-gyllenhaal-demolition.jpg
Jake Gyllenhaal on 'Demolition', Working with Chris Cooper and Directors Who Want Nothing to Do With Him
"I think storytelling is the most important part of movie-making over performance." - Jake Gyllenhaal
http://www.dailyactor.com/actors-on-acting/jake-gyllenhaal-demolition-chris-cooper/
http://www.dailyactor.com/wp-content/uploads/2016/04/don-cheadle-miles-davis.jpg
Don Cheadle: "Be scared. Be on the edge of your creativity"
"Be willing to fall flat on your face and be in an unknown place. If you're doing that, you're probably growing" - Don Cheadle
http://www.dailyactor.com/actors-on-acting/don-cheadle-scared-creativity/
http://www.dailyactor.com/wp-content/uploads/2016/04/jessie-eisenberg-louder-than-bombs.jpg
What is Jesse Eisenberg's "Most Fulfilling Acting Experience"?
"My absolute favorite thing to do is to write a play and then, after I finish, do the first reading of it with my friends around the table"- Jesse Eisenberg
http://www.dailyactor.com/actors-on-acting/jesse-eisenberg-most-fulfilling-acting-experience/
http://www.dailyactor.com/wp-content/uploads/2016/03/Lupita-Nyong'o-eclipsed.jpg
Lupita Nyong'o on Her Broadway Debut: "When we get up on that stage, you do not know what will happen"
"I think theater offers a chance to flex muscles that then only help to sustain cinematic work." - Lupita Nyong'o
http://www.dailyactor.com/actors-on-acting/lupita-nyongo-eclipsed-broadway/
http://www.dailyactor.com/wp-content/uploads/2016/03/jake-gyllenhaal-demolition.jpg
Jake Gyllenhaal on Missed Superhero Opportunities and Portraying "Antisocial" Characters
"I've always wanted to have the opportunity to play a number of different roles, and I knew it wasn't necessarily the role, but how you played them" - Jake Gyllenhaal
http://www.dailyactor.com/actors-on-acting/jake-gyllenhaal-antisocial-characters/