Joseph Gordon-Levitt Talks About his Stunt Doubles on 'Premium Rush' and Getting Injured During the Shoot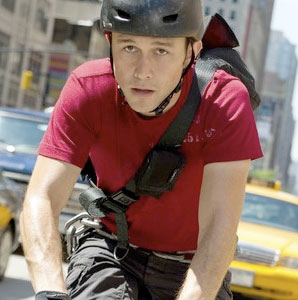 While I like Joseph Gordon-Levitt and really like Michael Shannon and films set in New York City, I'm not sure how much I'm going to get into Premium Rush, a movie featuring Gordon-Levitt as a bike courier in New York.  But I'm sure the film will be filled with a lot of great action sequences that we haven't seen before since there aren't many action bike movies, although I'd love to see a flying bike tackle take-down like on USA's old Pacific Blue series.
But that's neither here nor there.  What we do have here is an interview with Gordon-Levitt with NBC New York about Premium Rush.  He talks about doing stunts and an injury he suffered on-set.
While Gordon-Levitt did most of his own riding in the film, his stunt doubles obviously did most of the action sequences.  He praises them, saying, "I think for what I was doing, the danger was certainly minimized. I was riding fast and riding hard all day long, but what my doubles were doing was so dangerous. Absolutely 100 percent dangerous. That's part of the appeal of this movie. When you watch action sequences that are fake or computer generated – basically what amounts to cartoons – there's a big difference between that and watching a human being really risk their life. It's just exhilarating. Take it back to vaudeville or Evil Knievel or whatever – it's exhilarating. And that's the foundation of the action in this movie."
Nonetheless, Gordon-Levitt admits that when he's in the moment it's harder to let someone step in and take the hit for you.  He explains, "There's always a temptation. And you see it all the time, especially with actors. The testosterone kicks in and they think, 'I can do that!' Especially in actors who maybe haven't been in as many movies, but I am guilty of it, too. It's not the right move. I did a movie with Bruce Willis, Looper, and you've never seen someone so safety conscious doing an action sequence. And [Dark Knight Rises director] Christopher Nolan is like that, as well. Both extremely safety conscious."  However, he also adds, "I was also a bit more bull-headed until I got hurt," and points out, "I got in an accident and needed 31 stitches during shooting. On my arm."
That injury did affect the film, which had to subsequently incorporate the injury into the movie.  Gordon-Levitt reveals, "That scene at the end of the movie was shot the morning after I had this stitched up. That bandage is actually there to cover a huge gash on my arm. So we stuck with it and incorporated it into the movie."
http://www.dailyactor.com/wp-content/uploads/2016/02/Owen-Wilson.jpg
Owen Wilson on How He Started Acting, Trying "To Be Real" On-Screen and Choosing His Roles
"It's not enough just to be real; you have to try to make it interesting or entertaining" - Owen Wilson on Acting
http://www.dailyactor.com/actors-on-acting/owen-wilson-started-acting-real-on-screen/
http://www.dailyactor.com/wp-content/uploads/2016/02/John-Krasinski.jpg
John Krasinski on His Directing Debut, 'The Hollars', and How He'll Always Be an "Actor at Heart"
"To me, it's not about comedy or drama or genre, it's about, where's the good story?" - John Krasinski
http://www.dailyactor.com/actors-on-acting/john-krasinski-directing-debut-the-hollars-actor-at-heart/
http://www.dailyactor.com/wp-content/uploads/2016/02/david-harewood-supergirl.jpg
David Harewood on 'Supergirl' and How He Was "Struggling to Get a Handle" on His Character
Harewood reveals how he relates to the character and how he eventually got comfortable playing him.
http://www.dailyactor.com/actors-on-acting/david-harewood-supergirlstruggling-to-get-a-handle-on-his-character/
http://www.dailyactor.com/wp-content/uploads/2016/01/Jeff-Daniels.jpg
Jeff Daniels Remembers a Terrible Audition for a Diane Keaton Movie
One actor that knows the ups and downs of the audition process is Jeff Daniels.
http://www.dailyactor.com/actors-on-acting/jeff-daniels-terrible-audition-diane-keaton-movie/
http://www.dailyactor.com/wp-content/uploads/2016/02/Jennifer-Jason-Leigh-The-Hateful-Eight.jpg
Jennifer Jason Leigh on Her First-Ever Oscar Nomination: "It's kind of phenomenal"
"He knew that I could, in his words, 'act the … out of it' and I'm not afraid to take a risk in terms of acting" Jennifer Jason Leigh on Quentin Tarantino
http://www.dailyactor.com/actors-on-acting/jennifer-jason-leigh-oscar-nomination/