Jesse Eisenberg Talks 'Now You See Me' and Tackling Stage Fright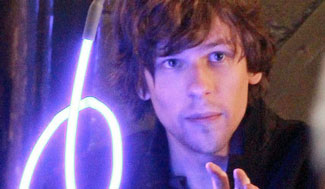 Jesse Eisenberg is one of those actors who actually admits to having stage fright.  Luckily, his role in the new film, Now You See Me, helped him get over his fear.
"I was doing a play in New York, Asuncion, and I had a lot of stage fright and anxiety about performing in it," he said in an interview with Moviefone.  "When I read the script, the character they wanted me to play was the most confident, almost arrogant, stage performer, and I thought, 'Oh, this will be a great opportunity to live out all the things I was denying myself in the play.'  I got to perform on stage and feel great about it instead of feeling nervous about it, and so I fully embraced that part of the character."
In the film, Eisenberg plays an illusionist who teams up with four other magicians to rob a bank.  The role actually ended up helping his performances onstage.  "I just finished my second play, The Revisionist, with Vanessa Redgrave, and I was a little more confident doing it," he said.  "I mean, incrementally, but more so, nonetheless.  I realized that you can choose to feel confident about it or not, but that's not necessarily related to how the show goes.  You can feel excited all day about performing at night or you can feel miserable all day about it and the show might not be that different.  Why ruin your days feeling miserable about something that can possibly go really well?
"I write these plays and it's very important for me to get them produced.  The first play I did, I had to really push along so it's a battle in me of wanting to avoid doing it because it scares me—wanting to get my plays out there and express myself.  I'm getting a little more confident as I do each play."
Eisenberg never gets anxious when costarring with Woody Harrelson (who also appeared in Zombieland with the actor.)  "We have a similar style of working," he explained.  "We like to come up with back stories for our character.  And we both really like improvisation and we both play off each other, since we have a similar sense of humor.  I have a lot of respect for him because he really takes it seriously."
Now You See Me is in theaters now.
http://www.dailyactor.com/wp-content/uploads/2016/02/Owen-Wilson.jpg
Owen Wilson on How He Started Acting, Trying "To Be Real" On-Screen and Choosing His Roles
"It's not enough just to be real; you have to try to make it interesting or entertaining" - Owen Wilson on Acting
http://www.dailyactor.com/actors-on-acting/owen-wilson-started-acting-real-on-screen/
http://www.dailyactor.com/wp-content/uploads/2016/02/John-Krasinski.jpg
John Krasinski on His Directing Debut, 'The Hollars', and How He'll Always Be an "Actor at Heart"
"To me, it's not about comedy or drama or genre, it's about, where's the good story?" - John Krasinski
http://www.dailyactor.com/actors-on-acting/john-krasinski-directing-debut-the-hollars-actor-at-heart/
http://www.dailyactor.com/wp-content/uploads/2016/02/david-harewood-supergirl.jpg
David Harewood on 'Supergirl' and How He Was "Struggling to Get a Handle" on His Character
Harewood reveals how he relates to the character and how he eventually got comfortable playing him.
http://www.dailyactor.com/actors-on-acting/david-harewood-supergirlstruggling-to-get-a-handle-on-his-character/
http://www.dailyactor.com/wp-content/uploads/2016/01/Jeff-Daniels.jpg
Jeff Daniels Remembers a Terrible Audition for a Diane Keaton Movie
One actor that knows the ups and downs of the audition process is Jeff Daniels.
http://www.dailyactor.com/actors-on-acting/jeff-daniels-terrible-audition-diane-keaton-movie/
http://www.dailyactor.com/wp-content/uploads/2016/02/Jennifer-Jason-Leigh-The-Hateful-Eight.jpg
Jennifer Jason Leigh on Her First-Ever Oscar Nomination: "It's kind of phenomenal"
"He knew that I could, in his words, 'act the … out of it' and I'm not afraid to take a risk in terms of acting" Jennifer Jason Leigh on Quentin Tarantino
http://www.dailyactor.com/actors-on-acting/jennifer-jason-leigh-oscar-nomination/