A Good Day to Die Hard's Jai Courtney on Acting in L.A., His American Accent and Playing Bruce Willis' Son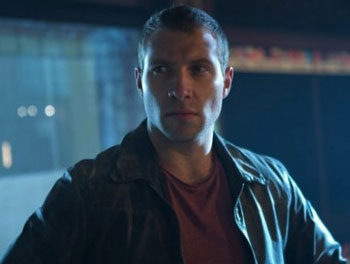 Jai Courtney had mixed emotions when he was cast as Bruce Willis' son in the newest installment of the Die Hard series, A Good Day to Die Hard. 
"I was like over the moon…and then doubt set in and I realized, 'Oh, God, it's Die Hard, man.  It's a huge iconic franchise.  What if I suck?'" he recalled in an interview with The Huffington Post.  "I think it's important—it certainly helped me—to take a deep breath and remember that they've shown some faith in me by casting me in the project.  And you obviously have something to offer—just rely on those instincts.  Go and get the job done and have fun while you're doing it."
The Australian actor got his first big break appearing on Spartacus, which he said, "gave me the opportunity to come out to the States for the first time.  And then I felt like it was a whole new chapter.  That show offered me a lot of experience and a bit of exposure and enough of a talking point to get in rooms."
"But then, I was totally new to that scene.  So, I'd never auditioned as much as you do through pilot season and I had never had a concentrated period of time working in the American accent.  And I think the two years that followed that were really about maturing as an actor myself."
Courtney mentioned that he had to work on perfecting his American accent, especially in A Good Day to Die Hard and his previous movie role in Tom Cruise's Jack Reacher.  "Every actor has a different approach.  You know, there will be takes I'll do where I say something and I completely fumble on a word or it just comes out Australian—so, it definitely requires work," he admitted.  "Occasionally I'll stay in accent all day if I've got a lot of speaking to do so I'm not really thinking about it too much.  And that was weird the first time I did that—I felt like I was playing a character all of the time and I'm certainly not a method actor by any means.  I'm usually interested in conserving the energy rather than wasting it when the cameras aren't rolling."
Another challenge for the film role was playing a famous character's son.  But in the end, the journey of the character was one of the reasons Courtney was attracted to the script.  "The relationship here was something that I could relate to and that was kind of my only point of reference," the 32-year-old said.  "I mean, I wasn't trying to emulate any other relationship I had seen on screen or anything like that.  You know, a lot of it is that I really didn't know how it would go down.  But, Bruce and I got along really well from early on in the process and I was comfortable in thinking that I'd just get out there and the guys would make it easy to become part of the family and we'd have fun doing the shoot."
Despite this high-profile role, the actor isn't sure he's at the point where he can just sit and wait for the roles to come to him. "Hopefully I find myself in that position," Courtney said.  "I'm by no means resting on these, but I do feel like now is the time to take a breath and kind of use it to my advantage.  And hopefully I can be strategic and smart about decisions we make."
 A Good Day to Die Hard opens in theaters, Thursday, February 14.
http://www.dailyactor.com/wp-content/uploads/2016/08/John-Cho-Star-Trek-Beyond.jpg
How John Cho Took A Stand for Diversity Early in His Career
"When one does speak one's mind, one might be surprised at how receptive people are." - Actor John Cho
http://www.dailyactor.com/actors-on-acting/john-cho-took-a-stand-for-diversity/
http://www.dailyactor.com/wp-content/uploads/2016/08/simon-helberg-florence-foster-jenkins.jpg
Simon Helberg on His 'Florence Foster Jenkins' Role: "I'm an actor and I want to stretch different muscles"
Helberg spoke about portraying his character in the film and whether or not he feels typecast by his Big Bang Theory role.
http://www.dailyactor.com/actors-on-acting/simon-helberg-florence-foster-jenkins-role/
http://www.dailyactor.com/wp-content/uploads/2016/08/Will-Chase-Something-Rotten.jpg
The Role That Got Away: Will Chase on Returning to 'Something Rotten!'
"I know that I am a poor man's fill-in-the-blank. And I know that there are poor man's Will Chases out there. That's just the nature of the business" - Will Chase
http://www.dailyactor.com/actors-on-acting/will-chase-something-rotten-role-that-got-away/
http://www.dailyactor.com/wp-content/uploads/2016/08/Julia-Stiles-Jason-Bourne.jpg
Julia Stiles on the Jason Bourne Series and Growing as an Actress: "There's always room for improvement"
"I like a director that encourages me to be playful. I don't really like being restricted or controlled by a director." - Julia Stiles
http://www.dailyactor.com/actors-on-acting/julia-stiles-growing-as-an-actress/
http://www.dailyactor.com/wp-content/uploads/2016/08/Michael-Kenneth-Williams-The-Night-Of.jpg
Michael Kenneth Williams on How His Roles Impact Him: "That energy's gotta go somewhere"
Since his days of playing Omar on 'The Wire', Williams has learned how to separate himself from his characters.
http://www.dailyactor.com/actors-on-acting/michael-kenneth-williams-the-night-of/