Jack McBrayer: "It was ten short years in the making before I finally got a break where I could eat three meals a day"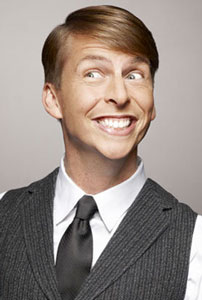 Though a long-time supporting player, comedian Jack McBrayer has since broken through with his starring role on 30 Rock over the last few years.  He's also putting his familiar voice to work voicing Fix-It Felix, Jr. in Disney's latest animated film, the classic arcade game-inspired Wreck-It Ralph. 
McBrayer spoke to NBC New York about his role in the film and about his dedication to becoming a success after years of trying.
While McBrayer has always been working, it's only recently that he has become successful after all of his hard work.  He explains, "I was very hungry right before things came into play. I got my start in Chicago doing Second City, which is where I met Tina Fey. So this is like from 1996 to when 30 Rock started in 2006, between living in Chicago doing Second City, moving to New York, doing the comedy scene there – Conan O'Brien was shooting his show there – and then I moved to Los Angeles. I was still temping and struggling. It was a solid decade. It was ten short years in the making before I finally got a break where I could eat three meals a day. But I was always happy to do the work because I knew what I wanted to do, and I was going to do whatever it took to get there."
As for his job voicing Fix-It, Felix, Jr. for Wreck-It Ralph, McBrayer admits that he didn't get a chance to see the actual character he would be voicing until well into the process.  He says, "We came to a table read, and they showed posters of what their inspirations were.  And so for Fix-it Felix, Jr., there were all the 8-bit characters. I think it was Mario from Donkey Kong. So I kind of knew the guy I was playing, but of course, I'm not like some Italian, 'hey, Luigi.'  But they just allowed me to bring what I have to offer, and then we can shape it from there."
McBrayer explains that he's aware that his unique, comical voice helped land him the gig and comes from a mixture of accents.  He says, "Between living in Chicago and New York and Los Angeles and growing up in Georgia and sounding like this pretty much all my life, it was sometimes a challenge to convince people who were casting things that it was okay to sound Southern. I could always try to put on different accents or whatever, but to limited success. And then the cool thing about being able to do Talladega Nights or 30 Rock is that's what the role required: a polite, Southern person. It's like, 'I'm your guy!' So it is interesting to be told after so many years, 'Don't be like that.  Don't be like that,' to, 'Oh, no – Please be like that.' It was refreshing."
http://www.dailyactor.com/wp-content/uploads/2015/09/Tom-Hardy-Legend.jpg
Tom Hardy on Playing Twins in 'Legend,' Being Seen as a Tough Guy, and Working with Philip Seymour Hoffman
Hardy speaks about why he challenged himself to play twins, what he thinks of his tough guy image, and working with the late Philip Seymour Hoffman, who directed him on stage.
http://www.dailyactor.com/actors-on-acting/tom-hardy-playing-twins-legend/
http://www.dailyactor.com/wp-content/uploads/2015/09/Emily-Blunt-Sicario.jpg
Emily Blunt on Action Movie Roles: "I think it's important to show different layers. Nobody is just tough, nobody is just vulnerable"
Emily Blunt touches upon why she has gotten into roles with an action bent and why she thinks there aren't more action movies with female leads
http://www.dailyactor.com/actors-on-acting/emily-blunt-sicario-acting-layers/
http://www.dailyactor.com/wp-content/uploads/2015/09/Jorja-Fox-CSI.jpg
Jorja Fox on Life After 'CSI': "I've always enjoyed not knowing exactly where the road leads"
"I think you kind of have to embrace the unknown if you're an actor." - Jorja Fox
http://www.dailyactor.com/actors-on-acting/jorja-fox-life-after-csi/
http://www.dailyactor.com/wp-content/uploads/2015/09/John-Turturro-Mia-Madre.jpg
John Turturro on the Life of an Actor: "It's a rough business. I wouldn't want my kids to do it"
"I am usually very well prepared. If you're a surgeon, you've got to know what you're going to take out today." - John Turturro
http://www.dailyactor.com/actors-on-acting/john-turturro-life-of-an-actor/
http://www.dailyactor.com/wp-content/uploads/2015/09/Matt-Damon-The-Martian.jpg
Matt Damon's Controversial Comments on Actors Keeping Their Real Lives a Mystery
"I think you're a better actor the less people know about you period. And sexuality is a huge part of that." - Matt Damon
http://www.dailyactor.com/actors-on-acting/matt-damon-actors-keeping-their-real-lives-a-mystery/